Religion and Politics
Ben Carson Schedules Stops on the Evangelical Circuit in Virginia
The Republican presidential candidate plans to speak at university founded by "Moral Majority" leader Jerry Falwell.
by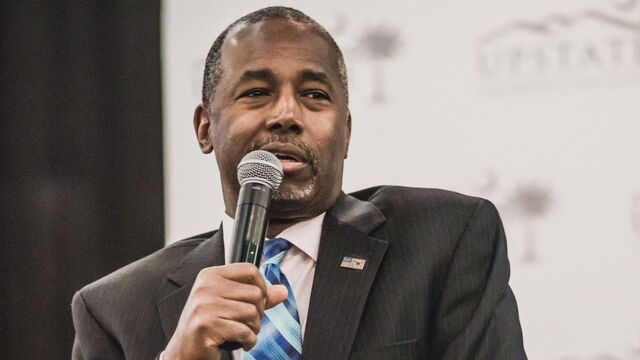 Ben Carson will court evangelicals next week while fundraising in Virginia.
Hours after he appears at the fourth Republican presidential debate in Milwaukee, Carson is scheduled to deliver a mid-morning speech Wednesday at Liberty University in Lynchburg, Virginia. Later that day, he's set to appear at two nearby country clubs for fundraisers, one of which is co-hosted by Charles Billingsley, the worship pastor at Lynchburg's Thomas Road Baptist Church.
Carson has surged to the top of the polls in recent weeks, partly because of his appeal among evangelicals and social conservatives. The retired neurosurgeon has made his faith as a practicing Seventh-Day Adventist a central part of his personal narrative.
"He's a guy with arms open wide but makes no bones about it that his values come from Christ," said Billingsley. But Carson has competition for the evangelical vote. Billingsley, for instance, also likes some of Carson's rivals, including former Arkansas Governor Mike Huckabee (an ordained Baptist minister) and Senators Ted Cruz of Texas and Marco Rubio of Florida. Cruz made Liberty University the site of his campaign launch in March, when he became the first major-party candidate to enter the race.
Zach Martin, who heads Lynchburg's local Republican Party, said that in a local straw poll earlier this year, Carson finished second behind Wisconsin Governor Scott Walker. Walker exited the presidential race in September.
"Most people are still making up their minds," Martin said. "But there's a lot of buzz about Carson, Cruz and Rubio, and there's a good portion who wants Huckabee."
While well-known within certain medical and evangelical communities, Carson is still a political unknown to many voters. Still, he has the highest net favorability ratings among any of the other presidential candidates in either party. His rival Donald Trump, who is neck-and-neck with Carson in the polls, has the worst net favorability rating.
"I personally find Donald Trump to be way too condescending. He's downright rude, to be honest with you. But if Trump got the nomination—I'd still vote for him over Hillary," said Billingsley, referring to Democratic presidential front-runner Hillary Clinton.
Billingsley said he finds Carson's faith, combined with him being a political outsider, to be "refreshing." Carson's outspoken stances against abortion and gay marriage also are an attraction. "The gay agenda is a very aggressive agenda, and we do not condone the gay lifestyle," Billingsley said. In an interview Thursday with the online news site Fusion, Carson reiterated his views about gay marriage. "I believe marriage is between a man and a woman," Carson said. "But I don't care what somebody else thinks. They can do whatever they want. What I object to is they try to change the definitions for everybody."
"It's one of the things that I don't particularly like about the [gay rights] movement," he added. "I think everybody has equal rights, but I'm not sure that anybody should have extra rights—extra rights when it comes to redefining everything for everybody else and imposing your view on everybody else."
Billingsley noted that neither the church nor the university are officially endorsing Carson. Both institutions are influential in conservative political circles.
Both were founded by the late Rev. Jerry Falwell, a politically influential evangelist who also founded the "Moral Majority," an important conservative lobbying organization during the 1980s. Falwell's two sons, Jonathan and Jerry, now are in charge of the church and the university, respectively. Their family's influence in battleground Virginia can't be understated: more than one in eight residents attend weekly services at the church in Lynchburg, which has a population of about 80,000, Billingsley said. Carson's national finance chairman, Dean Parker, whom Billingsley called a friend, is a Liberty alum. 
Liberty University has invited all the presidential candidates to speak on campus. In September, Senator Bernie Sanders, an avowed socialist who is seeking the Democratic presidential nomination, made headlines by accepting.
The local press has been buzzing with rumors this week that the Republican National Committee might select Liberty University as a venue for the party's January presidential debate. 
Before it's here, it's on the Bloomberg Terminal.
LEARN MORE