Discontents
Republican Candidates Prepare to Send Networks Revised Debate Letter
Republican lawyer, strategist and adviser Ben Ginsberg has drafted a second letter that he hopes to send to the networks Wednesday.
by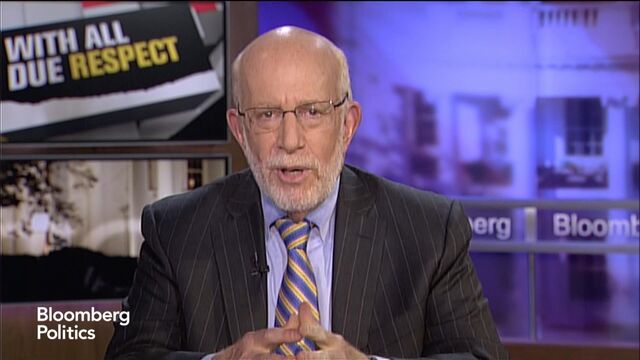 Republican candidates are one step closer to jump-starting their stalled effort to bypass the Republican National Committee and negotiate directly with broadcast networks on the format and parameters of primary debates. 
On Wednesday, approximately five GOP presidential hopefuls were expected to sign a letter to the networks that they hope will place control of the primary debates back in the hands of their own campaigns. 
"The campaigns needed to be involved themselves in negotiating the debates," Republican lawyer, strategist, and adviser Ben Ginsberg said on Bloomberg Politics' With All Due Respect. "They're the ones who needed to be able to talk to the media sponsors and that's what's been accomplished."
Barry Bennett, Ben Carson's campaign manager, said he hopes to send the signed letter Wednesday with signatures from four or five campaigns, if logistics and schedules allow. Some candidates who are not planning to sign the letter are expected to send their own letters, Bennett said, but intend to share any information they receive with their fellow presidential rivals. 
Republican presidential campaigns received Ginsberg's revised letter late Tuesday. It listed several questions, including who the moderators will be; the estimated size of the studio audience; whether the debate will be disseminated online, on the radio, or only on television; whether the moderators will take questions from the audience and/or social media; and whether hosts will commit to providing an equal number of questions to each candidate. Other questions would include information on the criteria and format of each debate; whether there will be opening and closing statements and, if so, how much time will be allocated for each; and whether there will be a gong, buzzer, or bell to signal that time is up for answering each question. 
"The reality is that the campaigns themselves directed with the media sponsors in the past and the candidates with the highest poll numbers usually commanded the most attention of the networks," Ginsberg said. 
The attempted power shift away from RNC-controlled debates came to a head this past weekend, when several campaign representatives met in Alexandria, Virginia, to discuss the dissatisfaction that erupted following the CNBC debate. The result of the meeting, which Ginsberg described as "incredibly collegial and productive," was a three-page letter that included warnings against lightening round questioning and suggestions to keep the debate hall under 67 degrees. But a handful of candidates, including Chris Christie, Jeb Bush, John Kasich, Donald Trump, and Carly Fiorina, said they would not be signing it. Those warnings are now gone, and replaced with a list of questions. 
"We were never intending to make demands in a letter," Bennett said. "People can demand what they want and negotiate if they want and decide if they want to attend."
Bennett, who has helped to organize the effort, is currently tracking down other candidates and seeing who will participate in signing Ginsberg's new letter. For past debates, campaigns had to scramble for detailed information. 
In the 2016 cycle, the RNC assumed more control of the debate process than they had previously exerted. When the committee released the debate schedule in January, Chairman Reince Priebus described it as a "sound debate process" that would "allow candidates to bring their ideas and vision to Americans in a timely and efficient way. This schedule ensures we will have a robust discussion among our candidates." 
But after the latest debate hosted by CNBC, Priebus did not see the robust discussion he was hoping for and tweeted that the network "should be ashamed of how this debate was handled." He has since suspended an upcoming debate with Telemundo, which is also owned by NBC, that was scheduled for February. Under this new agreement, candidates would have more say in which debates they chose to be involved in. 
"What this arrangement does is make clear that the candidates are not committed to coming to all of the subsequently scheduled debates, that they want to hear from the networks about what's going to go into those debates and they'll make a decision after some negotiations with the people who put on the debates," Ginsberg said. 
Still, the candidates won't be seeking to banish the RNC from debate planning altogether. 
"The campaigns asked the RNC to continue the crucial function of ticketing, credentialing, supplying the green rooms, and being sure the spin room and filing centers are up to the media's satisfaction," Ginsberg said.   
Before it's here, it's on the Bloomberg Terminal.
LEARN MORE