Comeback Bid
Jeb Bush: 'I Just Gotta Get Better'
Trailing in the polls, the former GOP front-runner looks to find his missing exclamation point in the Granite State.
by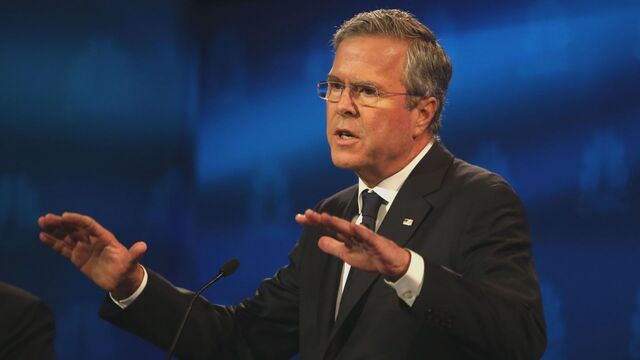 If Jeb Bush wasn't chugging energy drinks Tuesday evening before a campaign stop here in Rye, New Hampshire, it sure looked like he did.
Sinking in the polls, suffering from lackluster debate performances, and in desperate need of a comeback, the former Florida governor practically yelled through his stump speech to a crowd at a house event hosted by ex-Senator Scott Brown before taking questions from the audience.
"We're Americans, dammit!" he thundered as he talked up his boilerplate proposals to cut taxes, lift regulations, boost the military, and take aim at President Barack Obama's policies. The crowd, feasting on hot dogs, chips, and chocolate chip cookies baked by Brown's wife, received his speech well.
Afterward, in his luxurious campaign bus en route to his next event in Raymond, New Hampshire, the onetime Republican front-runner was more serene, reflecting candidly on what has gone wrong with his campaign and the path forward in a primary where political novices Donald Trump and Ben Carson together pull more than half the GOP electorate.
"I just gotta get better at the environment that this is in," Bush confessed to a group of reporters. He's battling to stay in the top four in primary polls.
Bush, the son and brother of former presidents, has arguably been the biggest loser of the fiery anti-establishment mood within the Republican Party, exacerbated by a feeling that Obama has fundamentally changed the country and walked all over GOP leaders in the process.
"You gotta connect with that frustration. You have to understand why people are mad and connect with it before you offer them hope that it can be fixed. And it can be," he said, riffing off his new slogan, "Jeb Can Fix It."
The ex-governor has invoked the 2008 campaign of John McCain, which famously imploded the summer before the primary began and came back to win after a victory in New Hampshire, the second nominating contest. "I admire John McCain. He's different than me. I've got to go win this my own way."
Bush also acknowledged his shortcomings in the debates, arguing that he needs to improve. "I felt really good [going into] the debate I screwed up on," he quipped, referring to his widely panned third face-off. Admittedly bad at sound bites in a sound-bite media environment, Bush said he needs to find a way to get his optimistic message across while also acknowledging questions. The lesson he's learned, he indicated, is that "it's not really a debate, it's a chance to say what's on your mind."
"The drumbeat of pessimism has gotten worse, rather than better. I think the frustration of part of the base of our party has grown after the election when there was an expectation that when we controlled the Senate stuff would get done," Bush said, noting that GOP candidates in 2014 "over-promised" voters they'd repeal Obamacare and rein in an expansion of government, and didn't deliver. "So that's the one change that makes the Republican base even angrier than they were a year ago."
On a lighter note, Bush walked back his swipe at Congress by comparing their short work schedules to a "French work week," a jab that prompted pushback from France's ambassador to the U.S.
"I totally insulted an entire country—our first ally who helped us become free as a nation," Bush jested. "And I apologize, that did a huge disservice to France."
At his Rye event, a 67-year-old undecided Republican voter named Greg Pickering summed up Bush's problems in the primary. He said Bush was an "excellent governor of Florida" but responded with a flat "no" when asked if he has impressed him so far as a presidential candidate.
"He's obviously very experienced," Pickering said, "although it's been nine years since he's been in office... And he has a very low likeability rating."
Before it's here, it's on the Bloomberg Terminal.
LEARN MORE