De Blasio Backers Cry Betrayal as Pledges Prove Hard to Keep
by
Two years after his landslide election, support may be eroding

Protesters from the left join a chorus of scorn from the right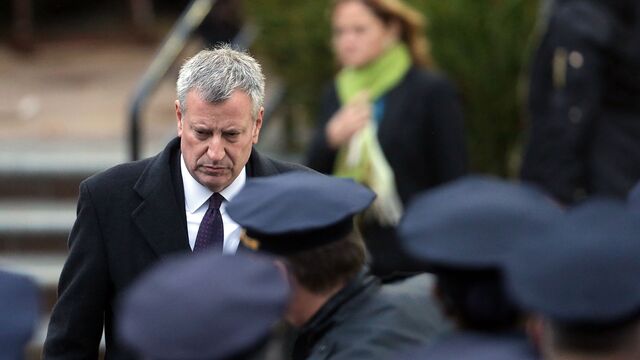 Two years after becoming New York's first Democratic mayor in 20 years, Bill de Blasio has become the target of activists and advocacy groups who helped him get elected.
The self-described progressive won their support by pledging to combat income inequality, create affordable housing, end stop-and-frisk police tactics in minority neighborhoods and ban horse carriages in Central Park.
Now the activists are confronting de Blasio, saying they're disappointed with his performance. They've joined a growing list of critics, including Republicans who blame him for a rise in homelessness and an uptick in homicides, even though they remain near a record low. Then there are the tax-weary wealthy, charter-school advocates and the Times Square merchants upset about vendors and panhandlers -- whether in cartoon-character costumes or body-painted women who wear no costume at all.
Last week, about 100 people gathered in front of a midtown Manhattan hotel as lobbyists walked inside to attend a $1 million fundraiser for de Blasio's 2017 re-election. "He's got to go," they chanted.
"We feel betrayed," said Donny Moss, 43, an animal-rights advocate and documentary filmmaker who helped organize the Oct. 29 protest.
Neigh? Nay
Two years ago, Moss was among scores of activists who took to the streets to disrupt events staged by de Blasio's opponents for the Democratic mayoral nomination. Animal-rights groups say it's inhumane to subject horses to exhaust and the risks of collision as they pull buggies through heavily trafficked streets.
Moss said he backed de Blasio because he vowed to rid Central Park of carriages on his first day in office. Now the mayor says he can't find enough City Council votes to enact the ban.
Animal-rights advocates and minorities helped de Blasio, 54, win the election by 46 percentage points, the largest margin ever for a non-incumbent. Exit polls reported he received about 96 percent of the black vote after pledging to curtail stop-and-frisk and running commercials featuring his son Dante, whose afro hairdo reminded voters of his interracial marriage.
Now, only about 50 percent of black voters approve of de Blasio's performance, a Marist College poll reported Tuesday.
"I don't understand the polls," said the Reverend Herbert Daughtry, 84, a pastor and civil-rights activist for 57 years. He praised de Blasio for addressing income inequality by establishing universal all-day prekindergarten, focusing on housing and homelessness and making police more responsive.
"Here's someone who has prioritized people who need the most help," Daughtry said in an interview. "He's encountering resistance not only from people who have always been against him but also from former supporters who just don't understand when they have a mayor who's shown compassion. I don't look for perfection. He has my support."
To those who doubted the city's progress, de Blasio said it has achieved record job growth with 177,000 positions created since he became mayor. Last month was the city's safest October in nearly 25 years, he said Tuesday at a press conference.
"Polls come and go," de Blasio said, comparing their lasting impact to cotton candy.
The Reverend Al Sharpton, the Harlem-based civil-rights leader, said the mayor need not be alarmed by a poor showing in current polls "because it comes as he's been attacked in the tabloids, which have run stories about others who are preparing to run."
U.S. Representative Hakeem Jeffries, a Democrat representing Brooklyn and Queens who's been mentioned as a potential 2017 rival, would need to see de Blasio's popularity "drop by more than double digits in the base community before he could consider it possible to bring him down," Sharpton said.
De Blasio would have to suffer a political catastrophe to become truly vulnerable to a challenge within his party, which outnumbers registered Republicans more than 6-to-1, said George Arzt, a Democratic political consultant.
"No matter what a mayor does, he's going to have protesters," said Arzt, who was press secretary to former Mayor Edward Koch. "I don't see anyone giving up an elective office to run an uncertain candidacy against this incumbent mayor."
Street Hassles
Protesters say that police have continued to stop, question and frisk residents in minority neighborhoods as part of a "broken windows" policy aimed at deterring quality-of-life infractions such as public urination and alcohol consumption, graffiti and congregating on street corners.
"He used stop-and-frisk as a campaign ploy," said Vincent Riggins, 64, a former Sanitation Department supervisor who's chairman of the public-safety committee for Community Board 5 in East New York, a predominantly black neighborhood in Brooklyn.
Riggins says he won't make phone calls for de Blasio's re-election campaign.
"Broken windows is just another way to oppress black and brown people based on other peoples' social norms," he said.
Satisfying de Blasio's political base may become even more difficult as he tries to deliver on his vow to create or preserve 200,000 units of affordable housing by 2025. His problem became clear during an Oct. 15 meeting with about 300 residents in Manhattan's Washington Heights.
De Blasio heard from residents concerned that his "inclusionary zoning" program, which gives developers subsidies to create a mix of market-rate and lower-priced apartments, could drive up the cost of housing for poor people living in the affected neighborhoods.
In the Bronx, a county where de Blasio won 85 percent of the vote two years ago, Najieb Isaac, 36, a graduate of John Jay College of Criminal Justice, said when she saw de Blasio's son in his campaign ads, she believed de Blasio understood how black parents feel when their sons encounter police on the street. Now disillusioned, she joined the protesters at last week's fundraiser.
"Obviously we've been tricked," she said. "We've been hustled."
Those with complaints either misunderstood him or weren't paying attention when he ran for mayor, de Blasio said.
"I've believed in broken windows all along, and I believe in quality-of-life policing, and I actually think it is a progressive position," he said last week. Reduced stop-and-frisk activity, ending arrests for marijuana possession and training patrol officers to be more courteous are a few ways he's tried to improve relationships between law enforcement and minorities, he said.
"They can protest all they want, but I've had this view for years, and it's not changing," he said.
(An earlier version of this article corrected the location of the Oct. 15 meeting.)
Before it's here, it's on the Bloomberg Terminal.
LEARN MORE