Ryan Says House Debate on Highway Funding Shows Style Change
by and
New speaker allows many more bill amendments than predecessor

Some proposals would curb operations of Export-Import Bank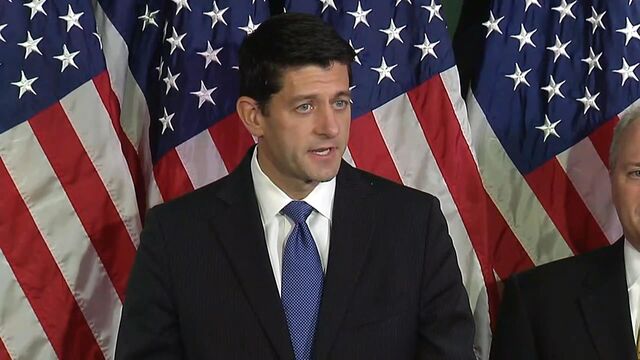 New U.S. House Speaker Paul Ryan declared Tuesday that debate on a long-term highway funding bill this week represents the dawn of a more open legislative process, with votes on many amendments offered by members of both parties.
Lawmakers say they will watch closely, some warily, at how the floor action plays out toward a planned final vote Thursday and whether Ryan is living up to his promise to conservatives to give rank-and-file members more say. The House is considering dozens of amendments -- far more than usual -- including some measures that would change how the U.S. Export-Import Bank operates.
"We're opening up the process. We're allowing members to participate in a way the founders intended," Ryan, a Wisconsin Republican, said Tuesday at his first weekly news conference since succeeding John Boehner as speaker. There will be "lots of amendments considered by all members of both parties."
Allowing floor votes on that many amendments is an important test for Ryan, said Representative Jim Jordan of Ohio, leader of the hard-line Freedom Caucus that has demanded more power for rank-and-file lawmakers after Boehner's departure last week. "It will be a good sign," Jordan said.
Export-Import Bank
The highway bill, H.R. 22, already passed by the Senate, includes reauthorization of the Export-Import bank and would extend transportation programs for six years while paying for just three years. The House proposal would cost $339 billion. After the House passes its version, a House-Senate conference committee will try to agree on the first multiyear highway authorization law since 2012. Current funding ends Nov. 20.
Republican Bill Shuster of Pennsylvania, chairman of the Transportation and Infrastructure Committee, thanked Ryan at the news conference for opening the floor process on the highway measure.
"There's nothing more exciting than being the first batter in the batter box to face a new pitcher," Shuster joked. He added, "It's going to be a long three days. But I am looking forward to the challenge."  
One challenge will be the proposals to revise the Ex-Im Bank, which is backed overwhelmingly by House members but opposed by Ryan and other conservatives. Lawmakers proposed more than 20 amendments to change how it operates. One that won't get floor consideration would have blocked big companies like Boeing Co. and General Electric Co. from benefiting from its financial backing for American exports.
Larger companies can get financing elsewhere, said Florida Republican Curt Clawson, who proposed the amendment. "Smaller companies, I believe, have more of a need for the Ex-Im bank. They can't get the financing. They're too small," he said.
Instead, the House will consider a proposal by co-sponsored by bank opponent Mick Mulvaney, a South Carolina Republican, that would require Ex-Im to increase by five percent each fiscal year for four years the percentage of financing benefiting small businesses. If the bank doesn't comply, it would be barred from issuing loans valued at more than $100 million.
Another of Mulvaney's proposals set for a vote would require companies involved in Ex-Im deals valued at more than $10 million to have received at least two denials for similar financial assistance from the private sector.
House Foreign Relations Chairman Ed Royce, a California Republican, will get a floor vote on his proposal to bar aid to companies located in countries that are deemed state sponsors of terrorism.
One of the Ex-Im Bank's chief backers, Republican Representative Stephen Fincher of Tennessee, said Tuesday he's confident that the bank supporters can defeat amendments to limit the scope of its lending or otherwise "derail" reauthorization.
Chamber Support
"We will win in the end; it's just going to be a little more work," said Fincher, who teamed up with Democratic Whip Steny Hoyer of Maryland to force last week's House vote for an Ex-Im reauthorization bill.
The U.S. Chamber of Commerce said in a letter to House members that it "strongly supports" reviving the Ex-Im Bank and opposes any amendments to the bank provisions because they "would only detract from, or run counter to, the goal of reauthorizing the bank."
Other proposals that won't get a vote would have banned ban Ex-Im from extending credit to companies in countries that don't recognize Israel's right to exist, and barred deals involving companies located in nations out of compliance with laws against human trafficking.
Corporate Welfare
Ryan and House Financial Services Committee Chairman Jeb Hensarling of Texas, who both oppose the bank, describe Ex-Im as corporate welfare that mainly benefits large companies that don't need government assistance.
Ex-Im Chairman Fred Hochberg has rejected arguments by Republicans that the bank provides corporate welfare by financing foreign companies' purchases of U.S. goods. Ex-Im returned $675 millionto the U.S. Treasury in 2014, Hochberg has said.
Shuster, at a House Rules Committee meeting Monday night, said the Senate's highway plan is funded for only three of its six years. He said Republicans hope to work out longer-term sources of money for infrastructure, including international tax changes, to pay for the last three years.
"If we can get the funding from whatever source in the next three weeks, three months, or within the next three years, that can flow right into the bill and continue," Shuster said. "We won't have to do a rewrite three years from now."
Gas Tax
In part, the Senate measure would finance highway construction by cutting the annual dividend paid to large banks on the stock they are required to hold as members of the Federal Reserve System -- to 1.5 percent from 6 percent.
Lawmakers will not consider raising the gas tax, which has been 18.4 cents per gallon since 1993.
"I hope a lot of the amendments don't prevail," Representative Jim McGovern, a Massachusetts Democrat, said during the Rules meeting. He pointed to one in particular, defeated 187-236 Tuesday night, that would have allowed heavier trucks on interstate highways.
The top Rules Committee Democrat, Louise Slaughter of New York, said the nation's roads and bridges can't take the size of many trucks already in operation.
Before it's here, it's on the Bloomberg Terminal.
LEARN MORE