Pataki's Run for President Looks More Like Ambling: Read My Lips
404 error. Campaign not found.
by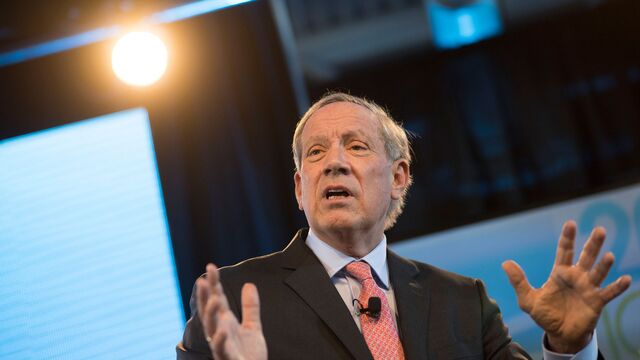 Now's as good a time as any to consider the presidential possibility of George Pataki, since it looks like he'll be around for a while.
A presidential campaign is not a marathon but a sprint, the saying goes. Pataki's, by contrast, is more like a pleasant stroll to gaze at birds. The usual metrics -- poll numbers, fundraising, crowds, endorsements -- seem not to apply.
"Why are you still in this?" host John Roberts, perhaps auditioning for CNBC, asked Pataki yesterday on "Fox News Sunday." "You are at zero percent in the polls in every early state. You've been in this for five months. The numbers have not moved for you."
Pataki, the former New York governor who has become a fixture on the dinnertime undercard Republican debates, answered that "small retail groups" in New Hampshire are imploring him to "please stay in." In short, he wants to be the adult left standing after all the supernova outsiders fade from view.
As for the spare change masquerading as his campaign war chest, Pataki explained, "We knew from the beginning we were going to have to run a grassroots campaign."
Yes, about that grassroots Pataki movement. In the past five days, here's how many e-mails the various campaigns have sent to supporters who signed up on their websites: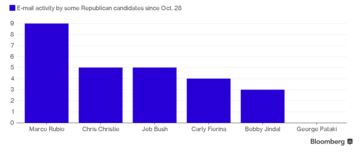 Also less than hopping is the website of the pro-Pataki super-PAC, which last updated its news page in July. Right now, trying to sign up on its "Join Us" page produces a "404 error" message -- and not one of those clever ones. Here's an idea for Pataki's: "404 error. Campaign not found."
From the start, Pataki staked his bid on a good showing in New Hampshire, describing his strategy recently as "New Hampshire, New Hampshire, New Hampshire, New Hampshire, New Hampshire -- and then the rest of the country." So it's encouraging that Pataki's website features a quote from Tom Rath, the New Hampshire Republican kingmaker: "Of all the potential candidates, Mr. Pataki has made the most trips to New Hampshire, something that has drawn attention."
Couple problems with that. Those words weren't actually said by Rath; the Wall Street Journal wrote them, citing Rath, in an article published back in April. That was four months before Rath signed on ... with John Kasich.
Come to think of it, nobody quoted on Pataki's home page -- Rath, two Democrats and three journalists -- actually has endorsed him. One of them, Richard L. Brodsky, a former Democratic assemblyman who faced off with Pataki in Albany and praised him a bit in a column for the Huffington Post, said yesterday he was surprised to learn he's on Pataki's website. He's actually rooting for Donald Trump.
The featured quotes themselves are mostly faint praise. "George Pataki would make a more formidable Republican candidate than many seem to appreciate," goes one, which the Pataki website attributes to writer Bernie Quigley; it's actually from a caption on a photo illustration that accompanied a story he wrote for the New York Observer.
Pataki may have believed, with good reason, that the nation is still hungering for a New Yorker tested by 9/11. After all, doesn't anybody remember how Rudy Giuliani swept through the Republican primaries of 2008?
Like Mr. Irrelevant -- the nickname for the final player picked in the NFL draft -- Pataki has drawn more media coverage than his significance would seem to demand. What political writer, after all, can resist a story about a guy with no money and no support refusing to quit? (Not this one, obviously.)
So the National Journal features Pataki in its investigation of "the psychology of the impossible campaign." Fortune, exploring what motivates longshot candidates -- to sell books, say, or become secretary of agriculture -- relegates Pataki to the "keep their name out there" category. ("If you've been out of office too long or haven't found a media gig, running for president can be a good way to keep your name on people's radar.")
That was kinder than Politico magazine, which just last week called Pataki "Jim Gilmore without the sex appeal" and urged him to leave the race "because he never should have been there in the first place."
During his few minutes on "Fox News Sunday," Pataki got the chance to remind viewers how he differs from most of the Republican field. He believes that global warming is real and caused by humans, and that ``Republicans have to embrace science.''
Which is saying something, coming from someone who is so deeply into denial about math.
*****
The Selling of the President 2016: An actual e-mail from the Marco Rubio campaign
Marco Crushed the 3rd GOP Debate

So Everything in the Campaign Store is 15% Off

Fall into campaign season with new Marco gear!

Marco won, so you win too! Everything is 15% off

Today Only

Shop Now

Use Coupon Code "Debate" at Check Out
*****
Who says big money has taken over politics?
Carly Fiorina's campaign regularly asks supporters to donate $3, or less than the cost of a grande latte at Starbucks. Ben Carson's campaign asks for $5, while Marco Rubio's goes with $7. Chris Christie's team has variously asked for donations of at least $3, $5 or $7, which is, quite literally, odd.
Jeb Bush, of all people, seems to be the king of the $1 request. That's all it took to enter a Bush campaign sweepstakes "to win a free trip to Houston to meet Jeb, Columba, President George H.W. Bush, Mrs. Barbara Bush and President George W. Bush."
For campaigns, even a negligible donation brings with it the demographic and contact information of a new supporter, who might be inclined to give more later. Plus, candidates like to boast about their "small donors" and the relatively modest level of their average donation.
Drawing tiny donations has even become something of an art.
"In 2012, the Obama campaign tested various ask amounts for small donors and found $3 was the most likely to get a response," Candice Nelson, a professor of government at American University, says in an e-mail. "It may be the candidates are playing off that, or doing their own testing to see what ask works best."
Multimillion-dollar donations to super-PACS are, one imagines, still welcome, too.
(Read My Lips is a column dedicated to the proposition that men and women in a position of power, or the pursuit of it, will say or do things for which they will be sorry.)
Before it's here, it's on the Bloomberg Terminal.
LEARN MORE