Christie, White House Spar Over Prison Sentences for Drugs
by and
New Jersey governor touting crime-reduction efforts in Camden

Obama in Newark to announce education grants for ex-prisoners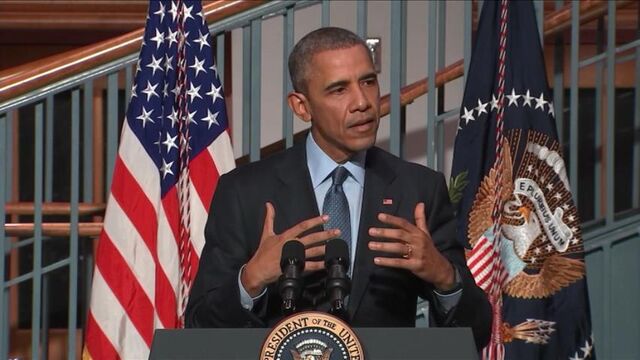 Chris Christie, struggling to gain traction in the Republican race for president, used his fourth public appearance in New Jersey in the past month to confront President Barack Obama about 80 miles away.
The governor's appearance was on his official schedule, which has been sparse as he seeks the Republican nomination. As Obama visits Newark, New Jersey's largest city, to push education for former inmates, Christie was in Camden to tout his tough-on-crime policies -- and accuse the president of being soft on law enforcement. About 6,000 federal inmates were released during the weekend after the U.S. Sentencing Commission retroactively reduced punishments for nonviolent drug offenses.
"It's wonderful for the president to come to New Jersey and acknowledge the work that's been done in New Jersey by the leaders of New Jersey," Christie told reporters outside a Camden police station. "What's happening here today and what we're celebrating has nothing to do with anything the federal government has done."
Obama's announcement at Rutgers University's Center for Law and Justice follows a flurry of events designed to provide momentum for his push to change the criminal-justice system. Last week in Chicago, he encouraged police chiefs to help change a system where nonviolent offenders could spend years in jail. A week earlier, the White House hosted a forum with the Marshall Project, a nonprofit journalism organization focused on the justice system. There, Obama said that Black Lives Matter activists, who have been aggressive in protesting police killings, had legitimate complaints.
And Obama even took to Twitter to applaud a Washington police officer filmed breaking up a group of teenagers -- but then joining them to dance the Nae Nae, a popular hip-hop move.
In New Jersey, Obama will announce as much as $8 million in educational grants during a meeting with former prisoners who have found employment after their incarcerations.
The grants will go to nine communities to create programs to help former inmates re-enter society, the administration said in a statement. The White House also said more than 30 communities including Newark, New Orleans and Memphis, Tennessee, are working with employers to provide training, especially in technology, and jobs for people with criminal records.
Mandatory Minimums
The president's push, which has bipartisan allies, comes as legislation that would overhaul mandatory minimum sentences is progressing through Congress. Obama has said he wants lawmakers to complete their work by the end of the calendar year, and the efforts may pick up additional momentum from the 2016 presidential campaign.
Rand Paul, the Kentucky senator running for the Republican nomination, met this year with the president to discuss legislation. Hillary Clinton, front-runner for the Democratic nomination, promoted her criminal justice plan during a campaign stop in Atlanta on Oct. 30, and called for the type of executive order Obama will announce in Newark.
Christie sought to draw attention to his own criminal-justice efforts, which include creating a regional police force. He said his schedule dictated that his appearance come on the same day that Obama is in New Jersey for the same topic, and the timing wasn't political.
Since 2012, when Camden was the most dangerous U.S. city in a CQ Press ranking, violent crime has dropped 26 percent, according to Christie's campaign. Crime in New Jersey has dropped 20 percent since he took office, Christie said.
"This isn't just about the numbers -- we've taken a different approach here," Christie said. "We're paying more than lip service to this."
The Sentencing Commission, an independent agency, last year released new guidelines that mean a total of 46,000 inmates are eligible for early release. The panel acted after hearings that included testimony from federal judges, the Department of Justice, public defenders and state and local law enforcement. The result will be among the largest single releases from federal prisons in history.
Christie blamed Obama for the commission's decision; the president appointed four of the five voting members.
"He's going past the normal pardon process and just letting these folks out," Christie said as he made the round of morning news programs.
Before it's here, it's on the Bloomberg Terminal.
LEARN MORE