Boeing, GE Would Be Blocked From Ex-Im Loans in Amendment
by
Lawmakers pitch more than 20 changes to bank in legislation

Rules Committee will decide which amendments get floor debate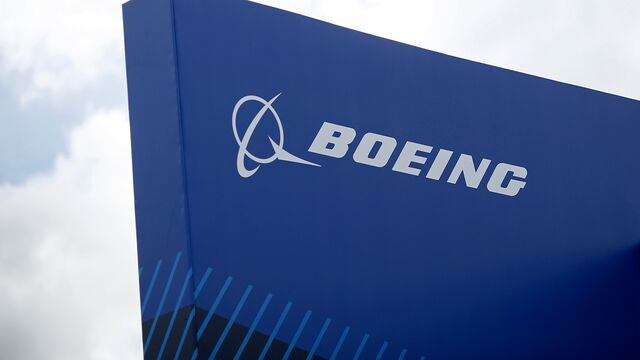 House members are proposing more than 20 amendments to a U.S. highway bill that would alter the way the Export-Import Bank operates, including at least one plan that would block big companies like Boeing Co. and General Electric Co. from benefiting from Ex-Im's financial backing for American exports.
That proposal, by Florida Republican Curt Clawson, would allow the bank's programs to benefit only small businesses. The change would effectively bar foreign customers of some of the bank's main beneficiaries -- including Chicago-based Boeing and Fairfield, Connecticut-based General Electric -- from tapping the loans, guarantees and other financial support provided by the institution.
"If we're going to have to do this, let's do it in a way that small businesses benefit and the taxpayer is more at ease with the whole thing," Clawson said in an interview late Monday.
QuickTake U.S. Export-Import Bank
The House plans this week to take up the Senate highway bill, which contains a provision reviving the Ex-Im Bank through September 2019. Some Republican conservatives oppose the bank, and Congress allowed its charter to expire June 30.
Defeat Amendments
One of the Ex-Im Bank's chief backers, Republican Representative Stephen Fincher of Tennessee, said Tuesday he's confident bank supporters can defeat amendments to limit the scope of its lending or otherwise "derail" reauthorization.
Third-ranking House Republican Steve Scalise of Louisiana said Tuesday that, under new Speaker Paul Ryan, more than 100 amendments to the highway bill will be sent to the House floor for votes.
Allowing floor votes on that many amendments is an important test for Ryan, said Representative Jim Jordan of Ohio, leader of the hard-line conservative Freedom Caucus that has sought more power for rank-and-file lawmakers. "It will be a good sign," he said.
While Boeing spokesman Tim Neale declined to comment on any specific proposals, he said Monday, "What affects Boeing in turn affects nearly 15,000 other companies in its U.S. supply chain, including 6,600 small businesses."
Charter Expired
Ex-Im is backed overwhelmingly by rank-and-file lawmakers in both chambers, while Republican leaders, including Ryan of Wisconsin and House Financial Services Committee Chairman Jeb Hensarling of Texas, oppose it. Ryan and Hensarling describe Ex-Im as an example of corporate welfare that mainly benefits large companies that don't need government assistance.
The bank hasn't been able to approve new requests for financial assistance since Congress allowed its charter to expire.
Some House members who oppose the bank are seeking to restructure how it operates. Members of the Rules Committee will decide which amendments are considered by the chamber. Committee spokeswoman Jill Shatzen declined to comment about whether any of the Ex-Im amendments were likely to be forwarded to the full House. The committee scheduled a meeting for Tuesday to consider the amendments.
Extending Credit
Other proposals would ban Ex-Im from extending credit to companies in countries that don't recognize Israel's right to exist, and bar deals involving companies that do business with Iran or are located in nations that aren't trying to comply with anti-human trafficking law requirements.
Representative Scott Garrett, a New Jersey Republican opposed to the bank, called for allowing individuals or companies to sue Ex-Im for damages if they can demonstrate the bank has hurt them or their businesses.
"The Export-Import Bank's long legacy of crony capitalism has hurt the livelihoods and businesses of many Americans who don't get special treatment from this misguided government program," Garrett said in an e-mailed statement.
Jared Favole, a spokesman for the Exporters for Ex-Im Coalition that supports the bank, said in an e-mail that both chambers already have voted for "the toughest reforms to the agency since President Ronald Reagan." He added, "Anyone attempting to delay that from becoming law will be needlessly inflicting harm on U.S. workers."
Bipartisan Effort
While the House and Senate have voted to revive the bank, they did so in separate bills. The Senate voted 64-29 in July to add the bank reauthorization to its long-term highway bill, H.R. 22. The House last week passed, 313-118, a stand-alone bill, H.R. 597, to revive the bank. Fincher of Tennessee and second-ranking Democrat Steny Hoyer of Maryland led a bipartisan effort in the House to revive the bank, gathering enough petition signatures to force last week's floor vote.
Ex-Im Chairman Fred Hochberg has rejected arguments from Republicans that the bank is providing corporate welfare by financing foreign companies' purchases of U.S. goods. Ex-Im returned $675 million to the U.S. Treasury for deficit reduction in 2014, Hochberg has said.
'Poison Pill'
Hoyer and three other House Democrats --- Maxine Waters of California, the top Democrat on the House Financial Services Committee that oversees Ex-Im, Denny Heck of Washington and Gwen Moore of Wisconsin -- urged their colleagues to oppose the amendments that would alter Ex-IM.
"We cannot afford to risk further delay in re-opening the bank by adopting poison pill amendments designed to derail its reauthorization," they wrote in the Nov. 2 letter.
The highway bill would renew highway and surface transportation programs for six years while paying for just three years. Lawmakers are trying to craft the first multiyear highway authorization law since 2012. A short-term highway bill extends programs through Nov. 20.
Even if the House strips out the Senate bill's provision to reauthorize the bank, lawmakers would consider the matter as part of House-Senate conference committee negotiations on a final bill, according to Fincher.
Before it's here, it's on the Bloomberg Terminal.
LEARN MORE