Silicon Valley's Cash Remains Cold to White House Hopefuls
White House hopefuls have yet to see the depth of Silicon Valley wealth that helped propel Barack Obama to the presidency.
by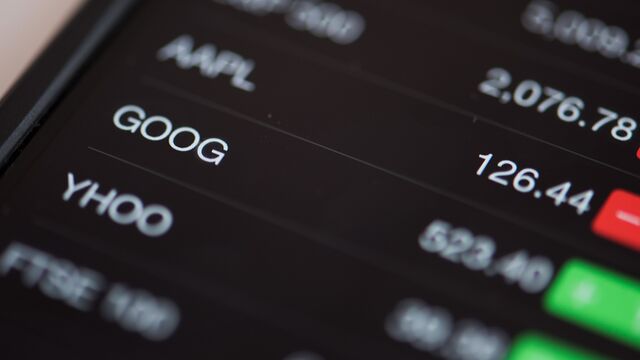 Silicon Valley is playing hard to get.
None of the candidates seeking the White House in 2016 has yet been able to unlock and consolidate the vast wealth of tech entrepreneurs and venture capitalists who have pumped tens of millions of dollars into previous elections, according to a new analysis by Crowdpac Inc.
As of Sept. 30, candidates had raised only about $1.92 million from the tech industry, according to Crowdpac, a Palo Alto, California-based group that tracks political contributions. The industry gave another $4.82 million to outside groups in the first half of the year, most of which was made up by Oracle co-founder Larry Ellison's $3 million donation to the super-PAC backing Republican Marco Rubio.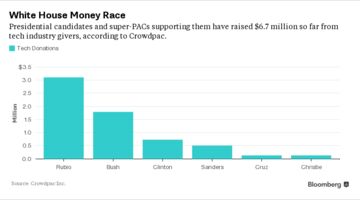 Silicon Valley has become a leading source of political contributions in recent elections, a reflection not only of the industry's wealth but also of its growing efforts to shape policy in Washington on immigration, privacy, and the so-called sharing economy. Candidates have made repeated tours through northern California this year to court potential donors. The sluggish results thus far signal they're struggling to connect.
As an industry, tech played a big role in the 2012 campaign. Including donations to outside groups, the sector shelled out about $20 million for President Barack Obama and about $9.2 million for his Republican challenger, Mitt Romney, Crowdpac said. For the 2016 race for the White House, tech has thus far been outspent by the financial, energy, media, and healthcare sectors, according to the analysis.
The analysis includes donations $200 and above and doesn't include giving to the super-PACs after June 30. Those groups aren't required to report new results until early next year. The analysis doesn't include outside groups that aren't required to disclose their donors. 
"Tech is largely sitting on the sidelines in the presidential race this year," Mason Harrison, a political director at Crowdpac, said. "There is no quote-unquote tech candidate this year yet."
That could change as the candidates' stances on issues dear to the tech community become clearer. One such moment was highlighted earlier this week in the Republican debate, when Rubio's support for H-1B visas for highly skilled workers, a program many tech firms rely on and want to loosen further to bring in IT workers from places such as India, was raised. Rubio's position had prompted Donald Trump to call him Facebook co-founder "Mark Zuckerberg's personal senator" on his website. Zuckerberg, who has given to Rubio's Senate campaign in the past, hasn't donated money to any presidential candidate this year, according to Federal Election Commission records.
In response, Rubio said at the debate that "our legal immigration system from now on has to be merit-based," adding that "it has to be based on what skills you have, what you can contribute economically, and most important of all, on whether or not you're coming here to become an American, not just live in America, but be an American."
Former Florida Governor Jeb Bush, who began the race as the Republican front-runner thanks in part to a super-PAC that had raised more than $100 million, ranks second in tech fundraising prowess. He and the super-PAC backing him raised a combined $1.78 million from the tech community, according to Crowdpac.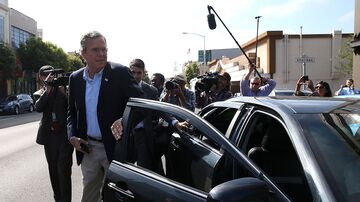 Bush made a high-profile to San Francisco in July, taking an Uber and meeting with employees of a start-up called Thumbtack, which links customers to professionals who do work such as home repairs. He's also taken to showing off his Apple Watch.  
His support was broader than Rubio's. His super-PAC, called Right to Rise, received $1 million from Thomas Stephenson and $125,000 from Doug Leone, partner emeritus and partner, respectively, at Sequoia Capital, an influential venture capital firm in Menlo Park, California. Joel Kaplan, the vice president of global public policy at Facebook, gave $15,000 while George Davis, the CFO of Qualcomm, gave $5,000.
Then came Democrat Hillary Clinton, the former secretary of state, who has spent time since her failed bid for her party's nomination in 2008 trying to cultivate ties to Silicon Valley, where Obama found strong support. So far, she's raised more than $720,000, according to Crowdpac. While the dollar amounts aren't as high, she's collecting from a wider base of the tech community that is giving directly to her campaign. Some notable names such as Tesla Chief Executive Officer Elon Musk and Facebook Chief Operating Officer Sheryl Sandberg have given.
The long courtship continues. According to Sunlight Foundation's Political Party Time website, fundraisers for Clinton in Sacramento and Napa Valley are scheduled for next week.
Before it's here, it's on the Bloomberg Terminal.
LEARN MORE