Obama's Appeal Among Democrats Means His Last Campaign Is Still Ahead
by
White House plans aggressive schedule to turn out Democrats

President more popular within party than Reagan was with GOP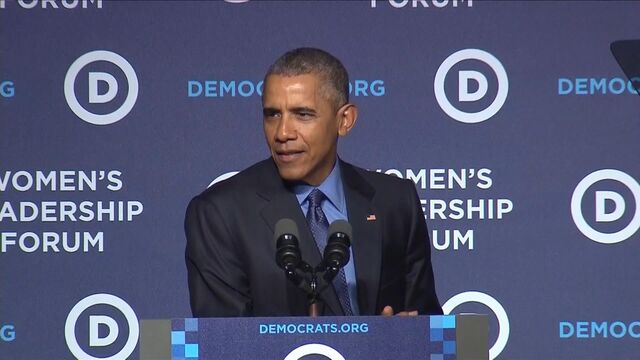 The White House plans to aggressively deploy President Barack Obama to rally Democrats to the polls for the 2016 election, particularly minority and young voters who are his strongest supporters.
His campaign work could be the difference between Democrats holding or losing the White House in 2016. With the broader electorate closely divided, either Democratic frontrunner Hillary Clinton or her main challenger, Vermont Senator Bernie Sanders, will need any extra margin those voters can provide, particularly in crucial battlegrounds such as Ohio, Virginia and Florida.
Polls show that Republicans are more enthusiastic about the upcoming election than Democrats, adding urgency to the mission of motivating Democrats. Obama would be a powerful pitchman within the party: Obama's 83 percent job approval rating among Democrats in the October 19 to October 25 Gallup Poll is higher than Ronald Reagan's 79 percent among Republicans at the same point in his presidency. Obama's approval rating among all adults was 46 percent.
"President Obama has both the unique ability and unique credibility to frame the stakes in the race that will be motivating to Democrats," said Geoffrey Garin, a Democratic pollster who works for the pro-Clinton Super-Political Action Committee Priorities USA and was a chief strategist in the late stages of Clinton's 2008 campaign.
Recognizing Appeal
The politicians competing for the Democratic nomination clearly understand his appeal: His name was invoked 21 times in the party's first presidential debate, 13 times by Clinton, his one-time political rival. 
It's a marked departure from the experience of Obama's two predecessors. Democrat Bill Clinton, Hillary Clinton's husband, was sidelined in the 2000 election in part because of his affair with White House intern Monica Lewinsky, and Republican George W. Bush was kept in the background by his party's nominee because of voter anger over the Iraq war.
In addition to seeking to turn out voters in the presidential race, Obama's team anticipates that he also will campaign for Senate and House candidates in 2016, according to a Democratic strategist familiar with the administration's planning who asked for anonymity. 
That, too, is a change. In 2014, vulnerable Democrats largely avoided appearances with the president as they tried to defend Senate seats in six states that Republican 2012 nominee Mitt Romney had carried by at least 14 percentage points.
Senate Election
This year, the fight for control of the Senate will be carried out on territory friendlier for Democrats. Republicans are defending seats in seven states Obama won in 2012, including his home state of Illinois, and the two most competitive contests for Democratic-held Senate seats are in states he won twice.
The strategist declined to outline specific plans for Obama's schedule, which likely will depend on the party's needs as the campaign gets into full swing.
A visible role for Obama has its drawbacks in a polarized political era. He galvanizes Republicans as well. His approval rating among Republican voters is only 10 percent, according to Gallup, and he has been a frequent foil for the Republican candidates for president. In the last Republican debate, on Wednesday, Obama was mentioned 16 times.
Florida Senator Marco Rubio said he is running for president "because there is no way we can elect Hillary Clinton to continue the policies of Barack Obama."
Democratic Issues
Obama carries into the campaign season a record of recent executive actions that address aspirations of key Democratic constituencies. That includes an order protecting millions of illegal immigrants from deportation, regulations on climate change, expanded overtime eligibility for workers, opening diplomatic relations with Cuba, and rules for federal contractors requiring gender pay equity and prohibiting discrimination against gays.
"In the last year, he's only strengthened in his ability to rally the Democratic base and Democratic-leaning independents," said Guy Cecil, executive director of Priorities USA and former executive director of Senate Democrats' national campaign arm.
Obama relishes the activist approach he has taken to the final phase of his presidency and his political draw. He regularly tells audiences and interviewers he would win a third term if he were on the ballot again.
"About a year and a half ago people were saying I was a lame duck," he joked at a fundraiser in Chicago Tuesday. "We've been flapping our wings a lot."
Safeguarding Legacy
Securing a Democratic successor would help Obama safeguard his legacy, such as the health-care law that has come to carry his name, and provide a final electoral validation for his presidency. Should Democrats hold the White House for a third term, Obama would be the only president besides Reagan to be succeeded by the nominee from his own party in more than six decades.
To that end, Obama's status as the country's first African-American president and record of success in both his elections of rallying minority groups is a critical asset.
African-Americans turned out at record levels in the 2008 election and showed record-strong support for Obama. Blacks then beat that record in 2012 -- exceeding the turnout level of white voters for the first time since the Census bureau began tracking the data in 1968 -- and voted Democratic in even higher margins.
Hispanics and Asians also turned out at record levels in 2008 and came close to that in 2012. In Obama's re-election, Hispanics showed the strongest support for a Democratic nominee since Bill Clinton's lopsided 1996 victory over Republican Bob Dole, and Asians gave him their greatest margin since exit polls began reporting their votes in 1992.
Decisive Margins
Obama's support among minority voters was decisive in his 2012 victories in eight states accounting for 110 of the 270 electoral votes needed to win the presidency: Florida, Ohio, Virginia, Pennsylvania, Wisconsin, Colorado, Nevada and New Mexico, according to an analysis by William Frey, a demographer at the Brooking Institution.
Because minority voters are rising as a portion of the eligible electorate, their support will be even more important to Democratic success in 2016, though consequently the party won't necessarily need to attain the same levels of support to win. Former Secretary of State Clinton has her own strengths. She attracted more support from whites in 2008 Democratic primaries than Obama, suggesting she may not need to depend as heavily on minority voters.
High Visibility
Cecil anticipates that should Clinton become the nominee, she would embrace high-visibility roles for both Obama and Bill Clinton.
She is making clear in her campaign that she considers the Obama presidency a foundation but would make her own way, already breaking with the president through her opposition to the Trans-Pacific Partnership and support for a no-fly zone in Syria. She underscored that in an appearance earlier this week on "The Late Show With Stephen Colbert."
"I'm not running for my husband's third term. I'm not running for President Obama's third term," she told the talk show host. "I'm running for my first term."
After a quarter century in the public eye, she has a well-established, independent identity, Cecil said.
"She's strong enough in her own right and doesn't need to worry about being overshadowed by anyone," he said.
Before it's here, it's on the Bloomberg Terminal.
LEARN MORE