The Media-Bashing Republican Debate, by the Numbers
Candidates attack the CNBC moderators and "mainstream media" at least 14 times
by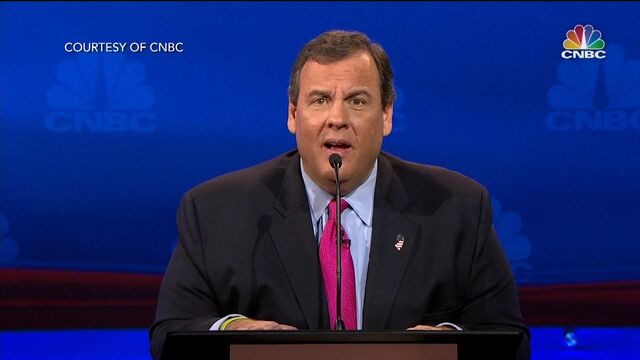 No single candidate can claim a thumping win in the third prime-time Republican presidential debate, broadcast on Wednesday by CNBC, yet there can be little doubt about who the night's biggest losers were: the moderators themselves and the media more broadly.
In all, the 10 candidates on stage attacked the moderators' questions and the media at least 14 times, or as often as they went after President Barack Obama, according to an analysis of a Federal News Service rush transcript conducted by Bloomberg Politics in partnership with Adam Tiouririne (@Tiouririne) of Logos Consulting Group. He advises senior business executives on high-stakes communication, grounded in his research about how leaders perform at their most important—and most widely broadcast—moments.

Top Talkers
The data and the pundits are largely in agreement that Florida Senator Marco Rubio had a good night. He received more questions from the moderators and invitations to rebut rivals than anyone save billionaire Donald Trump, and enjoyed more air time than anyone except former Hewlett-Packard CEO Carly Fiorina. He was also the only candidate to receive a significant boost in his nomination odds compared to before the debate, according to several prediction markets. 
Fiorina's dominance of speaking time is due in part to several successful interruptions. It mirrored the assertive style she showcased in the second debate, but has failed to translate into any meaningful bump for her in the prediction markets or on social media so far.

Texas Senator Ted Cruz also performed well, despite receiving fewer direct questions than any of the other candidates, by capturing the spotlight with his barbed attack on the moderators. "The questions that have been asked so far in this debate illustrate why the American people don't trust the media," he said, adding that "this is not a cage match." His broadside was later identified as the top social-media moment of the debate by Facebook and Twitter.
Social Battle
In terms of raw numbers, retired neurosurgeon Ben Carson, who recently edged out Trump in a national poll for the first time in months, gained more Twitter followers and Facebook likes immediately before, during, and after the debate than any other candidate: More than 10,000 followers and 70,000 likes, respectively, between 7:30 p.m. and 11:20 p.m. ET.
Trump remained the most-searched candidate on Google and accounted for 22 percent of the debate-related conversation on Twitter. That share was down from 37 percent in the last GOP debate.

Rounding out the night's social-media mavens was Rubio, who picked up around 6,000 Twitter followers and 3,500 Facebook likes within an hour of the debate ending and ranked first or second in Google searches for much of the two-hour affair.
Taxes on the Brain
Billed by CNBC as a debate all about the economy and money, Wednesday's event ultimately centered more around taxes than job creation or growth. Social Security and Medicare received greater attention than the Federal Reserve or wages.

Now it's back to the campaign trail for the Republican presidential hopefuls, at least for another two weeks, when debate time—hosted by Fox Business and the Wall Street Journal in Milwaukee on Nov. 10—rolls around again.
Before it's here, it's on the Bloomberg Terminal.
LEARN MORE