The Guy Plaguing Private Equity on Tax Now Targets Capital Gains
Marc Heller
Victor Fleischer goes after carried interest regulations

Even Donald Trump is making something of his idea now
Testing the boundaries of tax policy and really, nerding out on stage in front of a couple dozen lawyers in Los Angeles is a guy named Victor Fleischer.
He's a celebrity in this crowd. A tax paper he wrote is now an applause line about income inequality at the chicken dinners across America that form the backbone of the presidential campaign. No tie today. It's a gray button-down shirt with the collar open and a black sports coat. His boyish looks, capped by short-cropped red hair, earned him the moniker "Bazooka Joe" among critics.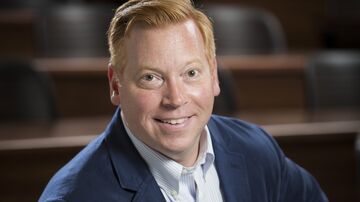 These days there are lots of them, but lots of fans too. Fleischer is best known as the intellectual godfather of the crusade to end a tax break on carried interest, making him the scourge of private equity firms like Blackstone Group LP.
In late 2006, Fleischer wrote what in retrospect was an impeccably timed paper exploring how and why private equity managers paid lower capital gains rates on their huge profits. His argument put him in front of Senate staff, who almost immediately targeted an industry long accustomed to operating in the shadows of Wall Street. With more than a trillion dollars of assets managed among them, firms like Blackstone, KKR & Co. and Carlyle Group LP had emerged from those shadows to pull off eye-popping, record-breaking leveraged buyouts. The light Fleischer cast on them was especially bright, revealing what he says is a tax loophole that helped make the founders of those firms billionaires several times over.
The attention coincided with Blackstone's pursuit of an initial public offering -- as well as chairman Steve Schwarzman's lavish 60th birthday party and Fortune magazine cover. A barely formed lobbying group, then called the Private Equity Council, mobilized to fight changes to the tax treatment. Through a sustained effort and some lucky politics, they've so far fended off any changes. Still, some of the industry's leading managers concede change is a matter of when, not if.
What was a sort of a rallying cry when former private equity executive Mitt Romney was running for president has resurfaced, with at least some in both parties calling for change. Some Democrats and even Donald Trump have gotten in on the debate. Fleischer 
thinks Obama could scrap the carried interest provision in an executive order.
In L.A. he's going even further, suggesting Congress do away with the favorable tax rate for capital gains altogether, arguing that the discount has outlived its purpose and goes to a disproportionately small number of fund managers.
"This is what's driving inequality," he says.
Talk like that, and phrases he's coined like"distributive justice" in the tax code, make him sound like a hard-core Democrat. But Fleischer advises politicians of all stripes. A few weeks ago, he was on the phone with New York Republican Tom Reed about a bill the congressman is drafting to require college endowments to direct earnings toward cutting tuition or risk losing favorable tax treatment. It's an approach Fleischer likes.
He doesn't describe himself as faithful to any party and he knows taking political positions puts his academic credibility at risk. "I'm definitely concerned about that," Fleischer said in an interview with Bloomberg BNA. "I think most academics have an agenda, and some don't talk about it."
Fleischer, 43, is the son of two English professors in upstate New York and grew up bagging groceries and delivering pizza. He has pushed Congress to change the code for a decade, after learning about carried interest in private tax law practice at Davis Polk & Wardwell. Not until he started teaching, at the University of Colorado and now at University of San Diego, did Fleischer take a more slanted approach.
The now-famous paper "Two and Twenty: Taxing Partnership Profits in Private Equity Funds," was published in 2008 in the NYU Law Review, drawing its name from the 2 percent management fee and 20 percent of profits taken by private equity fund managers.
That's when he got his first taste of politics, addressing a closed meeting of nearly 100 Senate staffers. Carried interest is taxed at the top capital gains rate of 20 percent, as long as the asset has been held for more than a year. The other type of compensation managers receive, a performance fee, is taxed as ordinary income at the higher rate.
Fleischer told staffers that carried interest should be treated as compensation and be taxed at ordinary rates, which now top out at 39.6 percent. Although he said he viewed that work as scholarly, it put him under a microscope.
"I felt very alone," Fleischer said. Lobbyists for investment funds criticized his analysis. Fleischer said he suggested other witnesses who might agree with his views -- and they contradicted him. "I don't think I appreciated the theater aspect of it."
As Lily Batchelder, a New York University professor who was on the staff of the Senate Finance Committee when Fleischer presented his views, said: "There was a huge lobbying effort to oppose it. People just got deluged with tax lawyers from around the country coming in to talk about it."
In Fleischer's talk about capital gains -- one of the pillars of tax policy -- he says the rules unfairly tax income as just capital when it more closely resembles labor income. Congress should repeal the preference, with some caveats like a million-dollar lifetime exemption and new treatments of gifts or bequests.
The proposal is part of a bigger project he's doing on inequality in the tax code. "The old arguments for a capital gains preference were pretty weak," he said in the speech.
To his critics, Fleischer hasn't learned what it sounds like every taxman should know: The devil is in the details. Fleischer hasn't spelled out enough about how dramatic changes in tax policy would affect partnerships, said Eric B. Sloan, a partner at Gibson, Dunn & Crutcher LLP who specializes in taxation of partnerships and private equity funds.
"It is really, really complicated to figure out how the things that Vic talks about would filter through" the full list of partnership codes known as Subchapter K of the tax code, Sloan told Bloomberg BNA. "I would have hoped that a tax academic would have done that stitching."
Fleischer is persevering in the face of the criticism. The trade group now known as the Private Equity Growth Capital Council spent $2.5 million last year lobbying, according to the Center for Responsive Politics. And every chance he gets, he'll remind you: It's not political.
"I wrote Two and Twenty to advance knowledge, not to help Hillary Clinton or Donald Trump get elected," Fleischer wrote in a footnote in his new paper.
Before it's here, it's on the Bloomberg Terminal.
LEARN MORE