Ex-House Speaker Dennis Hastert Pleads Guilty in Hush-Money Case
by
Faces as long as six months in jail for evading bank rules

Case said tied to payoffs aimed at hiding sexual misconduct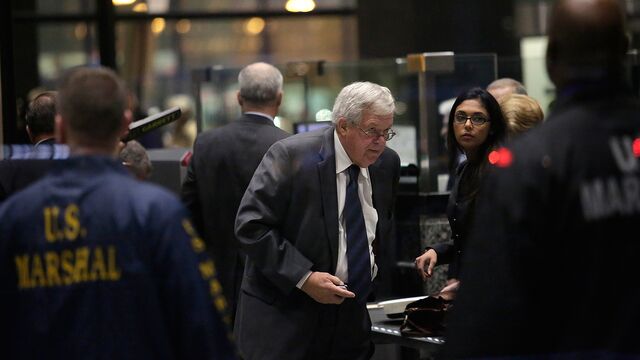 J. Dennis Hastert, who as Speaker of the House was second in line to the U.S. presidency, pleaded guilty to evading bank reporting laws in a scheme to hide payoffs meant to keep secret decades-old sexual "misconduct."
Prosecutors recommended the former Republican Congressman from Plano, Illinois, serve between zero and six months in jail on the charge, which carries a maximum five-year term. The 73-year-old admitted he withdrew almost $1 million from bank accounts in increments below a $10,000 reporting trigger to pay an unidentified individual.
Hastert was trying to keep quiet sexual misconduct against the individual, now an adult, from his days as a high school teacher and wrestling coach, according to a U.S. official who requested anonymity.
"Bank officials told me if I withdrew more than $10,000," it would have to be
reported, Hastert told U.S. District Judge Thomas Durkin Wednesday at his plea hearing in Chicago federal court. "I didn't want them to know how I intended to spend the money."
In his plea agreement, Hastert said he agreed to pay $3.5 million "in order to compensate for and keep confidential his prior misconduct against Individual A." At first, he made withdrawals of $50,000 until he was questioned about it, and then reverted to the smaller sums. While the plea agreement didn't reveal any details about past misconduct, prosecutors said they may reveal more before Hastert's sentencing Feb. 29.
John Gallo, his defense lawyer, declined to comment after the hearing.
Congress
Hastert served in Congress from 1987 to 2007, the last eight years as speaker. Prior to that he'd been a teacher and wrestling coach at Yorkville High School, about 55 miles southwest of Chicago and about six miles east of Plano.
The U.S. official briefed on the probe, who previously described the case on the condition of anonymity because the prosecution was ongoing, wouldn't say whether Individual A was one of Hastert's students or wrestlers, or if he was a juvenile at the time of the purported misconduct.
The case is U.S. v. Hastert, 15-cr-00315, U.S. District Court, Northern District of Illinois (Chicago).
Before it's here, it's on the Bloomberg Terminal.
LEARN MORE