Donald Trump the Stock Picker Boasts Gains That Nobody Can Match
by and
The GOP presidential candidate says 40 of 45 picks advanced

No institutional investor did better in two quarters of 2015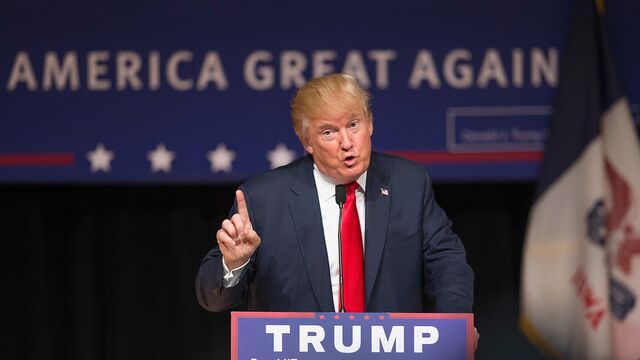 Apparently Donald Trump is America's greatest stock investor.
Or that would appear to be the inference, at least, from the claim he made in his new book, "Crippled America." He writes that 40 of his 45 stock purchases "rose substantially in a short period of time." In the parlance of money management, that'd give the Republican presidential candidate a positive strike rate of 89 percent. Wow. If factual, it'd be better than the rate posted by any institutional investor in America between April and September.
"If his hit rate is that high in a difficult stock market year, then he'd be better focusing on investment than he would be on real estate," Michael Ball, president and lead portfolio manager of Colorado-based Weatherstone Capital Management Inc., which oversees $625 million, said by phone. "It doesn't seem to quite ring consistent with, 'Hey I put the bulk in my real estate, but look how darn good I'm in investing in stocks."'
It's been a particularly thorny year for investment managers. At the end of the third quarter, only 47 percent of actively managed mutual funds were beating their benchmark, data compiled by Morningstar Inc. show. A total of 171 stocks in the Standard & Poor's 500 Index were up for the year on Sept. 30, 2015.
To gauge just how unusual Trump's returns would be, Evercore ISI examined about 670 institutions -- including some 230 hedge funds -- that have held 20 to 50 positions in data going back to 2011. The New York-based research and investment firm measured both the positive strike rate, or the percentage of stocks that are positive each quarter, and the outperform strike rate, the ones that beat the S&P 500.
The record Trump claims, 40 positive out of 45 stocks, would put him in the 97th percentile among comparable institutions in the first quarter of 2015 and better than all of them in the second and third, according to ISI. Among hedge funds, he'd be in the 94th percentile in the first quarter and beat them all in the second and third.
When Trump bought the stocks isn't completely clear from the book. The claim about the 40 stocks comes on a page where he recounts his finances since publishing a financial statement in June 2014. The passage reads:
"My income for 2014, as I reported in the PFD statement, was $362 million dollars -- not including dividends, interest, capital gains, rents, and royalties. Income for 2015 will exceed $600 million. I also did well in the stock market. While that isn't something that I've focused on in the past, and is only a small part of my net worth, 40 of the 45 stocks I bought rose substantially in a short period of time, resulting in a $27,021,471 gain on sale -- the stocks remaining in the portfolio have an unrealized gain of more than $22 million."
Hope Hicks, a campaign spokeswoman for Trump, declined to comment on the timing of Trump's stock picks or his investment criteria.
"If he did it in 2014, that would be in line with what some of the best hedge funds mangers have done," said Abhra Banerji, director of quantitative research at Evercore ISI in New York, who estimated Trump's picks would be above the 98th percentile for last year in terms of return. "It's been a tough couple of years in terms of active management business. There are a lot of factors that are working against active management, the chief of them being that a lot of the returns are driven by a selective few stocks."
Before it's here, it's on the Bloomberg Terminal.
LEARN MORE