Manifestos
Donald Trump Doing A-OK in 'Crippled America'
The billionaire Republican candidate's new book bills itself as a blueprint on how to "make America great again," but offers few new details.
by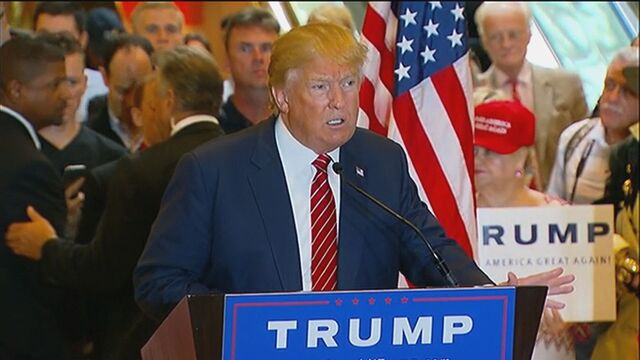 Donald Trump is scowling on the cover of his new book but he wants the country to know that he passed over "some beautiful pictures" of himself—and that his presidential campaign has made him even wealthier.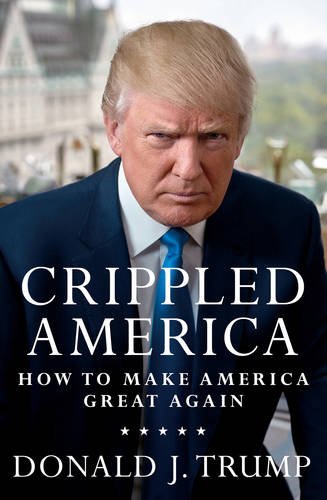 The Republican candidate's latest book, due out next week but purchased by Bloomberg at a Washington bookstore, is Crippled America, a 193-page tome (including a 14-page "About the Author" section) that handily reprises many of the themes of his campaign speeches, with the emphasis on style over details. The book cover is one example. Because he wanted to echo the downbeat theme, Trump writes, "I wanted a picture where I wasn't happy, a picture that reflected the anger and unhappiness that I feel."
That dyspepsia comes despite the fact that, by Trump's own account, the presidential campaign has been very good for his bottom line. He reports that his net worth has gone up since he entered the presidential race and estimates it at more than $10 billion, considerably higher than where Bloomberg's Billionaires Index puts it. Trump, who is running a populist campaign, says his income for 2015 "will exceed $600 million."
A slightly more linear version of his stump speech, his campaign manifesto reads as if it were dictated, with his bellicose voice reflected in nearly every paragraph. Discussing his detractors, many of whom predicted his polling lead over establishment favorite Jeb Bush would fade, Trump declares: "I have proven everybody wrong. EVERYBODY."
Should Trump make his way to the Oval Office, he vows that America will no longer be the world's "Uncle Sucker" and wealthy allies such as Saudi Arabia, Britain, Germany, Japan, and South Korea can expect to pay for the "protection" the U.S. military affords them. The wall on the southern border will be built, Mexico will pay for it, and—in case anyone doubts the sincerity of his appreciation for immigrants who arrive legally—it will include "a big, beautiful door in that wall" for visa-holders.
In making the case for a military build-up, he approvingly quotes Theodore Roosevelt's famous aphorism "speak softly and carry a big stick," then allows that he doesn't necessarily follow the first part of the rule.
"I've never been afraid to speak up to protect my own interests and, truthfully, I don't understand why we don't speak up more loudly about the ways we are losing around the world," Trump writes. 
But lest there be any doubt, Trump wants the reader to know he isn't a loser. He writes that his first year on the campaign will be another success for his financial empire.
"I'm not bragging when I say that I'm a winner. I have experience in winning," Trump writes. "It's what we call leadership."
Trump touts his success as a stock-picker. He writes that he made $27 million in gains on stock sales and has more than $22 million in unrealized gains: "40 of the 45 stocks I bought rose substantially in a short period of time."
Among other highlights in the book:
In a proposal that echoes those of many Democrats, Trump calls for "a massive rebuilding of our infrastructure," calling for rehabilitation of roads, bridges, and public transit.
He criticizes  Macy's CEO Terry Lundgren for "a great act of disloyalty" in deciding to terminate business with him. Trump recalls a  conversation with Lundgren during which Lundgren said, "We're receiving calls from Mexicans. They're going to picket Macy's." Trump says he responded: "I'm telling you that if they picket, they'll be there for an hour. Nobody cares."
He suggests he will find a way to reimpose international sanctions on Iran through a loophole in the nuclear deal. "Putting sanctions back in place unilaterally won't do any good. I am especially good at reading a contract. There is always a loophole, we need to find it and, if necessary, they will pay big-league dollars."
He opposes taking in any Syrian refugees, saying they "will certainly bring in a lot of problems."
He would send "a limited—but sufficient—number of troops to fight on the ground" against Islamic State terrorists and advocates "bombing the hell out of those oil fields" that ISIS controls in Syria and Iraq "to cut off the source of their money."
He offers a simple solution for the U.S. healthcare system: lock a bunch of experts in a room, and keep them there until they've figured out how to provide everyone with affordable care. Beyond that—and calling for the repeal of President Barack Obama's Affordable Care Act—Trump offers few details. The Republican presidential candidate says everyone should have access to care. He doesn't say how he'd pay for such a program, or for the existing Medicare program for the elderly and disabled.
Before it's here, it's on the Bloomberg Terminal.
LEARN MORE