From Woodstock to the White House? The Jane O'Meara Sanders Interview
A long strange trip to would-be first lady.
by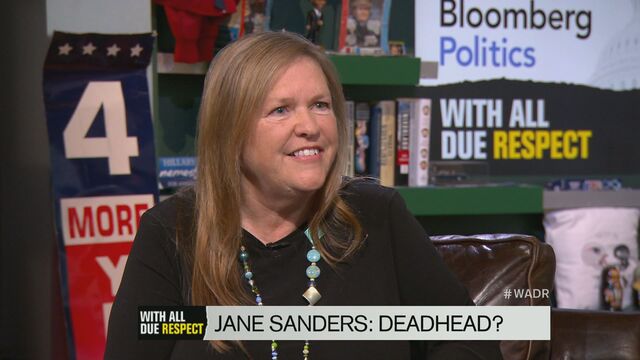 Before Jane O'Meara Sanders met her husband, Bernie, she was a self-described "Dead Head" from Brooklyn who back in 1969 slept in a tent at that year's fabled Woodstock festival.
"I mean, listening to the music was unbelievable, but what was fun was they had—it was raining all the time so everyone was jumping in the mud, it was fantastic," Sanders said, recalling the music festival on Monday during Bloomberg's With All Due Respect.
These days, she has moved from sleeping in tents to living on the campaign trail and trying to adjust to the lack of privacy that comes with being the spouse of a leading Democratic presidential contender. 
"It's amazing, we can't walk down the street," Sanders said. "I mean, in Vermont people are so used to seeing us, it's fine and they are all supportive, but we just walked down in New York and people are turning around and stopping and asking for selfies."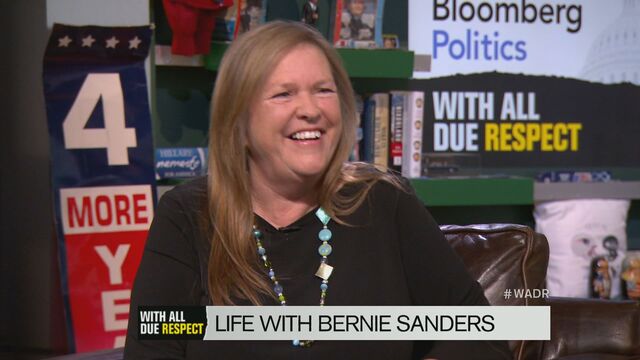 Sanders said she first heard of her future husband when she was a community organizer in Burlington, Vermont, and so frustrated at the then-mayor evading questions that she started to pepper him with her own. Others in the audience said, "Hey, you sound just like Bernie Sanders."
"I sat down and said, 'Who's Bernie Sanders?'" she recalled. She easily opened up about her life off the campaign trail, and she said she's been urging her husband to stray from his laser-focus on the issues and show a more human side. But she said when she has told him to reveal a more personal side, "he gives me the same face he gives you," and followed with a spot-on impersonation of her husband.
"On the other hand, I think he has limited amount of time to talk about the issues that are so important and that's why he's running for president. Not because he's a wonderful person or a loving father or grandfather, that he loves to have fun, loves music," Sanders said. "But hopefully they will get to see more of that as time goes on."
When her husband is not on the campaign trail, she said, he is teaching his grandchildren to play chess, soccer, and baseball.
"That's something your viewers wouldn't know, but that's always been something that happens every time he's home," Sanders said.
And while Sanders said she and her husband are friendly with some of his liberal colleagues, such as Senators Sherrod Brown of Ohio and Ben Cardin of Maryland, she says they have made other unexpected alliances during his political career. One of those is with Vermont developer Tony Pormerleau, a Republican who has made campaign donations to such staunch Republicans as former President George W. Bush, former New York City Mayor Rudy Giuliani, New Jersey Governor Chris Christie, 2012 Republican presidential nominee Mitt Romney, and U.S. Senator John McCain.
The two met when Bernie Sanders was running for mayor of Burlington and rallied against Pomerleau's proposal to build luxury condominiums on the city's waterfront. The socialist candidate and the Republican developer ended up becoming friends and have been hosting holiday parties for lower-income residents and veterans in the town for 35 years.
And on the Saturday Night Live impersonation of her husband, she said, "I think Larry David was really good."
Before it's here, it's on the Bloomberg Terminal.
LEARN MORE