De Blasio Said to Plan Hillary Clinton Endorsement After Delaying Move
Henry Goldman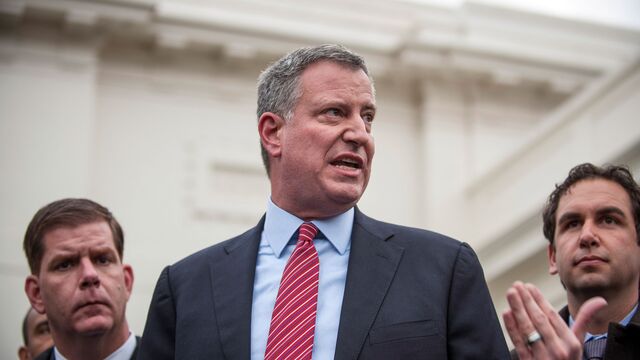 New York Mayor Bill de Blasio, after months of hesitation, will endorse former Secretary of State Hillary Clinton's presidential candidacy in the next six weeks, according to person familiar with his intentions.
De Blasio plans to back the Democratic frontrunner before a Dec. 6 presidential forum on income inequality that he's organizing at the University of Iowa in Iowa City, said the person, who requested anonymity because the announcement isn't official.
The mayor's decision, reported Monday by Politico, became public on the same day that Clinton's campaign listed scores of big-name New York supporters, including Governor Andrew Cuomo and U.S. Senators Charles Schumer and Kirsten Gillibrand. The mayor of the biggest U.S. city was conspicuously missing.
De Blasio, 54, managed Clinton's successful 2000 U.S. Senate campaign and worked for the U.S. Department of Housing and Urban Development in former President Bill Clinton's administration. This month, U.S. Representative Hakeem Jeffries, a Democrat, criticized de Blasio for declining to endorse her.
De Blasio has said he wants to hear more details about Clinton's tax, trade and economic policies before making an endorsement.
Before it's here, it's on the Bloomberg Terminal.
LEARN MORE