Bush Brothers Share a Stage in Houston
One former President Bush and one wanna-be make a rare joint campaign appearance with one reporter present.
by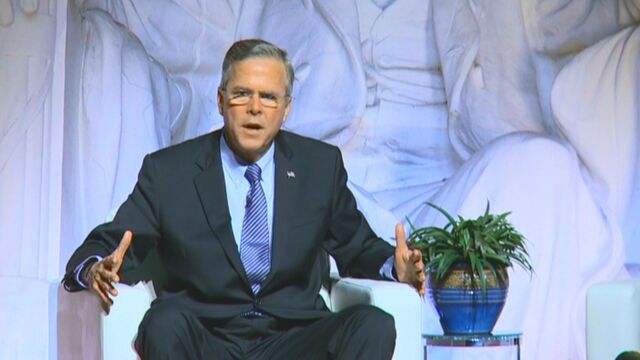 Former President George W. Bush joined his brother Jeb for a campaign event in Houston on Monday, marking the first time that his younger brother's presidential team has allowed the press to see the two together.
The two brothers traded good-natured jabs and vied for their mother's attention in front of about 175 donors who gathered in the town where their father, former President George H.W. Bush, began his political career and where he and his wife winter. The two-day summit,which featured political briefings and strategy sessions, was also used to motivate—and calm—fundraisers after the campaign announced Friday it is cutting payroll it save more than $1 million over the next month.
Dressed in a brown jacket and no tie, George Bush made the case for his brother throughout an hour-long conversation that he interspersed with anecdotes of growing up together. 
"One reason Jeb is going to win because he's a fierce competitor," George Bush said, noting he comes from a family that is "very competitive."
The former president also said his brother could win back Latino voters, who overwhelmingly voted for Democrat Barack Obama in the past two presidential elections. Jeb Bush's wife, Columba, is Mexican-American, and the former Florida governor has become a fluent Spanish speaker who refers to himself as bicultural.
"Jeb is going to win the Latino vote, which is essential to winning," said George Bush, whose ability to outperform other recent Republican presidential candidates among Latino voters was key to his elections. The elder Bush won better than 40 percent of the Hispanic vote in 2004. "It's going to be essential that we not ignore the Latino vote or irritate the Latino vote. A lot of politics is relational. Can that person relate to me? Does that person understand how I think? Given Jeb's relationship with Columba and Columba herself, people will say he understands how I think."
The joint appearance by the brothers marked a major moment on the campaign.
For much of his campaign so far, Jeb Bush has kept his brother, who left office at the nadir of his public approval ratings, at a distance. As he has introduced himself to Republican voters who have shown little interest in establishment candidates this year, the would-be third Bush president has been battling to keep his campaign focused on his own record as a former governor, and less on his life as the son and brother of former presidents. George Bush didn't attend his brother's formal campaign announcement in Miami in June, and has not appeared at a public event with him, instead raising money at about a half-dozen private fundraisers. Even the conversation between the two brothers on Monday was opened to just one reporter, who shared notes with other reporters and agreed not to shoot video or take photographs.
The Bushes noted the media presence during a discussion about the disastrous hurricanes that occurred while they were in office. George Bush praised his brother's handling of the 2004 and 2005 storm seasons, and suggested he tell the story more on the campaign trail.
"When there's a hurricane, the primary responsibility for recovery is the state," George Bush said. "And one reason Florida responded so well is because Jeb is a very strong leader. There's your campaign slogan, 'A proven leader.'"
George Bush suggested Donald Trump would fade in the polls as the election nears, saying his brother "knows how to manage an administration."
"I have to believe eventually the American people will say, 'Who's had the experience necessary to be president?'" the former president said. "'Who's run a state for example and done well?' And it's Jeb."
Jeb Bush noted that, as governor, he "vetoed a couple of projects for one of the presidential candidates," a reference to U.S. Senator Marco Rubio, who served in the state House while Bush was governor.
"But we had a process spending needed to go through," Bush said, listing off the top-ranking Republicans in Florida whose spending projected he cut from the budget. "It wasn't personal. Sometimes they took it personally."
Before a group that included both of their parents, the two brothers got personal too. Jeb Bush recalled the horned toads and tumbleweeds of his early years in Midland, Texas, where George H.W. Bush, the son of a U.S. senator from Connecticut, moved to get his start in the oil business. Jeb Bush also joked about the poisonous snakes and polluted water he swam in as a child outside Houston, where the family moved later, and stepped in to defend his mother, former first lady Barbara Bush, the target of several jokes from his older brother. 
"We'd anxiously await mother to cook us a meal, which she never did," George W. Bush said. He claimed his mother preferred to pour Hormel hot dogs into a pot of boiling water.
"I remember it differently, Mom," Jeb Bush interjected.
When Barbara Bush, who posed for pictures afterward with her two sons, husband, and daughter-in-law, wanted to speak at the end, George Bush told the moderator, "Be careful."
"How do you think I got white hair?" Barbara said. "Because I raised two older sons who caused me "
"But joy!" George interjected.
"Caused me nothing," Barbara said, adding that "Jeb is going to be the next president."
The crowd gave her a standing ovation.
Before it's here, it's on the Bloomberg Terminal.
LEARN MORE