Biden Says He Opted Against White House Bid Because He Couldn't Win
by
Hillary Clinton did `great' job in first Democratic debate

Optimistic of budget deal with incoming Speaker Paul Ryan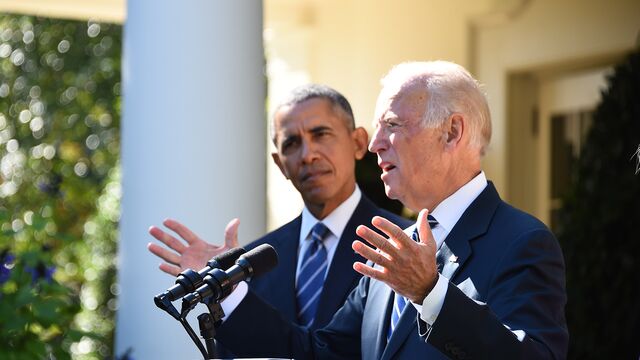 U.S. Vice President Joe Biden said he decided not to make a 2016 run for the White House after concluding he couldn't, so late in the game, put together a campaign that would derail Democratic frontrunner Hillary Clinton.
"Couldn't win," Biden said in an interview aired Sunday on CBS News' "60 Minutes," when asked why he opted not to make a third bid for the Democratic nomination. "If I thought we could've put together the campaign that our supporters deserve and our contributors deserved, I would've gone ahead and done it," Biden said in a transcript provided by the network.
Sunday's interview was the first for Biden, 72, since announcing in the White House Rose Garden on Oct. 21 that the process of grieving the death of his son, Beau, had closed the window on any chance for a run. That ended months of speculation and cleared the path for Clinton to win the nomination she lost to Barack Obama in 2008.
Biden said it took a long time for his family to decide if he should run after Beau's death. "Everybody grieves at a different pace," he said. Beau Biden, a former attorney general of Delaware, died of brain cancer in May at age 46.
Biden's wife, Jill, said she was disappointed her husband decided not to seek the Democratic nomination, adding that he would have made a great commander in chief. "I believed he would've been the best president," Jill Biden added.
Disappointing Rhetoric
Biden said Clinton did a "great job" and "comported herself well" in the first televised debate between Democratic candidates on Oct. 14, adding, "I have never had any doubt about her intellect." Vermont Senator Bernie Sanders, running second to Clinton in the polls, also had a "great" debate performance, Biden said.
Biden said he's disappointed in the rhetoric of leading Republican candidate Donald Trump, who has said he'd deport undocumented immigrants.
"I don't think it's healthy, and I hope he reconsiders this sort of attack on all immigrants," said Biden. "I don't think it's where the American people are. And I hope he really doesn't believe it."
Biden said he's optimistic the Obama administration can avoid another government shutdown, reach an accommodation on the budget with Republicans in Congress, and in general "get a number of things done" in the final 15 months of Obama's second term.
"We can make some real progress, particularly with Paul Ryan, who is a good guy," he said. Representative Ryan of Wisconsin, chairman of the House Ways and Means Committee, agreed last week to serve as House speaker to quell turmoil among Republican lawmakers.
Ryan "knows you cannot function -- this government can't function -- without reaching some consensus, and he wants to do that," said Biden.
Before it's here, it's on the Bloomberg Terminal.
LEARN MORE