Youth Movement
Rand Paul Is Running for President of Young America
He says reports of his campaign's imminent demise are wrong—he's still got time to turn out the youth vote and, while he's at it, warn young people about the danger of Bernie Sanders's democratic socialism.
by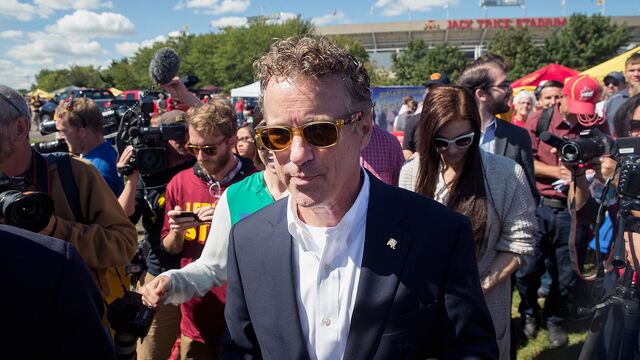 With unimpressive poll numbers, precarious fundraising totals, and an anti-establishment message suddenly dwarfed by the success of outsider candidates, Rand Paul's presidential campaign has been placed on death watch.
But the Kentucky senator's team insists he has a secret weapon to secure the GOP nomination: college kids.
After weeks of lagging far behind front-runners Donald Trump and Ben Carson in polling and fundraising, a few new polls offer glimpses of hope for Paul's struggling campaign. According to a new CNN/ORC poll, Paul has moved into 5th place nationally, ahead of New Jersey Governor Chris Christie, Texas Senator Ted Cruz, and even Carly Fiorina, the star of the last debate. In Iowa, a Bloomberg Politics/Des Moines Register poll published Friday found Paul tied with Jeb Bush for 5th place overall. Among 18-29 year old voters, Quinnipiac on Thursday placed him tied for 3rd with Iowans at 13 percent with Senator Marco Rubio.
If he continues to improve, the Paul campaign may get to test its theory of the case for winning the Republican primary: that young voters will propel him to the kind of strong finishes in the early states that his father enjoyed in 2012. 
Part of that plan involves getting 10,000 Iowa college students to pledge to caucus for the candidate in February. Last week, Paul went on a three-day college swing through the state, where he dismissed reports of his campaign's imminent demise. "The stories are planted by people who are from other campaigns, they're competitors who are being dishonest, but we're doing very well," Paul told Bloomberg after his speech University of Iowa speech last Monday. "I don't think there are many other Republican candidates who can get 500 people to a college rally, frankly," he continued. "We think the youth vote is an important part of what we're gonna do."
Polls vs. Campus Momentum
One of the many complaints the Paul campaign has about its coverage in the media is over-reliance on polls. "Young people have been the basis of our focus, and if you talk to young people, most of them don't have landlines," said Steve Munisteri, a senior adviser to the Paul campaign. "We have a lot of people that might not have that landline at home to pick up and answer NBC's poll but they'll show up election night," said Paul spokesman Sergio Gor, echoing a widespread worry in the polling community.
Gor added that they have an advantage in Iowa because of how well Ron Paul did there (a close third in 2012) and because the younger Paul currently has campaign chairs installed in all 99 counties and 20 Students for Rand chapters in the state. 
There are over 130,000 college students in Iowa according to the Iowa Board of Regents, and since this year's caucuses won't fall during winter vacation, students will actually be around to participate. And, as with many aspects of the campaign, Ron Paul's success with young voters implies his son may have some luck as well. In 2012, the older Paul won the youth vote in five out of the first seven nominating contests, including both Iowa and New Hampshire.
"It's no accident that Rand is focused on college campuses, particularly in states like Iowa," said Matt Kibbe, the senior adviser to the pro-Rand Paul super-PAC Concerned American Voters. "In a sense that's potentially his secret weapon, because showing up at caucuses is a very intensity driven thing—most people won't do it, most people won't participate."
And for Paul, reaching out to young voters isn't just about winning this election, but also spreading the gospel of civil liberties, small government, capitalism, and, more recently, the dangers of socialism. "He's a warrior for the hearts and minds of young people on behalf of the cause of capitalism and free markets," Munisteri said. Democratic White House candidate Bernie Sanders, on the other hand, "makes no hay about the fact that he's a socialist."
Unlike other Republicans who focus attacks on Hillary Clinton, Paul has spent more time knocking the candidate from Vermont. "Bernie is peddling this socialism, but what is socialism? Socialism is the absence of choice," Paul said at the University of Iowa. "There is nothing sexy or cool about socialism."
After his speech, Paul said that there's a big distinction between a socialist and someone like him who believes capitalism is the source of American wealth. Young people, he said, are "open to things like socialism and I want to make sure they understand how terrible socialism is, and how impoverishing it is."
Why Go After Sanders?
Though both agree on foreign policy—Paul called a no-fly zone over Syria, which Sanders also opposes, "a recipe for World War III"—their philosophical views on domestic policy are vastly different: Sanders, more than any other Democrat, believes the government has a vital role in improving access to health care, protecting the environment, and making college affordable. Paul has made a point of blaming both parties for expanding government, increasing spending on both domestic and military programs. 
For example: "You've got people, I call them false prophets—Bernie Sanders—who come to your school and say 'Here, you can have education, it's free,'" Paul told the University of Iowa. "There's nothing that free. There is no free lunch. It just means somebody's paying for it and you can't see them." 
The common thread is that both Paul and Sanders appeal to a trend of anti-establishment that's strong on college campuses. "I think in a way Rand Paul knows that that young people really do trust Bernie but not so much Hillary Clinton," said Kei Kawashima-Ginsberg, the director of Tufts University's Center for Information and Research on Civic Learning and Engagement, which studies the political and civic engagement of young people. "Rand Paul supporters are the same way—they really aren't into sort of a traditional talking points of the Republican Party."
Some Paul supporters, like Wade Hill, a University of Iowa freshman and avowed hater of socialism, think Sanders is just a fad. "I think a lot of kids are just saying Bernie Sanders because their friends say it," Hill said. "If they can actually get to hear Rand Paul and what he believes in, I think that'd bring in a lot of people."
But even at his own events, it was hard to say who the true supporters were. Skyler Johnston, a freshman psychology major at the University of Iowa, said he liked Paul's stance on property rights, but his first choice is Carson. Hill said he also likes Rubio. In line to snap a selfie with Paul was a mix on fans, activists, and people who just happened to be walking by: a student torn between Paul and Sanders, a Sanders supporter who wanted to ask Paul about his stance on nuclear energy, two guys who happened to be walking by after the Cubs game, and former Ron Paul supporter Yvonne Mendoza, a sophomore human physiology major.
Mendoza said she liked the Paul's foreign policy, but wasn't old enough to vote in 2012. She can't imagine supporting anyone else in her first presidential primary decision. "That would be hard," she said when asked about her second choice, "because I feel like he's the only one I could really go with ... I honestly would not know."
Before it's here, it's on the Bloomberg Terminal.
LEARN MORE