House to Weigh U.S. Debt Limit Increase as Deadline Nears
by and
Lawmaker says Republicans to consider so-called clean bill

Legislation would need support from Democrats to pass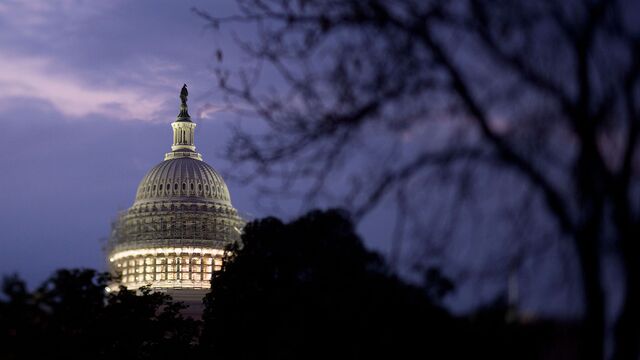 The House of Representatives plans to consider legislation next week to raise the U.S. debt limit as Republicans negotiate over the bill with Democrats, who insist that it be free of unrelated policy provisions.
House Majority Leader Kevin McCarthy said Friday the chamber is expected to address the borrowing limit next week. Treasury Secretary Jacob J. Lew has said Congress must raise the debt ceiling by Nov. 3 or risk default.
"I want a debt limit that gets raised, but does something about the debt," said McCarthy, a California Republican.
Republican John Fleming of Louisiana said he has been told that leaders are working on a so-called clean plan to raise the limit.
Fleming, a member of the conservative House Freedom Caucus, said he and other Republicans will vote against it, but that outgoing Speaker John Boehner and other party leaders are planning to rely on help from Democrats to get the measure passed.
"They just are going to do a clean" bill and "pass it with a majority of Democrats," Fleming said he was told. He said he wasn't told directly by Boehner or other leaders, but "that's the word being passed around" the Republican caucus. He said in an interview that he doesn't dispute that Nov. 3 is a hard deadline.
'Clean the Barn'
A Republican House leadership aide said Boehner's office hasn't made a decision on whether to proceed with a clean debt limit bill. Boehner, an Ohio Republican, has said he wants to "clean the barn up" by passing some major measures before he leaves and the likely next speaker, Paul Ryan, takes over.
McCarthy, asked whether leaders are considering a clean bill, said, "My position is the same, you have to do something about the debt going forward and it has to be raised."
"We are meeting in a bipartisan way to find a path forward," McCarthy said. Support from at least 30 Republicans would be needed, if all 188 Democrats supported a debt-limit bill, in order for it to pass.
Earlier this week, House Republican leaders scrapped a tentative plan to vote on legislation that would combine a debt-ceiling increase with $3.8 trillion in spending cuts over the next decade.
"There is not enough time to whip it into shape," the bill's sponsor, Republican Study Committee Chairman Bill Flores, told reporters. "I do not know what Plan B is."
The bill, H.R. 3771, was opposed by lawmakers who generally support the goal of spending cuts but didn't want to be pushed into the full package, according to Republican lawmakers and aides.
Short-Term Increase
Flores said alternatives discussed by Republicans include a short-term increase in the debt ceiling. A clean bill would be a hard sell for some members, yet it "has happened in the past, we'll see what happens," he said.
Also on Friday, Senate Finance Committee Chairman Orrin Hatch asked the Congressional Budget Office to verify the Treasury Department's projections of daily cash flows as the deadline nears.
Hatch, a Utah Republican, said in a Senate floor speech Thursday that the Obama administration isn't sharing enough information about how it arrives at debt limit deadlines.
"Don't get me wrong; I take the Nov. 3 date very seriously," Hatch said. "I think we all should."
Given the "lack of hard data" shared by the U.S. Treasury and Lew's decision last week to move the deadline up to Nov. 3 from the previous Nov. 5 date, Hatch said, he understands "why some people appear to believe that this latest best guess from the Treasury is fungible."
Deadline Questioned
Representative Trent Franks, an Arizona Republican who aligns himself with the House Freedom Caucus that helped spur Boehner to step aside, said he isn't convinced Nov. 3 is a hard deadline.
"The administration would like to portray it as the edge of the Earth; I don't see it that way," he said in an interview in the Capitol. "However, the markets could respond negatively and perhaps even dramatically if we mishandle that issue."
White House spokesman Eric Schultz told reporters Friday, "Secretary Lew has made clear that extraordinary measures will be exhausted on Nov. 3."
"Given the volatility in this process and given the tens of millions that flow in and out of the government regularly, if there is updates to those dates, Secretary Lew takes very seriously his responsibility to update Congress," Schultz said.
Republicans want debt-limit legislation to include policy language intended to cut government spending. Schultz said President Barack Obama would veto any debt-limit bill that contained extraneous provisions.
"We're not going to negotiate over the debt limit," he said.
The urgency of acting to raise the debt limit was highlighted by the Treasury Department's decision Thursday to postpone an auction of two-year notes previously scheduled for early next week. The Treasury said that "due to debt ceiling constraints, there is a risk that Treasury would not be able to settle the two-year note" on Nov. 2.
Second-ranking House Democrat Steny Hoyer of Maryland told reporters Friday he was confident that Congress would raise the limit in time because it was "inconceivable" that there wouldn't be support from 30 Republicans.
Before it's here, it's on the Bloomberg Terminal.
LEARN MORE