Hillary Clinton Holds Her Ground Under Questioning From Benghazi Committee
by , , and
Marathon inquiry may boost Clinton campaign, Democrats say

Republicans question Libya security, Blumenthal e-mails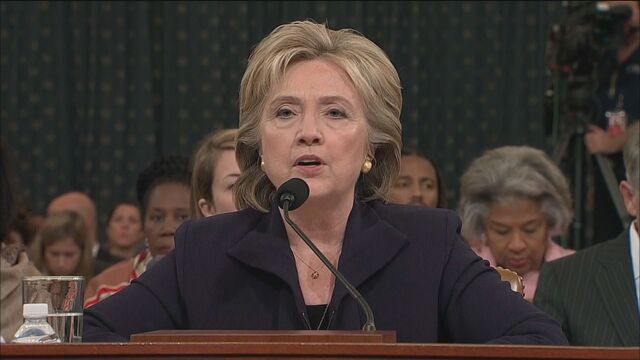 Hillary Clinton held her ground against sharp Republican questioning about her activities before and after a lethal 2012 attack on the U.S. mission in Benghazi, Libya, refusing to concede personal mistakes in a hearing sure to become fodder for presidential campaigns in both parties.
The Benghazi committee's inquiry on Thursday featured Clinton, the former secretary of state who is the frontrunner for the 2016 Democratic presidential nomination, as the sole witness. Her questioning began shortly after 10 a.m. in Washington and ended about 9 p.m., with several breaks.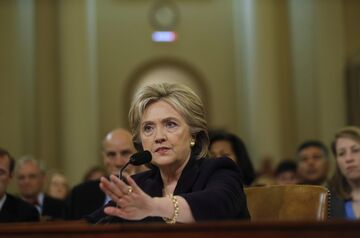 Clinton's testimony capped what is shaping up as the strongest stretch of her campaign, after a confident showing in the party's first debate and Vice President Joe Biden's exit as a possible threat. Her performance solidified her position atop the Democraic field and demonstrated to opponents in both parties -- and voters -- that she is capable of overcoming past stumbles as a campaigner and confronting nagging questions that have dogged her candidacy.
Republicans assailed Clinton for everything from whether she personally reviewed security arrangements in Benghazi to her actions on the evening of the Sept. 11, 2012 attack to her relationship with a friend and informal adviser, Sidney Blumenthal. They sought to show that Clinton and the State Department she led were caught flat-footed by terrorists in the Libyan city and subsequently fumbled the government's response and public explanation.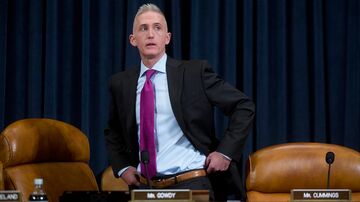 Families of the four Americans killed in the attack "asked us to do three things," said Trey Gowdy of South Carolina, the Republican chairman of the Benghazi panel, in remarks opening the hearing. "Do not make this a political football. Find the facts. Do everything in your power to make sure this does not happen again."
No significant new information was unearthed in the questioning, and as the day dragged on, the hearing took on a greater partisan flavor. Gowdy and the committee's top Democrat, Elijah Cummings of Maryland, argued loudly with each other about whether the investigation was politically motivated.
"I don't know what we want from you," Cummings said to Clinton as the hearing continued past 8 p.m., drawing applause from Democratic colleagues. "Do we want to bash you over and over again? We're better than that. We're better than using taxpayer dollars to try to destroy a campaign. That's not what America's all about."
Clinton offered an emotional defense of her handling of the Benghazi incident, saying that she had lost more sleep than anyone in Congress and commending the work of the Libyan ambassador, Christopher Stevens, and the three other U.S. officials who died. She and Stevens shared a common philosophy on the need for American leadership even in the most troubled parts of the world, Clinton said.
"I was the one who asked Chris to go to Libya as our envoy," Clinton said. "I was the one who recommended him to be our ambassador to Libya. After the attacks, I stood next to President Obama as Marines carried his casket and those of the other three Americans off the plane at Andrews Air Force Base. I took responsibility."
Democrats said they believed Clinton had bested Republican lawmakers. Representative Joe Crowley, a New York Democrat who attended part of the hearing, said Republican questions had added to a perception that the committee had been created for political purposes.
During a break, Crowley whispered into Clinton's ear that a line of questioning by Representative Peter Roskam, a Republican Illinois, about whether her response to the attack was motivated by politics was "the pot calling the kettle black," he said. Clinton smiled and laughed.
Gowdy declined to assess the outcome of the hearing. "I don't care what your perspective is; it's important," he said in an interview during a break.
Clinton didn't respond to reporters who asked during a break how she thought she was doing. Her body language offered a hint, however, as she smiled broadly and threw her arms wide to greet Crowley and Senator Patrick Leahy, a Vermont Democrat.
Benghazi Security
Stevens was an extraordinary diplomat, Clinton said, who had spirited himself into Libya on board a Greek cargo ship as a revolution broke out against the country's former dictator, Muammar Qaddafi. After the attacks, Clinton said that she "launched reforms to better protect our people in the field and reduce the chance of another tragedy."
The Republican-led Congress, she said, has delayed acting on a State Department review board's recommendations to improve security for U.S. diplomats.
Stevens, she said, never addressed requests for enhanced security in Benghazi to her or her staff. "He raised security with security professionals," Clinton told Gowdy. There were some improvements to the mission's security, she said, acknowledging that not all of his requests were granted.
Clinton said it was the job of the State Department's Bureau of Diplomatic Security to evaluate security requests and balance them with budget constraints, not the secretary's responsibility.
Representative Susan Brooks, an Indiana Republican, sought to portray Clinton as distracted when Stevens was in Libya. She plopped two large piles of documents in front of herself on the hearing room's dais. One pile, she said, was copies of 795 e-mails Clinton sent or received regarding Libya in 2011. The other pile was just 67 Libya e-mails from 2012, she said.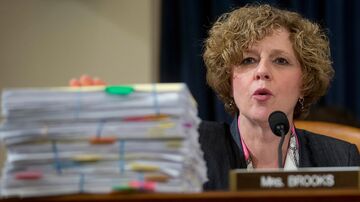 "I can only conclude by your own record that there was a lack of interest in 2012," she said.
"I did not conduct most of the business I did on behalf of our country on e-mail," Clinton responded, saying she did much of her work by phone and in-person meetings. She joked that there were probably a lot of e-mails from Blumenthal in the larger pile.
"We'll get there," Brooks said.
'A Friend'
Representative Mike Pompeo, a Kansas Republican, said that officials in Libya had made more than 600 requests for additional security before the Benghazi attacks, none of which were personally reviewed by Clinton. Meanwhile, Blumenthal "wrote you over 150 e-mails," Pompeo said to her. "All of those reached your desk."
"He's a friend of mine," Clinton said. "He sent me information he thought would be of interest. Some of it was, some of it wasn't. He had no official position in the government and he was not at all an adviser on Libya."
Pompeo also asked why Clinton fired no one after the attacks. State Department investigators, she said, "could not find a breach of duty."
"Folks in Kansas do not think that was accountability," Pompeo said.
At times the exchanges were perplexing. Pompeo asked if Clinton was aware that State Department officials had met about security in Benghazi with a man named Wassam Bin-Hamid just two days before the attack. Bin-Hamid was previously linked to al-Qaeda, he said.
Clinton said she didn't know what he was talking about and asked Pompeo if he knew who in the department had met with Bin-Hamid. Pompeo couldn't say, and discontinued his questioning.
A cable the U.S. diplomatic mission in Libya sent on the day of the attack identified the man as Wissam bin Ahmed, the leader of a local Benghazi militia called Libya Shield 1.
Blumenthal Correspondence
Republicans attempted to contrast Blumenthal's ready access to Clinton with Stevens's distance. The White House had blocked Blumenthal from accepting a State Department job, according to testimony to the Benghazi committee by Cheryl Mills, a top aide to Clinton at the department. Representative Lynn Westmoreland, a Georgia Republican, asked whether Stevens had Clinton's personal e-mail address.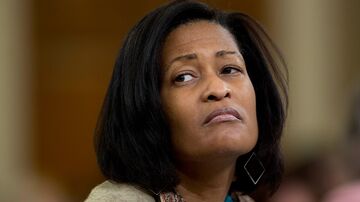 "I do not believe that he had my personal e-mail," she answered. She said later that he hadn't asked for it.
Michael McFaul, a former U.S. ambassador to Russia under Obama, said on Twitter that diplomats most often use official cables to communicate with the State Department and that he "never" contacted Clinton by e-mail.
Representative Jim Jordan, an Ohio Republican, sparred with Clinton over the genesis of the attack and her actions immediately afterward. Clinton said that a man arrested as one of the ringleaders of the attack said he had been motivated, in part, by an inflammatory anti-Islamic film, "Innocence of Muslims," uploaded to YouTube in July 2012.
"I'm sorry that doesn't fit your narrative, congressman," she said. "I can only tell you what the facts were."
Gowdy returned to Blumenthal, reading excerpts from his e-mails in which he insulted Obama and his advisers. Gowdy called him Clinton's "most prolific e-mailer" and asked whether she knew the sources for Blumenthal's information about Libya.
"I did learn later that he was talking to or sharing information from former American intelligence officials," she said.
"By the name of?" Gowdy asked.
Clinton said she didn't know.
Exchanges between Clinton and Republicans, and between Republicans and Democrats on the committee, grew more tense and pointed as the hearing stretched into the afternoon and questions -- especially about Blumenthal and security arrangements in Benghazi -- became repetitive.
Just before a break after about three hours of questioning, Gowdy and Cummings argued loudly, while seated about a foot from each other, over whether the investigation was politically motivated.
Cummings told reporters afterward: "I'm not here to defend Hillary Clinton. I'm here to defend the truth."
After the break, the committee voted 7-5 against a Cummings motion to publicly release transcripts of its private interviews with Blumenthal. All of the committee's Republicans opposed the release.
"What they really don't want the American people to see is what they asked" Blumenthal, Representative Adam Schiff, a California Democrat, said of Republicans on the committee.
Eighth Investigation
House Republicans created Gowdy's Benghazi committee in May 2014 expressly to investigate the attacks. Seven other congressional committees have previously investigated the incident. House Democrats have accused Gowdy's panel of targeting Clinton in the hopes of hurting her chances at the presidency, and have said that the committee's work has cost millions of dollars and lasted longer than the investigation of Watergate.
"Previous investigations were not thorough," Gowdy said in defending his committee's work.
The best way to honor the legacy of the four Americans who died in Benghazi, Clinton contended, is to ensure that the U.S. government does all it can to protect its diplomatic corps, even in regions where there's no American military presence.
"America must lead in a dangerous world, and our diplomats must continue representing us in dangerous places," Clinton said. U.S. diplomats cannot represent the nation from a "bunker," she said.
Politicians back home, she said, should "rise above partisanship and reach for statesmanship."
Before it's here, it's on the Bloomberg Terminal.
LEARN MORE