Pitfalls
Why Hillary Clinton Still Needs to Worry About Her Benghazi Committee Testimony
Conservatives and committee Republicans have zeroed in on issues ranging from slain Ambassador Chris Stevens's requests for security to whether Clinton's use of a private e-mail server endangered national security.
by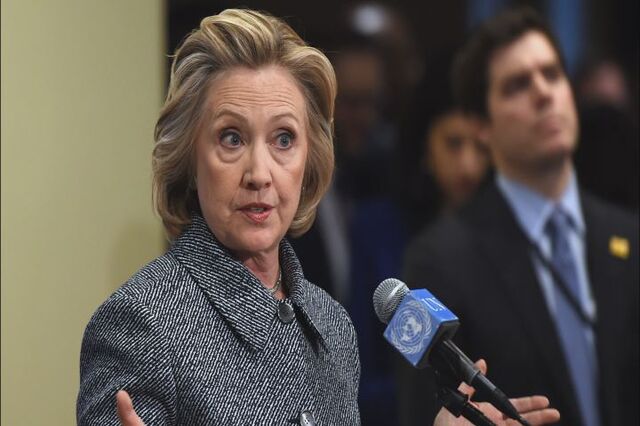 Former Secretary of State Hillary Clinton is heading into Thursday's appearance before the House Select Committee on Benghazi with the wind at her back. Coming off a strong debate performance, enjoying rising poll numbers, and now secure in the knowledge that she will not face Vice President Joe Biden in the primary, she is in her strongest political position since the beginning of her campaign. 
Her inquisitors, meanwhile, are not so lucky. The committee has been put on the defensive in recent weeks, facing attacks on its legitimacy following the admissions by Republicans that it has targeted the Democratic front-runner for what appear to be partisan motives.  
But if Clinton is expecting a victory lap, she may want to think again. Democratic members of the panel say she may be on the hot seat for as long as nine hours in what promises to be a day-long theatrical spectacle complete with overflow rooms and queues of spectators forming as early as two hours before doors open for the 10 a.m. hearing. Congressional Republicans know that this is their only chance to grill Clinton. "It's our one bite at the apple," Representative Lynn Westmoreland of Georgia said. They are coming armed with potentially embarrassing questions on a range of topics, including, but not limited to, the following.
1. Requests for greater security
Committee Chairman Trey Gowdy, a South Carolina Republican and former prosector, said Sunday on CBS's Face the Nation that one of his biggest questions would be "why was our security profile going down" before the Sept. 11, 2012, attacks. Gowdy said e-mails from U.S. Ambassador Chris Stevens, one of four Americans killed during the attack, show he "needed help with security" and approached top advisers to Clinton about his requests. He even joked, Gowdy said, about approaching a foreign government for funds for security.
E-mails released by the State Department show that staffers sent Clinton news of escalating violence during the civil war that brought down Libyan dictator Muammar Qaddafi, which has caused some Republicans to wonder why she didn't do more to protect the Benghazi mission. Benghazi committee Democrats insisted in a report that the the committee has turned up "no evidence that Secretary Clinton personally approved or ordered a reduction of security in Benghazi prior to the attacks." But the State Department's own Accountability Review Board report found "a pervasive realization among personnel who served in Benghazi that the Special Mission was not a high priority for Washington when it came to security-related requests" and that that situation "was at variance with" State Department standards.
2. Private server and classified information 
Many of the Clinton's e-mails as secretary of state, which were sent over a private server that may not have been well protected from cyber attack, contain information that is now classified or should have been classified, according to government inspectors general and State Department teams reviewing the documents for release. (Campaign and department spokesmen point out none were marked classified at the time.)
That has provided attack lines for Republicans. In an Oct. 7 letter, Gowdy said Clinton received and forwarded "the name of a human source" to the Central Intelligence Agency. The letter said source names are "some of the most protected information in our intelligence community, the release of which could jeopardize not only national security but human lives." (The committee's lead Democrat, Representative Elijah Cummings, said in a letter that the CIA had told the committee it did not consider the person's identity classified.)
Republicans are expected to refer to e-mails as evidence, though not as part of a separate inquiry.
On Wednesday, Westmoreland left little doubt that he and others won't be shy about considering Clinton's private e-mails fair game. 
"They'll have to. In today's technology e-mails can't help but come up when your trying to look at a chain of events," said Westmoreland, who also has a seat on the House Permanent Select Committee on Intelligence. "But I think people have got this all messed up. This isn't about Hillary Clinton's private e-mails. This is about her having a private server and having complete control over her emails," he said.
He said previous secretaries of states may have used private e-mails, but not a private server.
3. Surprise attacks
Republicans have said the committee has secured e-mails from both Stevens and Clinton. These include 1,300 pages of messages from Stevens that outgoing Speaker John Boehner said were only released Tuesday.
It's hard to know what risks to Clinton those e-mails might contain, as Gowdy has not gone into detail about their contents aside from Stevens's security concerns. During the committee's Sept. 3 questioning of Cheryl Mills, Clinton's chief of staff at the State Department, Gowdy did ask about how e-mails were selected for release. He has also said e-mails, especially those from Stevens, are crucial to the committee's efforts.
"If you want a window into Libya and what was happening in the weeks and months before these four were killed, why would you not look at the ambassador's e-mails?" Gowdy said on Face the Nation when asked about "new facts" that came out from his investigation and hadn't appeared in others'.
Even if unreleased e-mails do not re-shape the narrative of Clinton's actions, they could prove damaging to her: Some conservatives have also used unreleased e-mails to attack her honesty, an issue that prompts concern about her candidacy for some voters.
4. Sidney Blumenthal
Clinton's trusted friend and frequent correspondent, Blumenthal did not work for the State Department. Still, he often e-mailed the secretary of state on what he claimed was "intel." Gowdy, in the same Oct. 7 letter, called Blumenthal "Clinton's primary advisor on Libya" and released excerpts from alleged Blumenthal e-mails in which he urged Clinton to consider a more aggressive stance in favor of Libyan rebels than the administration was then taking. The letter also said Blumenthal "was privately pushing a business interest of his own in Libya that stood to profit from contracts with the new Libyan government."
Blumenthal's lawyer has said "did not have any financial interest in the efforts of the two companies pushing to win contracts in Libya," according to Politico. 
Many of the exchanges between Clinton and Blumenthal took on a gossipy tone that, if quoted in a hearing room, could prove embarrassing to the former secretary of state. In testimony released Wednesday by committee Democrats, Mills confirmed that Clinton wanted to secure a State Department post for Blumenthal but was overruled by the White House.
Gowdy said on Face the Nation he could question on Blumenthal and others who corresponded with Clinton. 
"I want to know why certain things made it to your inbox, Madam Secretary, but the plaintive pleadings of our own ambassador that you put in place for more security never bothered to make it to your inbox," he said. "I think that's a fair question."
(Contributing: Billy House)
Before it's here, it's on the Bloomberg Terminal.
LEARN MORE