Momentum
What Joe Biden's Exit Means for Hillary Clinton
The vice president's decision not to run is the latest piece of good news for a disciplined Hillary Clinton campaign.
by and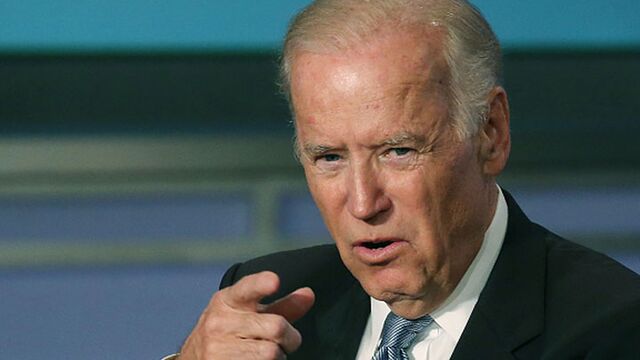 Joe Biden's decision to not to run for president represents another victory for Hillary Clinton, whose own campaign continues to gain momentum. 
The vice president's entry into the Democratic field would have shifted the dynamics of the race, creating new challenges—and adding new costs—for the Clinton campaign. Instead, the Democratic front-runner's team can stay the course it set months ago, with no other establishment opponents and only one major opponent in the primary, Bernie Sanders. The Vermont senator has strength with certain constituencies but is struggling to build support among African-Americans and Hispanics.
Sanders's efforts to do so, and to solidify his support from union leaders—who like his populist rhetoric but have questions about his electability—will be complicated by the growing sense of inevitability for the candidate he has been unable to dislodge as front-runner. Still, Sanders has successfully pulled Clinton to the left on issues such as the Trans-Pacific Partnership, something he will continue to be able to do as her most formidable adversary.
After a tough July and August, Clinton got back on track in September and picked up more steam last week with a strong debate performance. The former secretary of state's allies are so optimistic that she'll do well during her day of testimony Thursday before the House Select Committee on Benghazi that they have planned a Friday rally in northern Virginia with Clinton loyalist and Virginia Governor Terry McAuliffe. That night, she'll appear on the Democratic-friendly MSNBC with Rachel Maddow before heading Saturday to the Iowa Democratic Party's Jefferson-Jackson Dinner, which her allies hope will be the culmination of a 10-day victory lap. Former President Bill Clinton will speak at a pre-dinner rally for his wife, marking the first time this cycle that he's delivered a speech at a Clinton campaign event, and pop star Katy Perry will perform. 
"I think that Secretary Clinton was prepared one way or the other," said Minyon Moore, a longtime Clinton adviser. Biden's deliberations "didn't alter her course," she added. "She had to continue to do what she was doing.""
Anti-Clinton Ammunition
Biden's decision not to run doesn't mean that Clinton's only opponent is the reluctant-to-attack Sanders. In the days before withdrawing from the race he never formally entered, Biden gave Clinton's challengers—both on the left and the right—plenty of ammunition, including suggesting that her characterization of Republicans as "enemies" was "naive." Clinton also faces challenges in solidifying union support, though Biden's decision to stay out of the race removes an important competitor.
While Clinton has voiced opposition to the so-called Cadillac tax on health plans and also the Trans-Pacific Partnership, key unions, including AFSCME and the Communication Workers of America, have held off on endorsing her in the Democratic primary in part because of support for Sanders among rank-and-file members, labor sources said.
"This clearly opens the field for massive labor support for Hillary. They want somebody who's electable," said Stuart Eizenstat, a former domestic policy adviser to President Jimmy Carter who is a Clinton supporter and longtime Biden friend.
Not all of Biden's backers are ready to jump on board, however. "I'm not inspired by the Clinton campaign," Dick Harpootlian, a former South Carolina Democratic Party chairman, said after Biden announced his decision. "I'm not inspired by her."
Testing a Campaign
Clinton's method of handling what could have been a Biden crisis says much about how she might consolidate her recent gains: During two months of intense chatter about a possible challenge from the vice president, Clinton stayed disciplined and measured, keeping to a script that erred on the side of generosity. Whenever reporters asked about the vice president's flirtations with a campaign, Clinton repeated that Biden deserved space to mourn the death of his son Beau and time to figure out whether he should run. 
"She has always maintained that she has a great deal of respect for the vice president. I think she was one of the first out there to say, you know, this is a deeply personal decision and he needs to be able to have the space to make that decision," Moore said.
Clinton's aides followed her lead, answering questions with the same degree of deference to the vice president. Her campaign stayed focused on the same game plan it started running months ago and left some preparations for a potential Biden entry to Correct the Record, the David Brock-founded super-PAC coordinating with the campaign, which was conducting opposition research on him. 
The one exception was campaign chairman John Podesta, who said last week on MSNBC that if Biden wanted to run, "it is time he make that decision." Given his role in the campaign and his decades-long relationships with Biden and with the Clintons, he was in a unique position. Still, Clintonites distanced themselves and pointed to the candidate's insistence not to interfere with the vice president's process.
On the stump in recent weeks, Clinton tested out some attack lines, but never directly mentioned Biden. Her comments at town halls in New Hampshire and Iowa this month that she'd be able to make progress on tightening gun laws because she is "determined" to do it could be interpreted as a veiled criticism of the President Barack Obama—and his point man on guns, Biden—for failing to do so in the wake of a series of mass shootings. But Clinton never came close to directly criticizing Biden, which added sincerity to the call she made to him after is Rose Garden speech and the statement she issued afterwards, praising him as a "good man and a great vice president."
"I admire his devotion to family, his grace in grief, his grit and determination on behalf of the middle class, and his unyielding faith in America's promise," she said.
Sanders also phoned Biden after the vice president's announcement and the two spoke later Wednesday afternoon, communications director Michael Briggs said.
Biden had been heading toward a no for days but didn't make his final decision until Tuesday night, after speaking at two events honoring former Vice President Walter Mondale, sources close to the vice president said. On stage earlier in the day, he had been less veiled in his criticism of Clinton—though he did not go after her by name—leading some Clintonites to worry that he was on the verge of entering the race. He also faced backlash and a taste of the current media environment when he offered up a new accounting of his advice to Obama on the 2011 raid that killed Osama bin Laden. 
One deciding factor in dissuading Biden from a run was that although his aides had put out some feelers for staff and had made a few calls about potential office spaces, they had no infrastructure from which to launch a campaign and would at a particular disadvantage because of the massiveness of Clinton's operation. He acknowledged as much in his Rose Garden speech, saying, "I believe we're out of time—the time necessary to mount a winning campaign for the nomination."
No Endorsements–Yet
Biden's decision means that pressure for Obama to endorse a candidate in the Democratic primary will dissipate. If his vice president and his former secretary of state were both running, observers would be anxious to see which way the president decided to go. Without Biden in the race, Obama's loyalties are so clear that he doesn't even need to make an endorsement, which would have been an unusual move for a sitting president to make during his party's primary process and one that could have turned Sanders supporters against him and Clinton. Seeing Clinton as the best shot at a Democratic successor who would protect his legacy, Obama hosted her at the White House and encouraged former staffers to join her team.
The vice president, meanwhile, made clear Wednesday that his endorsement is a way off. He said that he plans to keep working with Obama on the issues that matter most to him—boosting the middle class, improving education, expanding cancer research—and hinted that he won't shy away from jumping into the political fray.
"Working alongside the president and members of Congress and our future nominee, I am absolutely certain that we fully are capable of accomplishing extraordinary things," he said. Clinton is the only logical candidate for Biden to endorse yet like Obama, there's no urgency for him to make a move or to do so without being courted by the Clintons, with whom he's at times had tensions.
Some donors who hadn't yet been sold on Clinton are also looking to be convinced.
"There is an opportunity for the Clinton campaign to now reach out to those Obama-Biden supporters who have been waiting for the vice president to decide and make them feel they are a part of the operation and there is a limited window for them to do it," said Andrew Weinstein, a major Florida Democratic fundraiser and Obama-Biden campaign supporter.
"They should seize upon it and do it authentically," he said of Clinton and her team. "It can't just be, 'Come with us because there's no other option.'"
Still, Democratic donors don't have many viable options. 
"Barring some unforeseen event, it is a two-person race. Clinton and Sanders already are holding more than 70 percent of the vote together," David Axelrod, former senior adviser to President Obama, said Wednesday. "They are popular with Democrats. Everyone else is mired in the Land of the Statistically Insignificant. As for Obama loyalists who were waiting, I would think many will be with Clinton, some with Sanders. It doesn't really change the architecture of the race."
Across the Aisle
Biden's announcement also sharpened the contrast between the orderly nominating process within the Democratic party this year and the disarray among warring Republican factions. Though the challenge from Sanders may continue to pull Clinton to the left to win over his progressive supporters, Clinton is now the clear candidate of the party establishment. 
Biden withdrew as House Republicans remain enmeshed in an unresolved leadership struggle with no clear path for passing legislation to avoid a U.S. debt default next month. The Republican presidential field is fractured as front-runner Donald Trump directs populist resentment at Republican leaders.
Biden made his announcement from the White House with the president looking on and most of the senior White House staff gathered in a sign of unity. Representative Paul Ryan reluctantly agreed to step in with a bid for House Speaker with a list of conditions and spent the day meeting with conservative factions that showed early signs of resistance.
(Contributing: Mike Dorning and Phil Mattingly)
Before it's here, it's on the Bloomberg Terminal.
LEARN MORE