2016
New Peter Schweizer E-Book Questions Jeb Bush's Earnings
A new publication from the author of Clinton Cash tries to draw a dotted line between Bush's policy agenda as governor and the millions he earned after leaving office.
by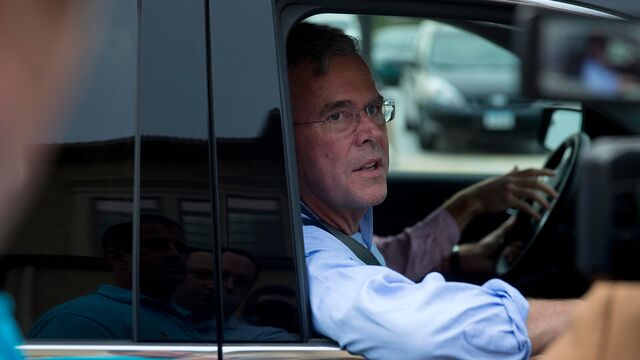 On the campaign trail, Republican presidential candidate Jeb Bush rails against politicians who cash in after leaving office by leveraging the relationships they built during their time in public office. But a new e-book suggests that Bush's own record may not be much different.
Peter Schweizer, author of the controversial book Clinton Cash: The Untold Story of How and Why Foreign Governments and Business Helped Make Bill and Hillary Rich, is now taking aim at one of the biggest names in the Republican race. His new publication, Bush Bucks: How Public Service and Corporations Helped Make Jeb Rich, is scheduled for release on Monday.
Bush Bucks is a less ambitious work than Schweizer's Clinton book, a nearly 200-page hardback that caused weeks of headaches for Hillary Clinton by suggesting that the hope of quid pro quos motivated foreign donations made to the Clinton Foundation while she was the nation's chief diplomat. The Bush e-book, just 25 pages long, raises questions about the millions the former Florida governor earned after leaving office from companies that benefited from the policy agenda he drove while he was the state's chief executive.
There are "radical differences" between his reporting on Bush and Clinton, Schweizer writes. "Still, the fundamental question remains concerning Jeb Bush's tenure as governor," he adds. "Have government power and public service been used for personal self-enrichment?"
The e-book, an advance copy of which was provided to Bloomberg, is based mainly on other news reports rather than fresh reporting, and includes more than 100 citations to news reports published by the New York Times, Tampa Bay Times, Wall Street Journal, and other publications. The Bush camp is dismissing it as a biased clip job.
"Based on the reports to date, this is a non-credible 25-page pamphlet of repackaged false attacks from liberal blogs," said Kristy Campbell, a spokeswoman for Bush's campaign. "In one case they mention Jeb signed high profile legislation that a company he later worked for opposed. Jeb's record both in office as Florida's governor and in the private sector as a successful businessman is one of integrity."
The e-book seeks to undercut the centerpiece of Bush's campaign—that his eight-year tenure as Florida's chief executive distinguishes him from the rest of the crowded Republican field. Instead, Schweizer casts those years as a mere prelude to million-dollar paydays by corporations eager to buy his influence after he left office.
Some sources of the former governor's earnings remain hidden, the e-book points out.
While Bush has released decades of tax returns—disclosing more than federal law requires and more than his presidential rivals—the sources of millions in Bush's earnings remain secret. Those are the earnings reported on his tax returns as income from Jeb Bush & Associates, the consulting firm he incorporated eight weeks after leaving office. Bush has refused to name those clients, saying confidentiality agreements prohibit disclosure. The firm is now under the control of Bush's son, Jeb Bush Jr.
"No one, of course, should fault a politician who has left public life and started a business or is making money that is disconnected from favors he or she performed for corporations or individuals while in office," Schweizer writes. "But what if the bulk of their moneymaking after leaving office comes from entities they did favors for while in public life? Or what if the 'services' they perform in the private sector relate to their political relationships with government officials, or may tie in to other family members who are still in office?"
Schweizer highlights several companies that paid Bush after leaving office, and tries to show how those companies had benefited from Bush's time as governor. He spends the most time on Bush's work with Lehman Brothers, which paid him about about $1.3 million per year. Bush worked for the investment bank from 2007 to 2008.
Citing an anonymous former Lehman client, Schweizer writes that Bush was a member of the firm's senior relationship management and helped the company determine whether the Federal Trade Commission would approve pending mergers and acquisitions. The commission at the time included one member who had been appointed by his brother, then-President George W. Bush, according to the e-book.
Campbell disputed that description, saying Bush never worked on FTC issues for Lehman or consulted about mergers. A second person with knowledge of Bush's role at the bank and who wasn't authorized to speak on the record said the former governor reported to the head of senior relationship management, but was not a member of that team. The source said Bush didn't provide political intelligence about the FTC, and instead was tasked with briefing global clients about the impact of policy and economic trends. 
Schweizer also details how Lehman Brothers sold Florida $1.4 billion in mortgage-backed securities at about the same time Bush was hired. That deal, as first reported by Bloomberg, cost the state $1 billion when the risky investments went bad. Bush has repeatedly denied having any role in that deal.
Schweizer also writes about Bush's role at Dallas-based Tenet Healthcare, which he says benefited from Bush's push to rein in medical malpractice and create a Medicaid pilot program that increased a pool of money to pay hospitals for uncompensated care. Campbell said that Tenet opposed some laws that Bush signed, including one in 2003 that made it easier for Tenet's competitors to get state approval for profitable open-heart surgery programs.
At Rayonier Inc., a timber company that moved to Florida from Connecticut while Bush was governor, Schweizer highlights $98.9 million in land deals the company did with the state while Bush was governor. Bush joined Rayonier's board of directors after leaving office.
Campbell noted that Rayonier was one of the largest landowners in the United States, and would be routinely affected by land use decisions in the state. Alleging that Bush made decisions in order to join the company's board is "outlandish and ridiculous," she said. 
Before it's here, it's on the Bloomberg Terminal.
LEARN MORE