House Republicans to Consider Debt Ceiling Options in Meeting
by , , and
Party turmoil continues as Nov. 3 deadline for action nears

Lawmakers to discuss Republican Study Committee proposal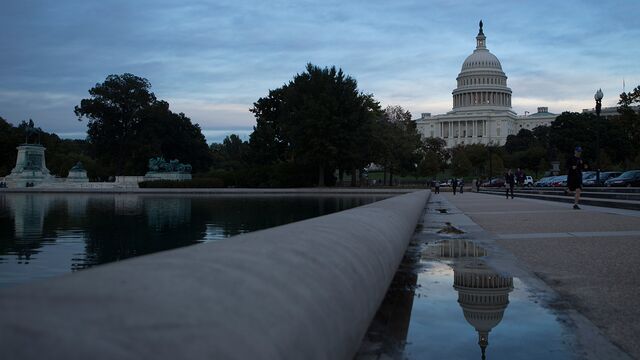 House Republicans plan to discuss options for raising the U.S. debt limit as party members remain locked over internal differences with the Nov. 3 deadline to act only two weeks away.
Party leaders asked Representative Bill Flores, a Texas Republican who is chairman of the Republican Study Committee, to present the group's proposals at a closed-door members' meeting Wednesday, Flores said. Republicans had earlier signaled they planned to take up the issue in a meeting Tuesday night.
 "I have to make clear: we're not going to default on our debt," House Speaker John Boehner, an Ohio Republican, told Fox News on Tuesday.
Boehner is pressing for a plan to keep the nation from risking default. Third-ranking House Republican Steve Scalise said among the options members will discuss is a proposal by Flores's conservative group that would set conditions for increasing the limit, including freezing all major regulations until 2017. President Barack Obama and congressional Democrats insist that there be no policy changes attached to a debt-ceiling boost.
Treasury Secretary Jacob Lew last week moved the deadline to raise the debt limit up to Nov. 3, earlier than the Nov. 5 date he had set earlier. After that point, Lew said, the Treasury will have less than $30 billion to fund the government, "far short" of expenses on certain days. The U.S. is trying to avoid a repeat of October 2013, when a debt-limit agreement was reached shortly before the Treasury expected to run out of borrowing authority. 
Rates on Treasury bills have jumped as investors worry about a debt-ceiling crisis. The yield on four-week Treasuries at auction earlier Tuesday was 0.12 percent, up from zero at the government's previous five weekly sales and the highest since February 2014.
'11th Hour'
"The deadline to raise the limit may be two weeks from today, but the consequences of brinksmanship and waiting until the 11th hour are already upon us," third-ranking Senate Democrat Charles Schumer of New York told reporters. "The yield on Treasury bills is already gone up. People have to pay more for mortgages, people have to pay more for car loans, people have to pay more for student loans."
Senate Majority Leader Mitch McConnell, a Kentucky Republican, told reporters Tuesday, "We'll have to see what the House sends over, and we'll act accordingly."
Pressed during a session with reporters later in the day to offer reassurance that the debt ceiling would be raised by Nov. 3, McConnell referred to his remarks that the Senate would await action by the House.
Leadership Upheaval
House Republican fiscal strategies have been complicated by turmoil within party leadership after Boehner announced last month he will step down as speaker. After Majority Leader Kevin McCarthy quit the race to succeed him, some Republicans are trying to persuade Ways and Means Committee Chairman Paul Ryan of Wisconsin to run for speaker. Ryan said Tuesday he'd be willing to run if Republicans unify behind him and agree to several other conditions.
Boehner, who had planned to leave Congress at the end of October, now says he'll stay until a new speaker is chosen.
House Minority Leader Nancy Pelosi and Senate Minority Leader Harry Reid have repeatedly said that Democrats won't go along with anything but a "clean" debt-ceiling increase free of policy conditions. Reid told reporters that separate budget talks aimed at averting a Dec. 11 shutdown are on hold until the debt ceiling bill is passed.
Conservatives in the House Freedom Caucus and others are demanding that any legislation to raise the debt ceiling should also include changes to rein in government spending.
Flores said RSC proposal is intended to specifically target energy regulations and rules set by the Dodd-Frank banking law and the Occupational Safety and Health Administration.
Alternate Proposal
The Obama administration on Tuesday threatened a veto of an alternate House proposal, H.R. 692, that would allow the Treasury to continue borrowing to pay principal and interest on the federal debt and Social Security trust funds. The administration called the measure "default by another name," and Lew has said the government can't pick and choose which bills it will pay.
Boehner might have to turn once again to House Democratic votes to get a plan through -- a strategy he's used several time in recent years, among the actions that have brought the ire of conservatives on him.
Reid, a Nevada Democrat, said the burden of getting a debt-limit bill through the Senate lies mainly with McConnell.
"We're ready to do the responsible thing," Reid said. "I think it would be really untoward to have Democrats basically supplying all of the votes."
Fiscal Policy
Senator Ted Cruz of Texas, a presidential candidate, called on Republican leaders to "use every constitutional tool we have" including the debt limit deadline to change fiscal policy and "to stop burying the next generations in trillions in debt."
"It is my hope that with Republican majorities in both houses, we do not enter this negotiation with leadership preemptively surrendering at the outset," Cruz said.
The government makes about 80 million payments per month, including Social Security and veteran benefits, military salaries and Medicare reimbursements, Lew has said. Without an increase in the debt limit, the U.S. would be unable to meet such obligations for the first time in history.
Congress can either raise the debt ceiling or suspend the cap so Treasury can borrow without exceeding it.
The proposal by the Republican Study Committee, a group of about 170 party conservatives, would raise the $18.1 trillion debt limit to about $19.6 trillion, intended to last through March 2017. It would require a House vote by Dec. 31 on a proposed constitutional amendment requiring a balanced budget and direct committees to write legislation within 90 days to hit spending targets. The bill would require Congress to remain in session "until it does its fiscal work," according to an RSC memo.
Before it's here, it's on the Bloomberg Terminal.
LEARN MORE