Union Man?
Firefighters Union President Says He's Prepared to Back Biden for President
But the vice president's support for the Trans-Pacific Partnership may complicate any hopes of getting more labor endorsements.
by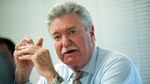 International Association of Fire Fighters General President Harold Schaitberger says his union is prepared to back a Joe Biden bid for the presidency—a key show of support for the vice president but one that serves to underscore how far behind his potential rivals Biden is in solidifying support among Democratic Party constituencies.
Schaitberger, a longtime political ally of Biden's, told Bloomberg in an interview Tuesday that he has spoken twice since Friday to the vice president, whom he said has been running a "very deliberate due-diligence process" as he weighs whether to make a late entrance into the contest for the Democratic presidential nomination. And while Schaitberger would not reveal anything Biden told him, he added: "Our union is preparing as if the vice president is going to announce his candidacy."
The union, which claims 300,000 members, has developed considerable political muscle under Schaitberger's sometimes controversial tenure. The group's political action committee spent $6.3 million on congressional races in the last election. As of last month, it already had $2.2 million in its war chest.
Though his executive board has yet to vote on an endorsement, Schaitberger said that if Biden gets in the race, "we will make the decision to support his candidacy."
The firefighters' union chief is a member of the AFL-CIO's executive council, but it's not clear how much sway he'll have over colleagues in the giant labor federation. Groups representing close to half of the nation's union members, including the National Education Association, the American Federation of Teachers, and the International Association of Machinists, already have endorsed the front-runner in the Democratic race, Hillary Clinton.
Clinton's decision to oppose the Trans-Pacific Partnership, a deal she worked on as secretary of state, makes it likely that she'll be able to lock up more labor support. The mega-trade deal is anathema to many blue-collar unions, such as the United Steelworkers, whose members believe that similar pacts have siphoned off American jobs and reduced labor and wage standards in the U.S. As a member of President Barack Obama's administration, Biden is supporting the deal.  
Labor represents just one of the serious strategic challenges if he enters the Democratic contest. Both Clinton and Vermont Senator Bernie Sanders have been strengthening their hold on the voting groups that helped elect Obama, according to Joe Trippi, who was a chief strategist for Democratic presidential candidates Howard Dean in 2004 and John Edwards in 2008. 
Clinton, who on Tuesday released a list of 50 African-American current and former mayors her campaign said were supporting her, is drawing minority voters. Sanders is a favorite among ideological progressives and young people. Clinton is especially strong among women, who make up 56 percent of turnout in Democratic primaries, Trippi said.
Nor does there seem to be a hunger for Biden to enter the race. In a new Bloomberg Politics/Saint Anselm New Hampshire Poll, Biden placed a distant third behind Clinton and Sanders. Biden's third place showing in most polls "is more to do with how strong her and Bernie's hold is on their voters," Trippi said. That, he added, makes it harder for Biden to go on the attack against his potential rivals and leaves him with only one viable option: to campaign as the true heir to Obama.
"He's got to campaign for Obama's third term to have any chance of pulling away the coalition from the other two," Trippi said.
Biden's lack of infrastructure is becoming a concern to some loyalists, as both Clinton and Sanders have begun staffing up in primary and caucus states. One of Biden's main backers in Iowa, the state where the first votes of the presidential contest will be cast in caucuses on Feb. 1, warned the vice president against making a dramatic entrance into this weekend's Jefferson-Jackson Day dinner. The event is a major fundraiser for the Iowa Democratic Party that is expected to attract more than a thousand party activists, and it has become a major landmark in the road to the White House. It was Obama's speech at the Des Moines gathering in 2007 that was considered a turning point for his campaign.
While he remains convinced that there's still time for Biden to compete in Iowa, Tony Bisignano, a Democratic state senator who has known the vice president since 1987 and wants to see him run, said it would be a strategic mistake for him to show up at the dinner without the proper campaign preparation, as Clinton and Sanders will have done.
"Trying to compete with that, in my opinion, would probably not be prudent," he said. 
Bisignano, who has heard from friends that Biden will be calling him soon, said there's still time for Biden to compete in Iowa. "He needs to do it on his timetable," he said. "I think it's very, very soon that we'll know."
(Contributing: Mike Dorning, John McCormick, Josh Eidelson)
Before it's here, it's on the Bloomberg Terminal.
LEARN MORE