Democrats Seek to Stem Republican Tide in Off-Year Races
by
From statehouses to city halls, an effort to reclaim power

Governors to be chosen in Louisiana, Mississippi and Kentucky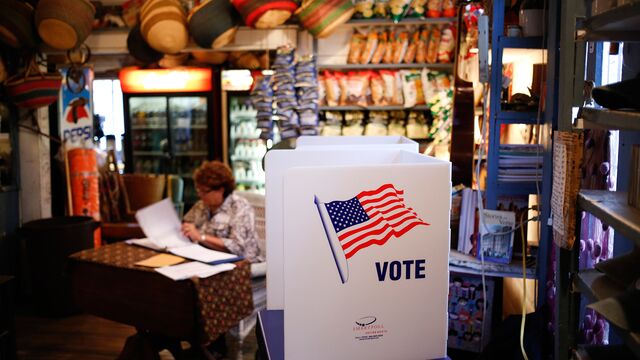 After Republicans extended dominance over U.S. statehouses to record levels in 2014, Democrats are trying to hold a governorship, reclaim a Senate chamber and expand their grip on mayor's offices in elections next month.
Governorships will be decided in Louisiana, Mississippi and Kentucky, where there's a contest to replace term-limited Democrat Steve Beshear. There are legislative races in four states, one of which will determine Senate control in Virginia, a presidential swing state where the parties have battled over issues including Medicaid expansion. Mayoral contests will be decided in 417 municipalities including Indianapolis, where Democrats want to replace one of only three Republican chief executives among the 15 most populous cities.
Republicans control 31 governor's offices and a record two-thirds of state legislative chambers after Democrats lost 816 seats in elections under President Barack Obama, according to the National Conference of State Legislatures in Denver. That gave the party power to cut taxes, restrict abortion and collective-bargaining rights, implement new voting rules and control the redrawing of legislative districts that limited Democratic election opportunities.
Now, Democrats are stressing participation in races for government closest to the lives of voters.
"This is the direction that their state is going to take, and it's up to us and our campaigns and our partners to get that message out," said David Griggs, national political director for the Democratic Legislative Campaign Committee in Washington.
Here are some notable races around the nation:
Kentucky Governor
The fight among Democratic Attorney General Jack Conway, Republican businessman Matt Bevin and independent Drew Curtis is a toss-up, according to the nonpartisan Cook Political Report in Washington.
While Bevin has expressed support for making Kentucky a so-called right-to-work state, allowing workers to choose whether to join and contribute to a union, Conway has fought such initiatives. Bevin has also opposed the Medicaid state health-care insurance expansions pursued by Beshear, saying he would move the state to a federal exchange. Conway supports the Common Core education standards, while Bevin would repeal them.
Kentucky's electorate has become more Republican, but Bevin, who unsuccessfully challenged Republican Senator Mitch McConnell in 2014, has failed to solidify an advantage, said Kyle Kondik, managing editor of Larry Sabato's Crystal Ball newsletter at the University of Virginia.
"Given the political terrain down there, I think that things have worked out pretty well for Conway," he said. "The question is, can he actually finish the deal."
To give Bevin a final boost, the Republican Governors Association on Tuesday announced that it purchased advertisements across the commonwealth for the final two weeks of the campaign linking Conway to the "liberal policies of President Obama."
Virginia Senate
Republicans hold a 21-19 Senate advantage and a handful of competitive district races will determine control. An evenly divided chamber benefits Democrats because the lieutenant governor, a Democrat, breaks ties.
Democrats see an opportunity to give Democratic Governor Terry McAuliffe an ally on issues such as expanding Medicaid under Obama's health-care overhaul, and Republicans want to send a message about a crucial swing state in next year's presidential election.
"That sets a very important tone -- and both parties know that," said Ellie Wallace, a spokeswoman for the Republican State Leadership Committee in Washington.
Among other Nov. 3 contests are the Virginia House, both chambers in Louisiana and Mississippi, and the New Jersey House, the only chamber in that group under control by Democrats.
Democratic Cities
Democrats are mayor in all of the 15 most populous cities except San Diego, California; Jacksonville, Florida; and Indianapolis, as middle-class residents moved out and immigrants and young people replaced them.
The party is now poised to recapture the largest municipality in Indiana with Republican Greg Ballard retiring, said Brian Howey, publisher of the Howey Politics Indiana newsletter.
Even though it has had a Republican mayor, Indianapolis has gone against the state's prevailing stand on issues such gay marriage. Ballard opposed a bill Republican Governor Mike Pence signed earlier this year that critics said could let businesses refuse to serve gays and lesbians on religious grounds.
Former U.S. Attorney Joe Hogsett, a Democrat, is the favorite in the Nov. 3 contest with restaurant owner Chuck Brewer after more prominent Republicans declined to run for the office, Howey said.
Before it's here, it's on the Bloomberg Terminal.
LEARN MORE