Odd Couple
Bernie Sanders, Donald Trump Team Up on George W. Bush
The two presidential candidates share a common interest.
by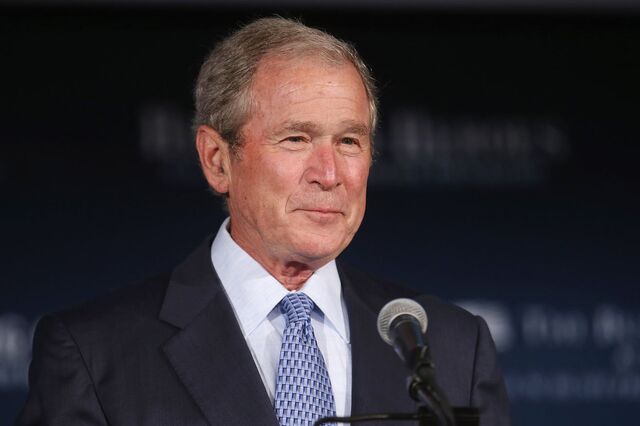 It's not every day that Donald Trump and Bernie Sanders see eye to eye on an issue. But on Sunday, the two candidates from opposing ends of the political spectrum stood in agreement that former President George W. Bush's Iraq invasion was a serious mistake. 
"I would say that the decision—Bush's decision to get us into a war in Iraq unilaterally—was one of the worst foreign policy blunders in the history of the United States.  It destabilized the entire region, and led us, in many respects, to where we are today," Sanders said, appearing on ABC's This Week.
Trump, meanwhile, took up a similar argument on Twitter:
About this one issue, Sanders and Trump seem to be on the same page, even though Trump called Sanders a "maniac" and a "socialist-slash-communist" last week. 
For his part, Sanders also jabbed at Trump on Sunday in refusing to comment on Trump's name-calling. 
"Well, if I had to respond to every absurd thing that Donald Trump said, I would spend my whole life doing it," Sanders said on This Week. 
Still, the two candidates have common ground when it comes to the Bush administration's decision to invade Iraq, in part because reassessing it allows each man to target a respective rival in the presidential race. For Sanders, it serves as a reminder that Democratic front-runner and then-New York Senator Hillary Clinton voted to approve the war.
"I would point out to you that in perhaps the most significant public policy issue of our time, the war in Iraq, I cast the correct vote," the Vermont senator told CNN in April. "On the other hand, Secretary Clinton voted for that war. Her judgment was not right. It is an issue we have got to talk more about."
In June, Sanders returned to the subject at a Washington breakfast hosted by the Christian Science Monitor. 
"I'm not here to criticize the vote she cast years ago," Sanders told reporters. "But what does that mean in terms of your judgment in assessing information?"
For Trump, adjudicating the Iraq war provides yet another way to get under fellow Republican candidate Jeb Bush's skin. 
Earlier this week, in an interview with Bloomberg's Stephanie Ruhle, the billionaire disputed Bush's claim that his brother had kept America safe during his administration. 
"When you talk about George Bush, say what you want, the World Trade Center came down during his time," Trump said.  
Bush shot back at at the front-runner on CNN on Sunday. 
"My brother responded to a crisis, and he did it as you would hope a president would do. He united the country, he organized our country, and he kept us safe. And there's no denying that. The great majority of Americans believe that," Bush said. "And I don't know why he keeps bringing this up. It doesn't show that he's a serious person as it relates to being commander in chief and being the architect of a foreign policy."
Trump was happy to return to the subject on Fox News Sunday, and offer an assessment of the 9/11 attacks using Sanders-esque language. 
"Look, look, Jeb said, 'We were safe with my brother. We were safe,'" Trump said. "Well, the World Trade Center just fell down! Now, am I trying to blame him? I'm not blaming anybody. But the World Trade Center came down. So when he said, we were safe, that's not safe. We lost 3,000 people, it was one of the greatest—probably the greatest catastrophe ever in this country if you think about it, right?"
Before it's here, it's on the Bloomberg Terminal.
LEARN MORE