Obama Says It's Up to Biden to Decide on 2016
by and
Says Biden has to decide whether it makes sense to run

Praises Democratic presidential candidates for shared vision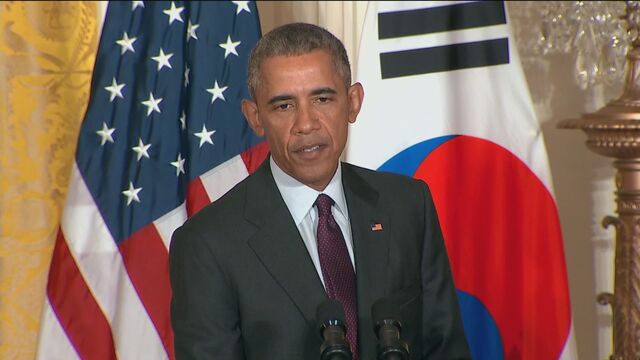 President Barack Obama declined to join Democrats pressuring Vice President Joe Biden to say whether he'll seek the 2016 Democratic nomination, saying it's up to Biden to decide on his own terms and for his own reasons.
"I'm not going to comment on what Joe's doing or not doing," Obama said during a news conference with Korean President Park Geun Hye on Friday at the White House, when asked whether Biden should announce a decision .
Biden is "very able," and is like any other candidate in that each contender has to "figure out whether it makes sense for them" to run, Obama said.
The president declined to endorse any Democrat, saying that while he plans to vote when the time comes, ballots are private and "I don't have to share my views about that right now." He said all five of the party's candidates have shown they share a similar vision for the U.S.
Democratic front-runner Hillary Clinton and Democratic donors and activists have put pressure on the vice president to say whether he will get into the race, as the clock ticks down toward the first caucus and primary contests early in the new year. Ted Kaufman, a longtime Biden aide and confidant, and former U.S. senator from Biden's home state of Delaware, on Thursday sent an e-mail to former Biden aides and supporters telling them to prepare for a possible run.
Clinton Remarks
Clinton's campaign chairman, John Podesta, said earlier this week that time is running out for Biden. The candidate said on CNN Friday that Podesta was simply saying "there does come a point where a decision has to be made." That doesn't mean she's trying to rush Biden.
"I'm not in any way suggesting or recommending that the vice president accept any timetable other than the one that is clicking inside of him," Clinton said.
Biden, 72, had aimed to decide by the end of September on whether to mount what would be his third bid for the Democratic nomination. He postponed an announcement, saying he needed more time to consider whether he and his family were emotionally ready for a run this soon after his son Beau's death from brain cancer in May.
Biden's prospects were thought to have dimmed after Clinton's strong performance during the first Democratic presidential debate on Oct. 13. Since then, Biden has stepped up outreach to Democrats to gauge opinions about his prospects in early voting states.
Before it's here, it's on the Bloomberg Terminal.
LEARN MORE