Clinton Aide Huma Abedin's Benghazi Committee Hearing Sparks Feud
by , , and
Democrats questioning investigation as politically motivated

Republicans on committee say their focus is on 2012 attack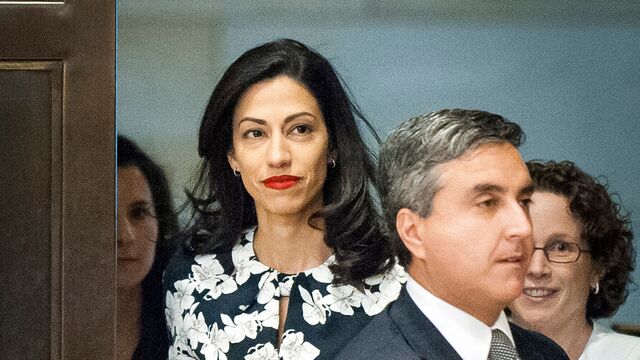 A top Democrat on the House panel investigating the Benghazi attack said there was no need for the committee to interview long-time Hillary Clinton aide Huma Abedin, calling the Republican-led inquiry politically motivated.
Republican lawmakers in turn defended bringing Abedin before the panel Friday, saying her role as a top aide to then-secretary of state Clinton made her testimony essential to learning more about the 2012 terror attack that left four Americans dead.
Abedin, a former State Department official who's now vice-chairwoman of Clinton's 2016 presidential campaign, spent several hours Friday answering questions behind closed doors. Clinton is scheduled to testify on Oct. 22.
Representative Elijah Cummings of Maryland, the panel's top Democrat, faulted Republicans for calling her to appear, saying Abedin had no policy or operational role in the Benghazi matter, and wasn't even with Clinton on the night of the attack.
"The question again becomes whether this is a taxpayer-funded effort to derail the candidacy of Hillary Clinton," Cummings said during a six-minute statement to reporters outside the committee room. "Hopefully, come Thursday, Secretary Clinton will have her day to explain it all."
Republican Representative Michael Pompeo of Kansas responded to that criticism, telling reporters during a break in the session that "all the questions were deeply connected" to the committee's mission.
'Senior Official'
"Ms. Abedin was a senior official in the State Department at all of the relevant times and so was privy to and had access to information that pertained to all of the things surrounding Benghazi," Pompeo said.
After her appearance, the characteristically private Abedin told reporters that she met with the committee to "honor those who died" in the attacks. She said she answered lawmakers' questions "to the best of my ability" and left without offering additional comment.
Notably absent from the day's events was committee Chairman Trey Gowdy of South Carolina. A spokesman, Jamal Ware, said Gowdy is in his district as the House is out of session. He goes over with his staff the "questions to be asked, and he trusts his colleagues and staff to then ask substantive, investigatory questions," Ware said.
Much of the questioning Friday was focused on events surrounding the 2012 attack and the Obama administration's response, including that of Clinton. By Friday afternoon, her appearance before staff and lawmakers on the committee had eclipsed a third hour.
Clinton Testimony
"She's being very forthcoming. She's being very honest," said Representative Lynn Westmoreland, a Georgia Republican on the panel. However, he added that "she didn't recall some things" about the Benghazi attacks, though he declined to provide specifics.
Abedin's interview comes less than a week before Clinton herself is to testify before the panel in a public hearing. Their appearances are taking place as revelations about Clinton's use of a private e-mail server while secretary of state continue to weigh on her bid for the Democratic nomination.
Objections from Democrats to the panel's work have been fueled by comments during the last two weeks by Majority Leader Kevin McCarthy of California and Representative Richard Hanna of New York, who cited the committee's work as helping to undermine Clinton's presidential prospects and poll numbers.
A fixture at Clinton's side for at least 15 years and now on the campaign trail, Abedin was a top aide to Clinton while she served as secretary of state. Clinton was at the helm of the State Department on Sept. 11, 2012, when the terror attacks in Benghazi, Libya, resulted in the deaths of four Americans, including U.S. Ambassador Chris Stevens.
Clinton E-Mail
Abedin -- who's married to former U.S. Representative Anthony Weiner -- has been a frequent target of conservatives' efforts to discredit Clinton. The accusations included that she received too much pay for a vacation. The claim is under investigation, with Abedin maintaining she worked while she was supposed to be off.
Clinton's use of a private e-mail server for official business while serving as secretary of state was revealed by the Benghazi committee. Abedin also had an account on the private server.
Her messages, some of which have emerged through Freedom of Information Act requests, showed she sometimes corresponded with Clinton Foundation officials on her State Department account. And while she was at the department, Abedin was granted permission -- special government employee status -- to do work with the foundation and a company called Teneo Holdings.
That consultancy was founded by a Bill Clinton adviser, Doug Band, and a former diplomat in Clinton's State Department, Declan Kelly.
'Committee's Charter'
Prior to Abedin's appearance, a committee spokesman earlier this week released a statement underscoring that she would only be asked about "issues pertaining to the committee's charter."
It described those as "events leading up to, during and after the attacks on U.S. facilities in Benghazi, Libya, on September 11, 2012 and executive branch activities and efforts to comply with congressional inquiries into them." She would not be questioned, it said, about other issues.
The committee acknowledged in the statement that it has previously avoided announcing who was appearing before it. Republicans, led by Gowdy, are now seeking to dim the claims that its efforts are partisan and aimed at derailing Clinton politically -- which the panel said in the statement are a "continued mischaracterization."
Before it's here, it's on the Bloomberg Terminal.
LEARN MORE