Bush PAC Got $500,000 From Spouse of Hong Kong Cosmetics Tycoon
Zachary R. Mider and Ting Shi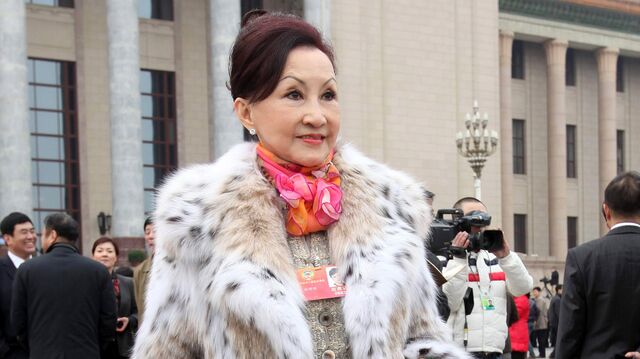 A Hong Kong man who gave almost $500,000 to support Jeb Bush's candidacy for the U.S. presidency is the husband of a cosmetics entrepreneur with elite connections and a taste for haute couture.
Chen Shu Te, 82, is the retired chief executive officer of a beauty-school and skin-care company founded by his wife, Cheng Ming Ming, 68. Photographs of Cheng with Bill Clinton, the former U.S. president; Xi Jinping, the current Chinese leader; and Xi's wife decorate the reception area at their company's headquarters in a commercial district in Hong Kong.
Chen's name and address appeared on a list of donors disclosed in August by a super-PAC supporting Bush, but no further information about his identity or background has previously been reported. A personal assistant to Chen said on Oct. 14 that the couple was in Shanghai and not available to comment.
Although super-PACs operate with more freedom than traditional campaigns, able to accept contributions of unlimited size, they can take money only from people who are U.S. citizens or green card holders.
"We don't comment on specific donors, but we do have systems in place to ensure compliance with all FEC rules," the super-PAC, Right to Rise USA, said in an e-mailed statement, referring to the Federal Election Commission. A person close to Right to Rise said the group confirmed Chen had a green card before accepting the donation. A spokesman for Bush's campaign declined to comment.
The Bush family has forged a close relationship with China since Jeb Bush's father, former President George H.W. Bush, served as U.S. envoy to Beijing in the 1970's. His brother, Neil Bush, is president of a company that invests in luxury hotels and high-rises in China.
On the campaign trail, Jeb Bush touts his frequent travel to China -- as many as four times a year in recent years -- on behalf of former consulting clients, including Barclays Plc. Years after he visited the Hainan province in 2011 to promote cooperation between businesses there and in his home state of Florida, a major Hainan conglomerate invested in a private-equity fund that Bush established.
U.S. expatriates in China are an important part of Bush's fundraising efforts. In September, he was scheduled to appear by video conference at a Hong Kong fundraiser for his campaign. Right to Rise has collected $100,000 contributions from Ronnie Chan, a Hong Kong real-estate magnate, and Gary Rieschel, a Shanghai-based venture capitalist. It reported raising a record $102 million in the first half of the year, mostly from U.S. residents.
Chen made three separate donations in May totaling $499,137. Those payments made up the bulk of the $800,000 Right to Rise collected from donors with addresses outside of the U.S. in the first half of the year. Bush's campaign itself gathered almost $50,000. Hillary Clinton's took in almost $300,000, and no other presidential campaign or super-PAC got more than $20,000 from such sources.
The Clintons also have deep ties to China. Former President Bill Clinton has given paid speeches there, and his and his wife's foundation have accepted donations from Chinese sources, including from billionaire builder Yan Jiehe.
Chen's assistant, Vivian Fok, said Chen and Cheng are Hong Kong citizens and split their time between there and Shanghai. Cheng, the chairman of CMM International Group, is a prominent figure in China's beauty industry and a former member of the National Committee of the Chinese People's Political Consultative Conference, a government advisory group with more than 2,200 members. Its Hong Kong delegation includes the city's business and entertainment elite, such as the movie star Jackie Chan and Victor Li, deputy chairman of CK Hutchison Holdings and the son of Hong Kong's richest man.
During a CPPCC gathering in Beijing in 2012, Cheng was among a group of delegates who attracted media attention for their designer wardrobes, leading online wags to dub the event "Beijing Fashion Week." Photographs show her in a white-and-black fur coat and bright orange Louis Vuitton handbag.
Born in Indonesia, Cheng started out with a single hair salon in Hong Kong, according to an article on Asian women entrepreneurs that appeared in Fortune magazine in 1991. As the enterprise expanded into mainland China and around the world, selling cosmetics products and running beauty schools, Chen left his precious stones business to help her, Fortune reported. By 1997, Asiaweek reported her products had 11 percent market share in mainland China.
Chen, who is also known as Robert Chen or Chen Shu Tak, appears to have lived in California in the past. He incorporated a company in Oakland in 1986 and was listed in a 1992 advertisement as its president. His name also appears in a 1990 San Francisco court record that suggests he and his wife owned property there.
A person named Chen Shu Te, using a Hong Kong address, made two $1,000 contributions to the campaign of a Democratic candidate for Senate in California in 1990 and 1992, according to the Center for Responsive Politics. Both of the couple's daughters have attended schools in the U.S.
During his race for the Republican nomination for president this year, Bush has called for tougher action against China over cyber-attacks, but generally has sounded a more moderate tone than some of his rivals. He dismissed Scott Walker's idea of canceling a state dinner with Chinese leaders, and said the U.S. must have "an ongoing, deep relationship with China."
(Updates with Victor Li's title in 11th paragraph, amends description of Ronnie Chan in eighth paragraph.)
Before it's here, it's on the Bloomberg Terminal.
LEARN MORE