Obama's Goal of Ending Two Wars Now Slipping Beyond His Grasp
by
New timetable keeps 5,500 U.S. troops in Afghanistan in 2017

Afghan leader Ghani made appeal to reconsider timetable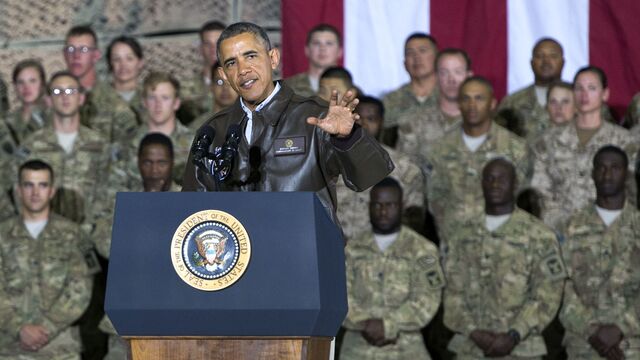 President Barack Obama's promise to end two U.S. wars has receded beyond the horizon of his presidency.
Having been pulled at least partway back into Iraq, Obama now is scrapping his goal of leaving Afghanistan by the time he leaves office. The president announced Thursday that he'll keep 9,800 U.S. military personnel in Afghanistan through much of next year and that 5,500 will stay after 2017 to train and assist Afghan forces and conduct counterterrorism operations. The decision on a new date for full withdrawal will rest with the next U.S. president.
"I do not support the idea of endless war," Obama said Thursday at the White House. Even so, he added, "I am firmly convinced that we should make this extra effort. In the Afghan government, we have a serious partner that wants our help."
The decision marks the second time Obama has had to alter his schedule to wind down U.S. military operations in Afghanistan in the face of a persistent Taliban and setbacks in building up Afghan government forces.  
While Obama said he's not disappointed in reaching this decision, Patricia DeGennaro, a World Policy Institute senior fellow who has worked in Afghanistan on provincial governance, said the decision amounts to an about-face for the president.
"I'm sure he doesn't feel good about this," she said. "He's said repeatedly that he'd like to end these two conflicts that we've immersed ourselves in."
Withdrawal Schedule
U.S. military personnel in the country were scheduled to be drawn down through 2016, with all but 1,000 troops pulled out by early 2017. But many Afghans have said they won't be ready to carry the anti-Taliban fight alone by the end of next year. The country's president Ashraf Ghani traveled to Washington in March to ask the U.S. to stay.
Obama, who said Afghan forces "are still not as strong as they need to be," made clear this may not be the last time he or the next U.S. president extends the deadline or makes adjustments to the U.S. military presence in Afghanistan.
Political Process
Achieving peace in Afghanistan will ultimately be done through a political process rather than militarily, he said. Pakistani Prime Minister Mohammad Sharif will visit Washington next week in part to discuss getting the Taliban back into peace talks.
Even with the changed withdrawal schedule , Obama should count Afghanistan and Iraq as a success, said Paul Scharre, a Center for New American Security senior fellow who served in Afghanistan as an Army Ranger.
"The fact that we no longer have U.S. troops in a combat role in both countries is a tremendous success," he said in a phone interview. "When the president came into office, the war in Afghanistan was going the wrong way."
A full troop withdrawal could take years, he said, pointing to U.S. troops still stationed in Germany, Japan and South Korea decades after wars in those countries ended.
Afghan Plea
Administration officials insisted the decision wasn't driven by the Taliban's latest offensive. Their attacks have grown more brazen since the U.S. declared an end to its direct combat role last December. Those include an assault on the Afghan parliament in June and the seizure -- since reversed -- of the strategic northern city of Kunduz two weeks ago.
They point to the March meeting at the White House between Obama and Ghani, where the Afghan president made an appeal for a reconsideration of U.S. drawdown plans. Obama then slowed his withdrawal timetable.
Obama ran for office in 2008 on a promise to end the war in Iraq and wind down operations in Afghanistan, both conflicts started under his predecessor, George W. Bush.
Instead, the president found himself forced to return 3,500 U.S. military personnel to Iraq to advise the Iraqi army in the fight against the radical Islamic State. The change in Afghanistan ensures that America's longest war will endure beyond his term in office.
Amid the Taliban's resurgence, the U.S. military has supported the Afghan army by ground and air. Those efforts were marred in Kunduz by a U.S. aerial assault on a hospital that killed 22 people, including 12 aid workers, and injuring dozens more. Obama later apologized for the attack on the Doctors Without Borders hospital, which is now the subject of a Defense Department inquiry.
Along with the Taliban, al-Qaeda has reemerged in Afghanistan, and Islamic State has established a foothold there as well.
'Growing Nightmare'
Islamic State is now a "growing nightmare and cancer" for Afghanistan, Jawid Kohistani, an independent Kabul-based security and political analyst, said by phone. "All practical efforts by Afghan forces with the assistance of its U.S. ally should be taken place in rooting out those dangerous plagues."
The administration has been under pressure from some members of Congress and the military to keep more forces in Afghanistan. Those calls gained more urgency with the rise of Islamic State and sectarian fighting in Iraq following the U.S. withdrawal there.
"I'm glad the administration finally admits President Obama's arbitrary political deadlines are 'self-defeating,"' House Speaker John Boehner, an Ohio Republican, said in an e-mailed statement. "Campaign promises and partisan agendas should never have been put ahead of the safety of the American people, and the stable, democratic Afghanistan that is critical to our national security interests."
McCain Dissatisfied
Republican Senator John McCain of Arizona, the chairman of the Senate Armed Services Committee, said in a statement that "5,500 troops will only be adequate to conduct either the counterterrorism or the train-and-advise mission, but not both." Asked about that criticism, Defense Secretary Ashton Carter told reporters that "we did a lot of homework on this" at the Pentagon and determined the force was sufficient.
General Joseph Dunford, who Obama picked earlier this year as chairman of the Joint Chiefs of Staff and appeared with the president at the White House Thursday, is a former top commander of U.S. and allied troops in Afghanistan and previously warned against a hasty withdrawal of forces.
Ghani also was an important influence. He impressed U.S. lawmakers of both parties when he addressed Congress in March, with members citing a night-and-day contrast from his predecessor, Hamid Karzai, who often clashed with the administration and U.S. military officials.
'Standing Up'
Obama cited the cooperation of the Afghan government and said that while its forces aren't yet ready to carry on the battle alone, they "are standing up for the security of their country."
"If they were to fail, it would endanger us all," he said.
The Afghan government welcomed Obama's decision, Ghani's press office said in an e-mailed statement, saying both countries want "to stabilize and develop Afghanistan and to fight terrorism in the region and the world."
Troop contributions from the U.S.'s NATO allies have yet to be decided. In addition to keeping U.S. forces in Kabul, they will stay in Kandahar, Jalalabad and Bagram for training and counterterrorism missions. Keeping the troops will cost $14.7 billion in 2017, a figure that includes those that had already been slated to stay in Kabul, a second administration official told reporters.
The U.S. formally ended combat operations in Afghanistan in December after more than 13 years, making it the longest war in U.S. history. More than 2,200 Americans have been killed in the conflict. The 10,000 troops remaining in the country, down from a peak of more than 100,000 in 2011, are primarily advising and training Afghan forces.
Obama's original plan was to leave about 1,000 U.S. personnel in the country to protect the embassy in Kabul and carry out limited operations.
Before it's here, it's on the Bloomberg Terminal.
LEARN MORE