Frenemies
Jim Webb Is Just Fine With All the Republican Love
Conservatives call him a hero following his debate performance.
by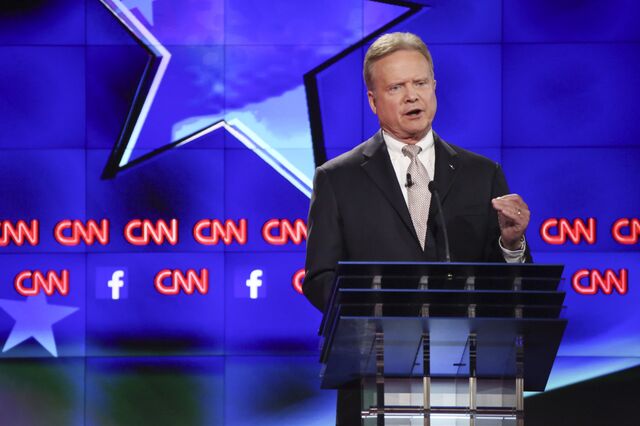 During Tuesday night's Democratic presidential debate, Hillary Clinton boasted that Republicans were an "enemy" she was proud of having made over her career in politics. On Wednesday, Jim Webb's campaign seemed grateful to the other party for celebrating his conservative credentials.
"There is a huge contradiction in this campaign: part[i]sans on both sides demonize each other and then brag about how they will 'get things done,'" the former Virginia senator's spokesman, Craig Crawford, told Bloomberg. "Jim seems to be the only candidate in either party not doing that. Treating the other side with some respect in the campaign might irritate one's own party droolers but it could free up some of the gridlock when it comes time to govern."
Webb, a former Republican himself who has, so far, hardly registered in primary polls, received some love from conservatives in post-debate coverage. Federalist senior editor David Harsanyi labeled the highly decorated Vietnam veteran an "American hero" because "he's unwilling to say whatever his party demands in the pursuit of power."
Webb, who despises the compromises and performances required of politicking, likes to say he can push through partisanship. 
Twitchy, Washington Examiner chief political correspondent Byron York, Commentary editor John Podhoretz, and Romney aide Stuart Stevens all weighed in for Webb, slamming Politico writer Kenneth Vogel, who referred to Webb's "creepy smirk when describing enemy soldier [he] apparently killed." (That soldier was Webb's chosen enemy.)
For the record, Webb tends to describes himself as a populist, but he rarely fits neatly into ideological boxes. While Clinton and Lincoln Chafee ignore or talk around their Republican pasts, Webb seems to revel in his heterodoxies, including support for abortion rights and guns or opposition to the Iraq War and identity politics.
Aside from his onetime registration, Webb certainly has Republican bona fides. He staunchly defended the Vietnam War, in which he earned a Navy Cross for shielding a fellow Marine from a grenade with his own body, and he served (briefly) as Ronald Reagan's secretary of the navy, a fact not lost on Crawford.
"Jim was the only candidate on that stage who will bring Reagan Democrats home," Crawford said earlier, referring to the 40th president's electoral coalition that included some southern, male, and hawkish Democrats. 
Still, he also quit that administration in a huff, and later told a friend where he thought that had left him with the GOP. 
"I burned all my bridges with the Republican Party," he said.
Before it's here, it's on the Bloomberg Terminal.
LEARN MORE