Campaign Finance
Carly Fiorina Raises $6.8 Million in Third Quarter
The breakout star of the last Republican debate trails only Ted Cruz and Ben Carson.
by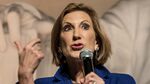 Just as attention turned to the first Democratic presidential debate of the 2016 race, Republican Carly Fiorina's campaign announced on Tuesday that it raised $6.8 million in the third quarter, putting her ahead of Florida Senator Marco Rubio's haul of $6 million, but far behind Texas Senator Ted Cruz ($12.2 million) and retired neurosurgeon Ben Carson ($20 million).
The Fiorina campaign spent $2.2 million in the same period, according to Sarah Isgur Flores, her deputy campaign manager. Isgur Flores said on Twitter that the campaign retains $5.5 million in cash on hand.
These numbers, the campaign added, do not include funds provided by Fiorina herself. The full details will be revealed on Thursday, when Federal Election Commission filings are posted.
Fiorina's sum marks a sizable increase from the second quarter, when she raised $1.7 million.
Fiorina has been been the breakout star of the two Republican debates so far. Since the second debate on Sept. 16, she jumped from 3.3 percent in the polls to 8.9 percent, according to Real Clear Politics. In New Hampshire, she is generally polling behind only Trump and Carson.
In recent weeks, she has drawn the notice of mega-donors including Charles and David Koch. Last month, the Texas oil and hedge-fund billionaire T. Boone Pickens reportedly hosted a fundraiser for her in Dallas.
Before it's here, it's on the Bloomberg Terminal.
LEARN MORE