Local TV Stations Booming From Super-PAC Windfall
For some strategically located TV stations, all those (mostly) negative campaign ads are helping create highly positive bottom lines.
by and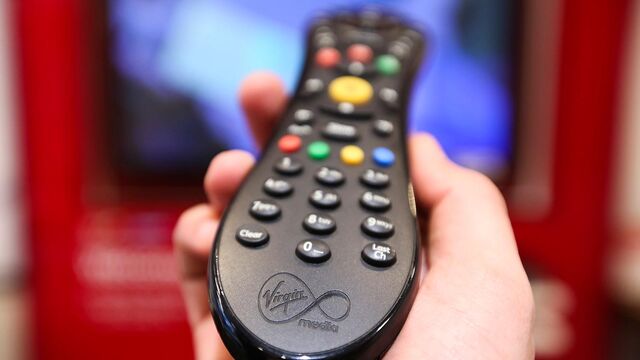 Dale Woods, general manager of WHO-TV in Des Moines, always knew Christmas would arrive early this year. He just didn't anticipate just how big it would be.
Every four years, the NBC affiliate in the state that kicks off the presidential nominating process enjoys a windfall of advertising as the candidates vie for the attention of the small slice of the population that shows up for the midwinter Iowa caucuses. This year's bonus, however, is eye-popping. According to data compiled by Kantar Media's Campaign Media Analysis Group (CMAG), political advertising in Iowa is up more than 300 percent over the 2012 campaign.
One reason is that both parties have competitive races. Even more significant for the bottom line: almost every serious contender has his or her own super political action committee, supposedly independent entities that, unlike the candidates, can raise and spend unlimited amounts of money. Four years ago at this time, there was a handful of outside groups and only only one significant outside spender in Iowa: Crossroads GPS, founded by veteran Republican strategists Karl Rove and Ed Gillespie.  
Today there are 14, compared to just four candidates who have bought TV time so far, and the impact has been dramatic. Between Jan. 1 and Oct. 5, there were 11,597 political spots broadcast, according to CMAG, a 335 percent increase from the same period four years earlier. While it's hard to accurately estimate how much this will mean to the stations' bottom lines, because of the complex record-keeping involved, there's no question that the proliferation of super-PACs will vastly enhance the normal election-year bonanza.
The TV stations love the extra super-PAC business, especially since the outside groups often pay some of the highest rates. That's because they often place ads at the last minute, when rates are higher, and they're not guaranteed the lowest rate available, as is required by law for actual candidates. Contracts on file with the Federal Communications Commission, for example, show Republican Jeb Bush's campaign paying rates around $500 for a 30-second spot on WHO's evening news show in January. For Right to Rise, meanwhile, the super-PAC supporting Bush is booked to pay seven times as much for a similar slot.
Underscoring the impact of super-PACs: While the total number of spots run nationwide so far related to the presidential campaign is about the same as four years ago, the estimated cost has roughly doubled, according to CMAG estimates. From Jan. 1 through Oct. 5, there had been 23,015 spots run at an estimated cost of $24.5 million, up from 22,947 spots and $11.6 million in 2012, the data shows.
At WHO, Woods said his station is seeing more and earlier advertising on the part of super PACs than it did four years ago. "They are a lot more active than ever before," he said in an interview at his station on the western edge of downtown Des Moines.
Even better for the Iowa broadcasters is the fact that—unlike in recent cycles, when the caucuses were held just after the New Year—this year's voting is scheduled for Feb. 1, meaning that peak political advertising will arrive in January, a month that's typically slower for business. In the past four presidential elections, political ads in Iowa had to compete more with traditional advertisers during December's busy holiday season.
"We have a lot already laid in for December and January," Woods said. "The candidates are really preparing for that 60 days leading up to the election."
Some of the candidates—and the super-PACs backing them—have already been flooding the NBC affiliate with ads. With the exception of a New Hampshire station, WHO has broadcast more spots related to the presidential campaign than any other in the nation, according to a Bloomberg analysis of the CMAG data.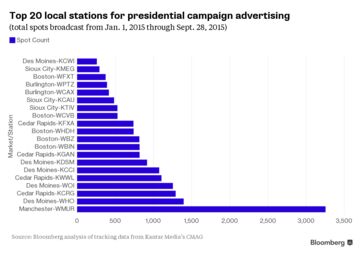 The station, owned by Tribune Media, gets so much political advertising that it added an hour-long, 4 p.m. newscast to its lineup about two months before the 2014 midterm election and has continued that show ever since. Even though there isn't that much local news in Des Moines, the segment is a favorite time slot of political advertisers because it tends to attract actual voters.
Through Sept. 28, WMUR-TV in Manchester, owned by Hearst Television Inc., had run more than 3,200 presidential-related spots, making it the nation's leader so far. 
Other than WMUR and two Boston stations, Iowa broadcasters hold all of the rest of the top 10 stations for total spots so far, partly a reflection of the fact that advertising in Iowa is typically cheaper than it is in New Hampshire.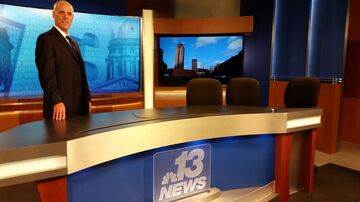 By the time the actual presidential election is held in November 2016, roughly three-quarters of all general election campaign dollars raised will be spent on various forms of advertising, according to Ken Goldstein, a University of San Francisco professor and polling and advertising analyst for Bloomberg Politics.
Estimates on just how big the increase will be vary widely. CMAG estimates that local stations will see $3.6 billion in political ad spending, a 12.5 percent increase over four years ago.
"There's so much money flowing around that we don't believe the broadcast TV outlets are going to be able to absorb all of it," said Kip Cassino, an analyst with Borrell Associates, another research firm that tracks media trends.  
Besides the presidential race, broadcasters will also benefit from competitive congressional races in 2016 that will help enhance their bottom lines. 
"The numbers that we're enjoying in third quarter to date are better than what we anticipated," Steven Marks, co-chief operating officer for Sinclair Broadcast Group Inc., told analysts in August. The company operates or supports 164 television stations in 79 markets and reported revenue from political ads rose 37 percent in 2014 to $131 million compared to 2012.
Tribune, which has stations that cover 16 Senate races and are located in 13 swing states, is predicting political ad revenue to rise to about $200 million from $150 million in 2012, Peter Liguori, president of Tribune Media, told analysts in May. "We think there's an enormous opportunity," he said.
(Corrects 12th paragraph to reflect that WMUR is not New Hampshire's only broadcast station.)
Before it's here, it's on the Bloomberg Terminal.
LEARN MORE