Jeb Bush Strategist David Kochel Diagnosed with Leukemia
The key Iowa Republican operative has begun "aggressive" treatment.
by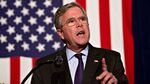 David Kochel, one of Jeb Bush's top campaign strategists, has been diagnosed with acute lymphoblastic leukemia, according to a Web page assembled by employees of the communications firm he owns in Iowa.
The diagnosis was delivered over the weekend, the Web page says, adding that "he has begun aggressive chemo and we'll hope to know more soon as the treatment progresses."
One of Iowa's most well-connected Republican operatives, Kochel, 51, had traveled regularly with Bush on the campaign trail. His company, Redwave Communications, consulted for the super political action committee backing the former Florida governor before his presidential campaign was formally announced. In the 2012 campaign, Kochel was Mitt Romney's top Iowa strategist.
"Columba's and my prayers are with our friend David for a very speedy recovery," Bush said in a statement issued by his campaign. "He is an integral leader of our team, and more importantly, a great human being. I look forward to having David healthy and at 100 percent as we take on the Iowa caucuses and beyond."
After first filling the role of campaign manager, Kochel was reassigned by Bush in June to serve as a chief strategist, with a focus on states like Iowa that hold early caucuses and primaries. 
Kochel has close relationships with many of the state's top leaders, including Governor Terry Branstad and Senator Joni Ernst.
More on Kochel and his Iowa ties in the Des Moines Register.
Before it's here, it's on the Bloomberg Terminal.
LEARN MORE