Donald Trump Says Germany's Commitment on Syrian Refugees Is 'Insane'
He says he's for a no-fly zone, but against taking in refugees from the war-torn country.
by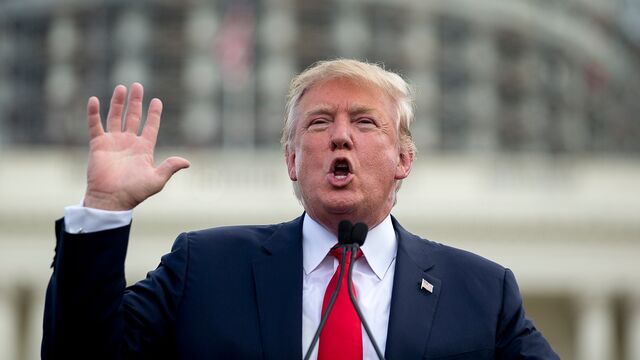 Republican presidential front-runner Donald Trump is drawing a line in the sand. 
During a Sunday appearance on CBS's Face the Nation, Trump criticized Germany's commitment to take in some 800,000 refugees and migrants this year, including many displaced from the ongoing civil war in Syria. 
"I love a safe zone for people," Trump said. "I do not like the migration. I do not like the people coming. Frankly, look, Europe's going to have to handle it. But they're going to have riots in Germany.  What's happening in Germany, I always thought Merkel was, like, this great leader. What she's done in Germany is insane. It's insane."
Trump also said he would likely support a no-fly zone over Syria, and blamed the refugee crisis, in part, on President Barack Obama for not using military force after it was learned that Syrian President Bashar al-Assad appeared chemical weapons against his own citizens. 
"Well, you know, the time to have done it would have been when he drew the line in the sand," Trump said. "I might have gone in. Yeah, I think it's terrible. When you start using that, I think it's terrible."
In a national CBS poll out Sunday, Trump continues to hold his lead over fellow Republican Ben Carson, but by a similar smaller margin to other recent polls. CBS found 27 percent support for Trump and 21 percent support for Carson. Texas Senator Ted Cruz came in third with 9 percent support. The CBS poll found that Carson was the top second choice among Trump supporters. 
CBS reached 1,251 people by phone from Oct. 4-8. The margin of error was plus or minus 3 percentage points. 
Before it's here, it's on the Bloomberg Terminal.
LEARN MORE