Ending Rebel Training Signals Obama's Search for Syria Options
by and
Scaled-back program may prompt renewed push for negotiations

White House sends message to Russia, U.S. allies in region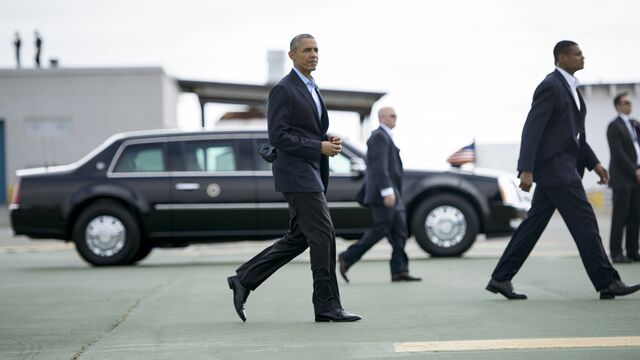 President Barack Obama's decision to shelve a controversial plan to train Syrian rebels is the latest sign that the White House is searching -- often fruitlessly -- for options to scale back its involvement in a deadly and seemingly intractable conflict.
It also sends a message to Russia, Iran and U.S. allies in the region that the administration is making a renewed pitch to negotiate a political settlement for Syrian governance as the crisis there worsens, according to European and U.S. officials familiar with discussions.
The administration got tripped up in the cross-currents of the Syrian conflict by trying to create a fighting force to battle Islamic State out of disparate groups whose main aim was toppling the regime of President Bashar al-Assad, said Richard Murphy, a former U.S. ambassador to Syria and Saudi Arabia.
In announcing on Friday a narrower program to arm select leaders of Arab and Kurdish groups, the administration was acknowledging that there's little left of that plan.
"The training program proved to be just a big embarrassment," Murphy said. "It underlined the problems that we've had -- and predictably everyone else who tries from the outside -- to play a role in Syria in fighting and politics."
Doomed to Fail
Fred Hof, the administration's former special adviser for transition in Syria, said the original plan to vet fighters and train them outside the war zone to create a force targeted at Islamic State was doomed from the start.
"The idea you can recruit Syrians who've been fighting Assad for years and have them do a one-way mission to fight against Islamic State was never feasible," Hof said.
The change in policy announced Friday is the administration's most recent shift on Syria, the role of Assad in any transition and whether to work with Russia and Iran to find a solution both to the civil war and the fight against Islamic State.
"We're regularly looking at whether there are additional adjustments that should be made to our efforts, whether there are additional options that should be considered," Deputy National Security Adviser Ben Rhodes said Friday on a conference call with reporters. But he said that "the president is not in any way looking at revisiting Assad's position in Syria."
With Russia's entry in the conflict to support Assad's regime and the situation deteriorating, the only option left for the U.S. is getting negotiations under way, said a European diplomat, who asked not to be identified discussing private conversations.
In a small sign of improved communications, Pentagon spokesman Peter Cook said Russian and U.S. defense officials held a video conference on Saturday to discuss ways "to promote safe flight operations over Syria." He said in a statement that the discussion, which lasted about 90 minutes, was "professional and focused narrowly on the implementation of specific safety procedures."
Softening Position
Initially the U.S. held the same position taken by Turkey, Saudi Arabia and Syrian opposition figures: Assad must go before a transition government can be formed. The rigidity of that position is now seen as one of the hurdles to a solution, the diplomat said.
Obama has begun to emphasize that Syria's government institutions could remain in place, provided that Assad eventually departs.
"The only way to solve the problem in Syria is to have a political transition that is inclusive, that keeps the state intact, that keeps the military intact, that maintains cohesion, but that is inclusive," Obama said at a news conference on Oct. 2. "And the only way to accomplish that is for Mr. Assad to transition."
Reassuring Allies
At the same time, the administration is trying to reassure Turkey and other allies that their interests won't be left behind. Even the new, less ambitious program that still arms rebel groups shows regional allies like the Turks and Saudis that the U.S. is still committed to the opposition.
"We don't want to alienate those friends unnecessarily, and we hope to influence them more to our point of view, on the priority needed to focus on Islamic State," Murphy said. "In that sense the arming, the providing weaponry to the opposition, is both a military and a diplomatic tool."
Hof, now a senior fellow at the Atlantic Council, says the scaled-back program may also be a way of "putting down a marker to the Russians."
While the U.S. and Russia say they agree on a need to counter Islamic State, Russian President Vladimir Putin has been using his military to prop up Assad, arguing that his departure would only empower the terrorists. U.S. officials have noted that most Russian strikes have targeted Assad opponents other than Islamic State, including some supported by the U.S. and its allies.
The White House is putting Russia on notice that "we're not just abandoning the program, we're segueing to something else that includes people you may be targeting, so don't target them," Hof said.
Congressional Critics
Friday's announcement reignited criticism of Obama's approach to Syria from across the political spectrum in the U.S. Congress. Representative Eliot Engel of New York, the top Democrat on the House Foreign Affairs Committee, urged Obama to engage more, not less, to "prevent those who are fighting for a free Syria from losing all hope in American leadership."
Republican Senator John McCain of Arizona, the chairman of the Senate Armed Services Committee, said the administration's approach "has made it impossible to generate a viable indigenous ground force in Syria that can produce significant effects on the battlefield."
The failed $500 million "train-and-equip" program, designed to produce more than 16,000 fighters over three years, managed to graduate about 50 men. Pentagon officials have said that only "four or five" of them were actually in the fight against Islamic State at one point last month.
Christine Wormuth, undersecretary of defense for policy, acknowledged Friday in Washington that one of the "major challenges" the U.S. faced with the program was its limited mission, focused solely on the extremist group that has seized swaths of Syria and Iraq. 
"That gave us a very high bar in terms of recruiting, because obviously, there are, you know, many, many individuals in Syria who want to fight the regime," she told reporters.
(An earlier version of this story had an incorrect home state for Representative Engel.)
Before it's here, it's on the Bloomberg Terminal.
LEARN MORE