Ted Cruz Raises $12 Million in Third Quarter, Twice as Much as Marco Rubio
Political outsider Ben Carson raised $20 million in the same period.
by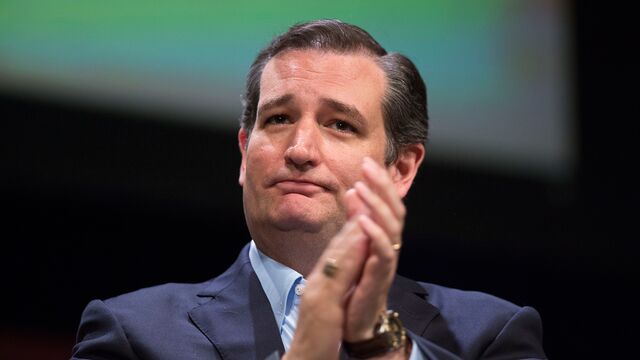 Texas Senator Ted Cruz's presidential campaign raised $12.2 million in the third quarter, more than twice as much as the $6 million that Florida Senator Marco Rubio brought in during the same period. 
Cruz's campaign said it took in 184,800 donations in the third quarter, the average coming in at $66, bringing the total Cruz has raised since launching his presidential bid to $26.5 million. 
"We are thrilled to see a grassroots wave of support for our campaign gaining momentum all over the country," Cruz said in a statement Thursday night. "Not only are we seeing a surge of new donors and recurring donors to our campaign, but also continued growth of our organizations in the early states and all across the country."
Rubio's campaign shared its figures with top donors in Las Vegas on Thursday, a person who attended the gathering told Bloomberg.
The $6 million sum—underwhelming for a top-tier presidential candidate—brings Rubio's cash on hand to about $11 million. His campaign has raised roughly $18 million from nearly 100,000 donors since launching in April, according to the figures provided.
The relatively low figure is another sign of the summer-long dominance of "outsider" candidates like billionaire Donald Trump, who is self-funding, and retired neurosurgeon Ben Carson, who raised a whopping $20 million in the third quarter. The most recent primary polls place Trump first and Carson second in the Republican field.
Carson took in a whopping $20 million in the third quarter, an astonishing figure for a political neophyte. Kentucky Senator Rand Paul, the only other Republican in the race to release third quarter figures so far, raised just $2.5 million. 
Rubio's campaign officials emphasized to donors that July was a tough month as the ill-fated Scott Walker campaign and others had launched, while August was an expectedly slow month. The officials said the campaign raised more than $1 million online in September alone, and expects October to be its "best month so far." Cruz also boasted of a strong finish to the quarter. 
"In the last 24 hours of the quarter, the campaign raised more than $1 million, following the similar $1 million surge in fundraising that was generated in the 48 hours following the second debate," the campaign said in a press release. 
Before it's here, it's on the Bloomberg Terminal.
LEARN MORE