New Jersey Transit Biggest Loser in Amtrak Cost-Sharing Plan
by
Commuters socked with fare increases may bear another round

$516 million bill split among railroads in 9 Northeast states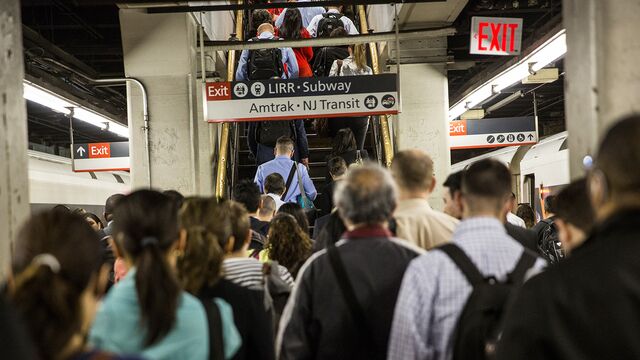 Amtrak is quietly billing railroads in nine East Coast states more than $500 million starting this month, with the brunt born by cash-strapped New Jersey Transit.
The Garden State's mass-transportation agency must put $199.2 million toward the national rail service's operating and capital expenses, according to documents obtained by Bloomberg. The hit increases the likelihood of another budget shortfall just a week after New Jersey Transit raised fares 9 percent to generate $56 million.
Federal law requires Amtrak, starting Oct. 1, to assess part of operating and capital costs to users of its Northeast Corridor, the busiest U.S. passenger line, amid dwindling congressional allocations. Though billing breakdowns were circulated in an internal Amtrak summary dated Sept. 17, New Jersey Transit, the nation's third-biggest commuting service, has declined to disclose the figure or to discuss the potential impact on fares.
Commuters now pay as much as $499 for monthly train service to Manhattan while enduring routine delays linked to Amtrak's hurricane-damaged, century-old Hudson River tunnels, vulnerable overhead power lines and an antiquated bridge over the Hackensack River.
The higher costs confront an agency that just raised fares amid a cash crunch. The state is almost out of money to improve mass-transit service and fix roads as Republican Governor Chris Christie, a candidate for president, rejects tax increases. New Jersey residents, who have one of the longest average commutes in the country, have little choice but to pay more as delays and breakdowns become more frequent.
The payments are under negotiation, Nancy Snyder, a spokeswoman for New Jersey Transit, said in an e-mail.  The final cash fee will take into consideration the value of railroads' in-kind contributions, property use, staff time and infrastructure projects, she said.
Meredith Slesinger, a director for Amtrak's Northeast Corridor Infrastructure and Operations Advisory Committee, referred questions to Amtrak spokesman Craig Schulz, who didn't return an e-mailed request for comment.
Metro-North and the Long Island Rail Road, suburban New York City services, will be billed $83.1 million and $48.1 million, respectively. Payments are still being negotiated, said Adam Lisberg, a spokesman for the lines' owner, the Metropolitan Transportation Authority.
The other affected railroads provide service in Massachusetts, Rhode Island, Connecticut, Pennsylvania, Delaware, Maryland and Virginia, internal documents show.
The extra money will go toward Northeast Corridor's maintenance and aging equipment replacement through at least 2020. The first 12-month total of operating and capital expenses is $1.1 billion, with $516.4 million due from the users and the rest from Amtrak itself. The costs are based on usage. Two individuals with knowledge of the negotiations confirmed the figures in the Sept. 17 summary. They asked not to be identified, saying they aren't authorized to speak on Northeast Corridor Commission business.
Money Crunch
New Jersey Transit closed a $120 million gap for this year in part by raising fares and cutting some bus and rail service as of Oct. 1. State operating assistance this year is 18 percent less, at $33.2 million. The railroad's planned expenditures for tolls, taxes and other operating expenses increased 15 percent, to $106.6 million. It expects only a 5 percent increase in revenue from all sources, including fares and grants.
The Amtrak invoices for the current year come as pressure mounts on New Jersey Transit's spending for fiscal 2017, when it will have exhausted $295 million in spoils transfered from a tunnel project canceled by Christie. The agency also faces contractual salary raises. In August, a negotiations board appointed by Democratic President Barack Obama recommended wage increases totaling 18.4 percent over six-and-a-half years for 4,300 unionized employees. New Jersey Transit has said it can't afford that offer.
The Amtrak payment terms, negotiated with the railroads at meetings closed to the public, run from Oct. 1, through Sept. 30, 2020, documents show.
"This partnership is essential to ensure the corridor's continued viability as the backbone of the region's transportation system and a catalyst for economic growth," according to an Amtrak report dated June 18. The railroad's Northeast Corridor Infrastructure and Operations Advisory Commission said it was "in the national interest" to repair and modernize publicly owned and operated infrastructure, and "a new set of relationships is required" to get the job done.
The Southeastern Pennsylvania Transportation Authority, serving Philadelphia, will have an expense of $52.7 million. Connecticut's transportation department was assessed $42.3 million and its Shore Line East service $12.7 million, and the Massachusetts Bay Transportation Authority, in and around Boston, $34.2 million, the documents show.
N.J. Transit Quietly Cuts Late-Night Trains From Manhattan (1)
Ferries Lie Tantalizingly Beyond Reach as Hudson Tunnels Decay
N.J. Transit Board Goes 12 Years Without Dissent as Trains Crawl
Before it's here, it's on the Bloomberg Terminal.
LEARN MORE