Joe Biden and Elizabeth Warren Accuse Republicans of Failing to Fund U.S. Needs
The vice president makes his pitch in a way tailored to appeal to the same populist base that is loyal to the Massachusetts senator.
by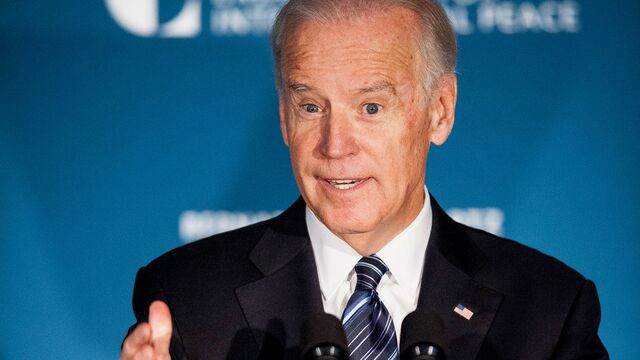 Vice President Joe Biden blamed Republicans for a failure to fund U.S. infrastructure needs on Thursday, blaming the incalcitrance of the party's congressional leaders for hampering economic growth and middle-class opportunities at a forum where the potential presidential candidate appeared with one of the heroes of the Democratic left.
"There used to be a bipartisan consensus that infrastructure was important," while now there is "a different Republican Party" that doesn't support such investments, Bide  said in remarks at a forum on U.S. job creation and infrastructure where he followed Senator Elizabeth Warren onto the podium. Warren's and Biden's back-to-back appearances at the forum drew attention, in part because Biden is considering whether to make a late bid for his party's presidential nomination and like the party's presidential front-runner, Hillary Clinton, has courted the Massachusetts Democrat, a fiery critic of the financial sector.
As Biden began his remarks on Thursday, he said he was sorry to have missed Warren's comments there, adding, "I'm a fan and she is I think one of the most articulate people" in Congress. Biden met with Warren privately in August—a session both sides have been tightlipped about—just as speculation about a possible Biden candidacy began to heat up.
Biden made no mention of his presidential plans at the forum, hosted by the Carnegie Endowment for International Peace. But he did make his pitch in a way tailored to appeal to the same populist base that is loyal to Warren. 
Long-term funding of the highway system and increasing spending on roads, rail, airports, ports, power, education and research is key "for putting the middle class back in the saddle again," Biden said. "The middle class has been the glue that has held together our social stability and our political stability."
He pleaded with business leaders in the audience to help create political consensus for infrastructure spending. "Don't tell me we don't need this investment," the vice president said.
"We need your help," Biden added. "We are wide open to how this gets done." He promoted a one-time, 14 percent tax on corporate profits overseas not being brought home, yielding $268 billion, to modernize infrastructure.
Warren, who has been credited with pushing Clinton toward more union-friendly and Wall-Street-critical positions in her presidential run, called the decline of infrastructure spending the "ugly offspring" of trickle-down economics embraced by Republicans in the 1980s and said it is tied to the decline of the middle class. "The basic idea is, 'I got mine, the rest of you are on your own,'" Warren said. Decisions not to invest more in roads, power grids and other infrastructure, including problems funding the Highway Trust Fund, are "gimmicks" to support existing tax loopholes with "disastrous" effects, she said.
"China is building a future while America is stuck in political quicksand," Warren said.
Before it's here, it's on the Bloomberg Terminal.
LEARN MORE