House Republican Group Backs Longshot Webster for Speaker
by and
Republicans to choose nominee Thursday to replace Boehner

Freedom Caucus includes almost 40 conservative members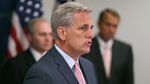 The conservative U.S. House Freedom Caucus of almost 40 Republicans endorsed Representative Daniel Webster over front-runner Kevin McCarthy to succeed Speaker John Boehner when he leaves Congress.
The decision probably won't keep McCarthy from winning support from the 248-member House Republican caucus in closed-door voting Thursday for a speaker nominee. But those lawmakers could try to deny McCarthy a majority when the full House, including Democrats, votes for speaker on Oct. 29.
"Our intention is to go all the way to the floor unless changes are made" in the way the House is run, Freedom Caucus member Raul Labrador of Idaho said after the meeting Wednesday.
Still, it's uncertain whether the group will remain a unified bloc in opposition to McCarthy of California, currently the second-ranking House Republican, in the vote of the 435-member House, including Democrats.
The Freedom Caucus vote to back Webster was "only for tomorrow," said caucus member John Fleming of Louisiana. "This does not bind us beyond tomorrow." A lot could happen over the next few weeks, Fleming said. 
There was no immediate response from McCarthy's office.
Longshot Contender
Webster of Florida, a longshot contender who got 12 votes in January when Boehner was re-elected as speaker, has said he wants the House to change its processes away from what he describes as a top-down approach to legislating. In gaining the backing of the Freedom Caucus, he has the support of some of the most aggressive Republican antagonists to Boehner and some of his decisions as speaker.
The group's decision to back Webster was a blow to a third candidate, Representative Jason Chaffetz of Utah, who entered the speaker's race days ago as a last-minute alternative to McCarthy. Chaffetz declined to say Wednesday how many colleagues are backing him.
The opposition to McCarthy gained momentum from his admitted gaffe in remarks about House Republicans' Benghazi investigation into Hillary Clinton. McCarthy of California sought again Wednesday to walk back his assertion that the probe harmed her poll numbers, which gave Democrats an opening to argue that the inquiry is a witch hunt.
"Don't use politics to try to change this around," McCarthy told reporters who asked about his comment last month that the investigation caused Clinton's poll numbers to drop.
Political Ability
The flap raised questions not only about McCarthy's political ability and instincts, but also his communication skills -- key aspects of a party leader's job.
Boehner is leaving Congress at the end of October following repeated clashes with conservative members who threatened to shut down the government over matters such as their effort to defund Planned Parenthood. The House speaker is second in line to succeed the president.
Freedom Caucus Chairman Jim Jordan of Ohio and Representative Tim Huelskamp of Kansas said earlier Wednesday that the bloc's votes on Oct. 29 will depend on how the Republican nominee handles issues in the next several weeks including a government spending bill, efforts to revive the Export-Import Bank, the need to raise the debt limit and a highway spending bill.
Many conservative Republicans oppose the Ex-Im Bank and have sought to impose policy conditions on government spending or raising the debt limit.
McCarthy Defended
Jordan said leaders should demand deficit reduction as the price of a debt-ceiling increase and stand firm. "We can win this," he said before the meeting.
Boehner rose to McCarthy's defense about the Benghazi remarks earlier Wednesday during their news conference in Washington.
 
"There's not one American who in the course of their lifetime wouldn't rather have the opportunity to say words over again," said Boehner of Ohio.
McCarthy said on Fox News Sept. 29 that "everybody thought Hillary Clinton was unbeatable, right?" He added, "But we put together a Benghazi special committee, a select committee. What are her numbers today? Her numbers are dropping. Why? Because she's untrustable. But no one would've known any of that had happened had we not fought and made that happen."
Benghazi Probe
He was referring to a House special committee investigating the deaths of four Americans in the September 2012 attack in Benghazi, Libya, when Clinton was secretary of state. Clinton's presidential campaign and Democrats in Congress seized on his statement as proof the House investigation is a political witch hunt, and some of McCarthy's Republican colleagues complained that he'd helped give a new bounce to her campaign.
"Let's be very clear, Benghazi is not political," McCarthy said Wednesday. He said the committee "was created for one purpose and one purpose only -- to find the truth on behalf of the families of four dead Americans. Period."
At another point, he acknowledged, "I could have been more clear in my description of what was going forward." It was the latest of several attempts by McCarthy to explain his remarks.
At the same news conference, Boehner wouldn't tip his hand on what he hopes to accomplish before he leaves Congress. A number of must-do items are looming. Among them, Treasury Secretary Jacob Lew has said lawmakers need to raise the debt limit by early November.
Rules Changes
"There's no agreement on how to do this," Boehner said. "There are discussions about how to do it, but nothing else to report at this time."
Another aspect of the Freedom Caucus endorsement of Webster is that its members, with other rank and file Republicans, are pushing for changes in internal party rules and those affecting the full House. The proposals include revisions to the speaker's steering committee that decides committee leadership and other operations, and what constitutes "regular order" for legislation.
Representative Thomas Massie of Kentucky, an early Webster backer who isn't a member of the Freedom Caucus, said Boehner warned members during a closed-door meeting earlier Wednesday that, in pushing for such changes, to remember the adage to not go grocery shopping when you are hungry.
"The rebuttal to that is strike while the iron is hot," said Massie. He said he and others think the best time to make changes is before a new speaker takes power, when candidates are still running for the post and more likely to endorse changes. The aim is to put a rules package before the conference before the Oct. 29 speaker vote on the floor.
Before it's here, it's on the Bloomberg Terminal.
LEARN MORE