Hillary Clinton Comes Out Against TPP
The move puts more distance between herself and potential opponent Vice President Joe Biden.
by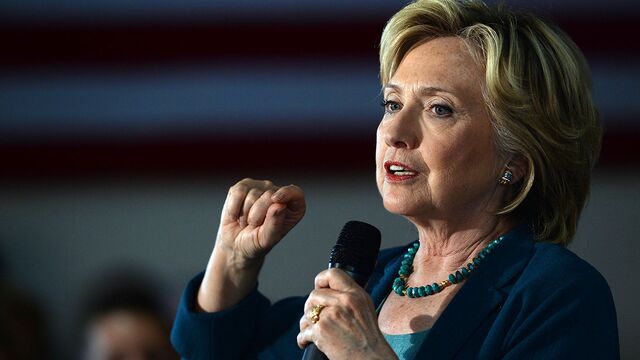 Democratic presidential candidate Hillary Clinton voiced her opposition Wednesday to the Trans-Pacific Partnership trade deal, bucking her former boss and creating more distance between herself and possible primary rival Vice President Joe Biden.
"What I know about it, as of today, I am not in favor of what I have learned about it," the former secretary of state said in an interview with PBS NewsHour. "I don't believe it's going to meet the high bar I have set."
Clinton was generally supportive of the deal during her four years working in President Barack Obama's administration and allowed for some wiggle room to still support TPP or other future trade deals.  In a written statement sent after the interview was released, she stipulated that she is "continuing to learn about the deals" of the agreement.
The Democratic front-runner's conditional opposition to the deal comes as Biden, whose policy positions hew more closely to Clinton's than any other candidate, continues to support the deal and will work to build support for it on Capitol Hill, an aide confirmed Wednesday. Biden has not yet announced whether he will run for the Democratic nomination but if he does, his presence in the race will likely force Clinton to more sharply define her positions on issues that have been important to the Obama administration.
Vermont Senator Bernie Sanders, Clinton's main challenger in the race, drew attention to the amount of time it took her to come to a verdict on an issue he has long opposed. 
"I'm glad that she reached that conclusion," he told reporters in Washington. "This is a conclusion that I reached on day one." 
Former Maryland Governor Martin O'Malley, who, like Sanders, has for months been outspoken about his opposition to TPP, made sure to jab at Clinton after she weighed in Wednesday.
"Wow! That's a reversal!" O'Malley said in a statement. "Secretary Clinton can justify her own reversal of opinion on this, but I didn't have one opinion 8 months ago and switch that opinion on the eve of debates. I'm against the Trans-Pacific Partnership. I let people know that from the outset, and I think we need to focus on building up our own economy."
Clinton has increasingly been distancing herself from the Obama administration, voicing her opposition last month to the construction of the Keystone XL pipeline—an issue that the administration is still considering—and saying she supports a no-fly zone over Syria. She also tweaked the president's enforcement of deportation laws in an interview released earlier this week.
With both the Keystone and TPP announcements, Clinton's staff gave the White House notice before she announced her positions. In both cases, she's taken a position that appeals to the left wing of her party.
In recent weeks, Clinton had found herself pressed to say where she stood on the two high-profile issues, especially with the first Democratic debate set for next Tuesday. Since launching her campaign nearly six months ago, she had refused to take a position on the trade deal, saying that her choice would depend on the details of the agreement, especially the effects it would have on American workers. While her primary competitors might question the timing of her announcement on TPP, it was music to the ears of organized labor. 
"America's working people are very pleased that Senator Clinton is opposed to the Trans-Pacific Partnership," AFL-CIO president Richard Trumka said in a statement. "I applaud her for taking this step and choosing to embrace workers' values. Her decision is a critical turning point, and will be invaluable in our effort to defeat TPP."
Negotiators from the United States and 11 other countries announced Monday that they had reached an agreement on the trade deal, which sets tariff reduction schedules on dozens of products and agreed on patent protections for pharmaceuticals, though not as lengthy as the ones for which the Obama administration had advocated. The deal still needs to be approved by governments in all 12 countries, which represent 40 percent of the global economy, and congressional support in the U.S. is far from guaranteed, with many Democrats concerned about its effects on labor and Republicans opposed to backing an Obama achievement.
Clinton argued Wednesday that her position is not inconsistent with the positive outlook she had on the negotiations during her time in the administration.
"I still believe in the goal of a strong and fair trade agreement in the Pacific as part of a broader strategy both at home and abroad, just as I did when I was secretary of state," she said in her written statement. "I appreciate the hard work that President Obama and his team put into this process and recognize the strides they made. But the bar here is very high and, based on what I have seen, I don't believe this agreement has met it."
Clinton has had a mixed record on trade deals and has said that she evaluates them all on an individual basis, looking to see if they'll be fair to the United States. supported her husband's North American Free Trade Agreement and voted for deals with Singapore, Chile, Australia, Morocco and Oman while serving in the Senate. She voted against the Central American Free Trade Agreement.
During her interview, Clinton sought to explain why she was dissatisfied with the deal, speaking in general terms since has not, she conceded, read the full text of the agreement, which has yet to be released.
"I have said from the very beginning that we had to have a trade agreement that would create good American jobs, raise wages, and advance our national security. And I still believe that's the high bar we have to meet," she said. "I have been trying to learn as much as I can about the agreement but I'm worried."
Clinton said she also has reservations because the deal doesn't address currency manipulation and because it appears that "the pharmaceutical companies may have gotten more benefits, and patients and consumers fewer."
Clinton spoke positively of the deal in her 2014 memoir, Hard Choices. "It's safe to say that the TPP won't be perfect. No deal negotiated among a dozen countries ever will be—but its higher standards, if implemented and enforced, should benefit American businesses and workers," she wrote.
She also voiced support for the negotiations on dozens of other instances during her time in the Obama administration.
Before it's here, it's on the Bloomberg Terminal.
LEARN MORE