Will Conservative Hardliners Break the 'RINO' Spell in 2016?
Conservative critics have been saying for years that the Republican Party needs to nominate a real hardliner. This election, they could get their wish.
by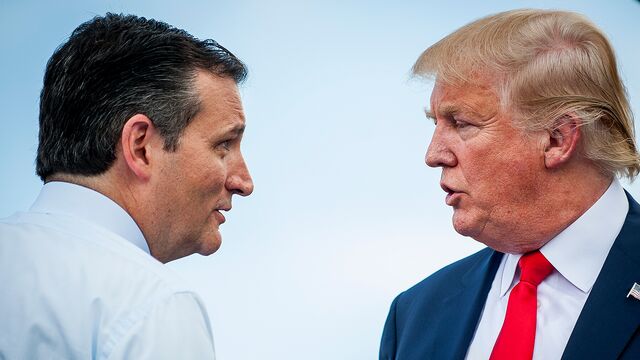 Conservative hardliners are on a mission to shatter a half century-long tradition in the Republican Party by nominating one of their own for president.
After two consecutive establishment nominees flamed out in 2008 and 2012, and as the base's anger at Republican leaders reaches extraordinary heights, that elusive goal may now be within reach. Donald Trump leads the Republican field in national polls. Ben Carson and Carly Fiorina, two more political outsiders, are not far behind, and de facto tea party leader Senator Ted Cruz continues to draw strong support. That's raising hopes in some or the further right corners of the Republican Party.
"This election does not appear to be following the normal pro-establishment trend," Ken Cuccinelli, the president of the Senate Conservatives Fund, an anti-establishment pressure group that supports uncompromising conservatives, told Bloomberg. "Republican voters are extremely frustrated with GOP candidates who campaign as conservatives, but then legislate as liberals. They've been betrayed too many times and now they're looking for a strong conservative who will stand up to the Washington establishment and fight for their principles."
Bolstering the case for an anti-establishment nominee: In Congress, the RINOs (the derisive acronym that hardliners use to describe what they call "Republicans in name only") are all but extinct. Conservatives rejoiced when House Speaker John Boehner revealed he'd soon resign, undone by hardliners in his tent. In recent elections the base has tossed dozens of mainstream Republicans from national office, including former House Majority Leader Eric Cantor last year in a stunning upset to a right-wing challenger. The right is trying to build on its momentum by demanding concessions of Boehner's would-be successor, House Majority Leader Kevin McCarthy.
But with a swath of "outsider" candidates gaining traction, and the party's historical tendency to nominate an establishment figure, conservatives have their work cut out in uniting behind one to carry the party's torch.
For years, conservative talk radio host Rush Limbaugh has railed against RINO Republicans, including those he identifies on the presidential stage.
"I look at the Republican leadership ... What do they not get? Every time they nominate one of these guys, one of the people they really like, they end up losing. And they lose big! They lost big with [Mitt] Romney. They lost big with [John] McCain. They lost with Bob Dole. And now Jeb [Bush] wants to get in and he's part of that crowd. He's not northeastern liberal but he certainly is not tea party conservative," Limbaugh told listeners in January when Bush was exploring a presidential run.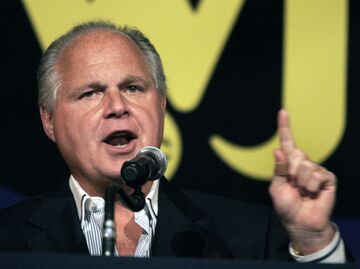 Limbaugh and simpaticos like Laura Ingraham and Sean Hannity have often boosted Trump, whose trash-talking and political incorrectness are seen as a breath of fresh air by the conservative base, which often feels victimized by a media and culture that's too progressive for its taste. After Trump insulted McCain's war record and refused to apologize, Limbaugh was smitten. "The American people haven't seen something like this in a long time," he glowed. "I'm serious. They have not seen an embattled public figure stand up for himself, double down, and tell everybody to go to hell."
Trump's comments denigrating Mexican immigrants have struck a chord with a large faction of the conservative base that is fearful that demographic shifts are transforming the United States into a country unrecognizable to them. Trump's policy paper to dramatically reduce immigration levels and deport all 11 million undocumented immigrants was hailed by conservative provocateur Ann Coulter as the "greatest political document since the Magna Carta."
Cruz, who has praised Trump, argues that Republicans will lose in 2016 if they nominate an "establishment" candidate for president in the mold of McCain or Romney. "It will, in effect, be a third term for Barack Obama," he told Newsmax TV in April.
Bush started off as the early establishment favorite, his bank account flush with campaign cash as he revealed his interest in the Oval Office. Lately he's sinking in national polls, overshadowed by Trump and facing resistance from conservative forces inside the base. There's still time for a comeback, and history is on Bush's side. Since Barry Goldwater's 44-state walloping in the 1964 general election, Republican ideologues have typically lost their never-ending battle with pragmatists in nominating contests.
"It is possible that a hardliner could win, but I would not bet on it," said Jack Pitney, a political science professor at Claremont McKenna College. Old-fashioned Republicans may be less noisy but they're large in numbers, he noted, and blue-state Republicans control many delegates key to winning the nomination. "The party establishment does not have final say, but it still counts. Leaders want to nominate someone who can win. In this particular case, moreover, McConnell will do everything in his power to bring down Cruz," Pitney added, referring to Senate Majority Leader Mitch McConnell, a Kentucky Republican who is the frequent butt of Cruz's criticisms. 
Romney also doubted that his party would pick a hardline figure.
"My party has historically nominated someone who's a mainstream conservative," he said Wednesday at the Washington Ideas Forum.
Notably, two mainstream candidates he mentioned—Senator Marco Rubio and New Jersey Governor Chris Christie—have echoed hardliners' criticisms of their own party leaders in Washington. At a town hall last Thursday in Cedar Falls, Iowa, Rubio was confronted by an angry voter who demanded of him, "I want you to say to me, 'I'm not going to be one of them,'" he said, referring to congressional Republican leaders.
"What you just described," Rubio responded, "is why I'm running for president. ... I'm running for president because we can't change any of this unless we have people like that in the presidency." He fretted that "sometimes," Republicans "don't even try" to win policy battles by taking their case to voters. "The best example in recent times is Planned Parenthood," he said, referring to the defunding fight, lamenting that party leaders decided that "we're not gonna win this vote anyway, so we'll do a show vote. If you don't even try, of course you've lost."
The trend was not lost on Cuccinelli. Every candidate, he wrote in an e-mail, "is now pretending to be an outsider even though many of them have been part of the establishment for years. Voters are looking to see which candidate truly shares their values and will actually fight for them after the election, not just during the primary."
When it comes to policy, ideologues in the base are winning. Everyone from Bush and Boehner to Trump and Cruz wants to undo President Barack Obama's policies from Obamacare to financial reform to executive actions on immigration and the Iran nuclear deal. One-time moderates have either adapted (like McConnell), lost to a more conservative lawmaker (like former Senator Bob Bennett of Utah) or called it quits (like Senator Olympia Snowe of Maine). The battle is about tactics—whether to halt the basic functions of government if Democrats don't acquiesce; the hardliners say yes, the pragmatists say no.
But if Republicans take back power, they'll have to decide whether to pursue a mainstream agenda or one that hews to the hardliners in the base. Party elites want a pro-immigration and pro-gay-rights agenda, fearful that alienating Latinos and young voters would mean that "our Party's appeal will continue to shrink to its core constituencies only," as the Republican National Committee warned in an autopsy report after the 2012 election. Hardliners want the opposite. But can they finally break the half-century trend?
Republican strategist John Feehery doesn't think so.
"They don't have the votes," he said.
Before it's here, it's on the Bloomberg Terminal.
LEARN MORE