McCarthy May Lack Votes to Become Speaker, Rival Chaffetz Says
by
Offers himself as bridge to party's `far-ultra-right-wing'

Utah Republican criticizes McConnell for pledging no shutdown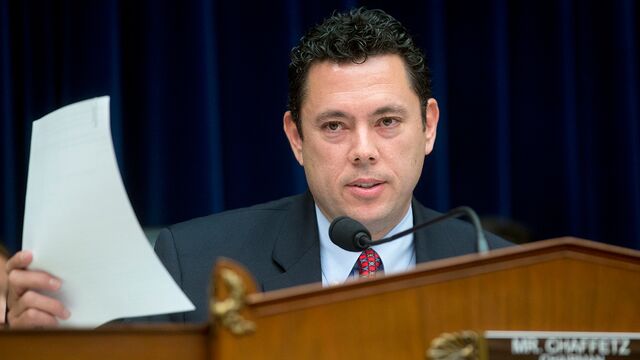 Representative Jason Chaffetz said U.S. House Majority Leader Kevin McCarthy may defeat him this week in internal Republican voting for speaker, but McCarthy will have a much harder time winning the top job when the full House votes on Oct. 29.
Chaffetz, a four-term Utah Republican, announced Sunday that he would challenge California's McCarthy for speaker, a position that is third to the presidency in the U.S. government. "There is a clear recognition that Kevin McCarthy enjoys the majority of the conference's support -- but that is dwindling, it's not growing," Chaffetz told reporters Monday in Washington.
Chaffetz said he hopes House Republicans will realize they need someone to serve as a bridge between "the far-ultra-right-wing faction of our party" and "more centrist members." House Speaker John Boehner is resigning from Congress at the end of the month following repeated battles with conservative members of his caucus.
Chaffetz, who chairs the Oversight and Government Reform Committee, spoke with reporters three days before House Republicans are set to meet privately to choose their nominee for speaker. Representative Daniel Webster, a Florida Republican, is also running for the position and is considered a long shot.
Chaffetz described a longer-range strategy than simply trying to win Thursday's internal Republican vote. Much of it involves the process of selecting a speaker.
218 Votes
Boehner announced Monday that after House Republicans choose their nominee for speaker on Thursday, the election by the full House, including Democrats, will take place Oct. 29. Should McCarthy win, elections for vacant leadership positions in the Republican caucus will be put off until later, a delay sought by many conservatives.
"This is the right way to do it," said Representative Mick Mulvaney of South Carolina, a founder of the House Freedom Caucus of conservative Republicans. "With plenty of time to talk about rules changes and then, future leadership races, when and if they become necessary. I applaud Speaker Boehner for handling it this way."
Chaffetz noted that the House election for speaker requires a winning candidate to obtain a majority -- 218 votes if all 435 members are present and vote. Only 28 House Republicans would need to defect to block McCarthy from being elected -- a number Chaffetz said can be achieved by conservatives dissatisfied with the current leadership, which includes McCarthy.
'Be Palatable'
"There there will be a realization at some point he can't get to 218," Chaffetz said of McCarthy. "What I'm of­fer­ing my­self up as is: Can I be pal­at­able to those people who des­per­ately want this change and will not, can­not, vote for Kev­in Mc­Carthy on the House floor?"
McCarthy's office didn't immediately respond to a request for comment.
Chaffetz also criticized Senate Majority Leader Mitch McConnell, saying he was "absolutely flat-out wrong" to pledge not to shut down the government in negotiations over federal spending.
"There is no way we're just going to say 'I want to do what Harry Reid does'," said Chaffetz, referring to the Senate Democratic leader. "That's why Republicans who gave us the biggest majority since Babe Ruth are frustrated with us. We don't fight on these things."
Chaffetz's comments about some conservatives being unenthusiastic about McCarthy were backed up by others. Representative Justin Amash of Michigan, a conservative long critical of Boehner, suggested in a op-ed column published on CNN's website Sunday that McCarthy's ascension would miss the point that party leadership needs to be approached differently.
'Reshuffling' Insufficient
"A mere reshuffling of current leadership won't work. That a promotion of Majority Leader Kevin McCarthy to speaker is being seriously discussed by leadership allies demonstrates how little they have learned from recent events," Amash wrote.
On Monday, the Tea Party-affiliated group Freedom Works issued a statement that said, "It's not enough to put Boehner's second in command in charge."
"We are asking our activists to tell their congressman not to support Boehner 2.0 for speaker," the group said. "We're ready for change in Washington, not more of the same. Kevin McCarthy is too intertwined in current GOP leadership to bring about real reforms."
Before it's here, it's on the Bloomberg Terminal.
LEARN MORE