House Democrats Push to Release Benghazi Investigation Transcripts
They have released portions of a private interview with Cheryl Mills, who served as Clinton's chief of staff at the State Department.
by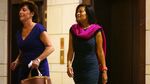 Democrats in the U.S. House are calling on the Republican majority to release interview transcripts from a special committee's investigation of the 2012 attacks in Benghazi, Libya.
Democrats on the committee criticize the investigation as a partisan attack on former Secretary of State Hillary Clinton, who is now the party's leading presidential contender. Democrats, in their letter sent Monday to Trey Gowdy, the South Carolina Republican chairman of the committee, released portions of a private interview with Cheryl Mills, who had served as Clinton's chief of staff at the State Department.
"It has become obvious that the only way to adequately correct the public record is to release the complete transcript of the Committee's interview with Ms. Mills," wrote Representatives Elijah Cummings, Adam Smith, and Adam Schiff. 
The select committee's investigation into the attacks on the U.S. facility in Benghazi is receiving closer scrutiny after House Majority Leader Kevin McCarthy, a California Republican expected to succeed Speaker John Boehner, said the committee's investigation has eroded support for Clinton's presidential bid. In their letter to Gowdy, Democrats accused Republicans of selectively leaking information to damage Clinton's campaign.
In a statement issued several hours after the Democrats made known their intentions, Gowdy spokesman Jamal Ware defended the practice of keeping transcripts of testimony private, citing "the need to hear from all witnesses and gather all facts before drawing inferences or conclusitions from those interviews, and the need to avoid tainting the recollections of future witnesses." 
Turning the Democrats' criticisms on themselves, Ware said that they "have shown their nakedly political motivation" by "selectively leaking and spinning" parts of Mills' testimony. He accused committee Democrats of "violating House rules."
Excerpts of Mills's testimony show her telling the panel that neither she nor Clinton tried to influence a State Department accountability review board after the attacks. Democrats accused Republicans of leaking portions of Mills's testimony to cast doubts on the review board's independence. 
Democrats also used Mills's testimony in an attempt to portray Clinton as engaged and decisive following the attacks. She described Clinton as "devastated" by the deaths of four Americans, including the U.S. ambassador to Libya.
"She was pretty emphatic about wanting whatever to be done and whatever were assets that could be deployed, if that was both effective and possible to be done," Mills said about Clinton, according to the excerpts. "There was not any notion of not doing that to the fullest amount that was practical, effective, and possible."
Before it's here, it's on the Bloomberg Terminal.
LEARN MORE