Russia's Quick Jump Into Syria Leaves Obama With Few Options
by and
Sudden launch of airstrikes caught U.S. officials short

U.S., UK, France, Gulf nations demand end to strikes on rebels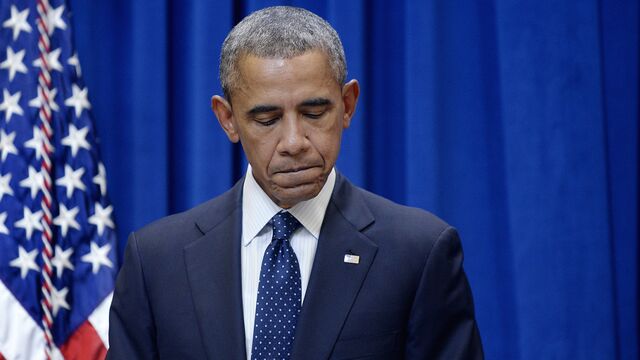 After Barack Obama and Vladimir Putin walked out of a tense 90-minute meeting in New York, U.S. officials expected direct military-to-military consultations with the Russians to avoid a conflict over the skies of Syria.
Instead, they got a one-hour notice to stay out of the way and no details on targets as Russian aircraft struck inside Syria for the first time on Wednesday, adding a new risk for the U.S. and its coalition partners battling Islamic State.
The sudden raid left the Americans surprised and angry at Russia's handling of the situation but with few options on how to respond, according to a U.S. official who asked not to be identified discussing internal deliberations. As Russia continued striking targets in Syria Friday, the U.S. was joined by the U.K., France, Germany, Qatar, Saudi Arabia and Turkey in saying the bombing campaign "led to civilian casualties" and didn't target Islamic State militants.
The statement came hours before Putin was due to meet German Chancellor Angela Merkel and the French and Ukrainian presidents, Francois Hollande and Petro Poroshenko, in Paris to discuss a Ukrainian cease-fire pact. It adds to warnings from Obama and Secretary of State John Kerry earlier this week to Putin that he had dangerously overreached by jumping into the middle of the fight between the regime of Bashar al-Assad and Syrian rebels.
Russia's Risk
"It certainly is not in the interests of the United States for Russia to exacerbate this sectarian conflict," White House press secretary Josh Earnest said. "But ultimately, it's the Russians that will pay the highest price for that."
The White House was taking no immediate steps to alter either its strategy in Syria or its approach in dealing with Russia in other areas of conflict, such as Ukraine.
Several Middle East analysts said the U.S. and its allies are left with few alternatives short of a deeper military involvement in Syria, which the administration continues to reject. "The West doesn't have a mechanism to block what Russia is trying to do, and there's very little appetite in the White House to get the U.S. in the middle of this," said Andrew Weiss of the Carnegie Endowment for International Peace.
Post-Assad Syria
John McLaughlin, a former acting directory of the Central Intelligence Agency, said there are options short of putting American boots on the ground in Syria. Those include a better program to train and arm opposition forces, a more robust arming of Kurdish forces and creating a "safe zone" in Syria along with Turkey and other allies.
Another option for the U.S. and its allies is to work with Putin to battle Islamic State and, eventually, to ease out Assad. Obama has already said he's willing to work with Russia and Iran on a political transition. Russia may have an incentive to engage on that as a way to make sure it continues to have influence in a post-Assad Syria.
Days after Obama and Putin met on Monday, the administration was still struggling to explain what Russia is up to, much less how it will respond. "We don't have a clear understanding of their intentions," Pentagon spokesman Peter Cook told reporters on Thursday.
Avoiding Conflicts
U.S. defense officials and their Russian counterparts went ahead Thursday with the first of a series of video-conference calls aimed at avoiding conflicts between Russian forces and the U.S. coalition.
 
Frustration over Russia's moves also has centered on indications its strikes hit anti-Assad forces other than Islamic State, possibly some the U.S. views as relative moderates.
Kremlin spokesman Dmitry Peskov said Thursday that the Russian "operation is aimed at supporting the Syrian armed forces in their fight against Islamic State and other terrorist groups." He said the operation would take place "for the duration of the offensive of the Syrian armed forces" and that its main goal was to support Assad's government.
Kerry, using an acronym for Islamic State, told reporters in New York on Thursday evening, "What's important is Russia has to not be engaged in activities against anybody but ISIL. That's clear."
Protecting Latakia
In a first public explanation of why Russia didn't strike first at Islamic State strongholds, Russian Defense Ministry adviser Igor Korotchenko said Putin's aim is protecting the coastal province of Latakia, home to Assad's Alawite minority, and creating a corridor stretching to Damascus.
Russian Foreign Minister Sergei Lavrov dismissed suggestions that a secondary goal is to distract from Russia's actions in Ukraine. "I cannot speak about something that sick minds are talking about in the media," he told reporters.
 
Kerry met to discuss the situation in New York on Thursday with members of the U.S.-led coalition that opposes Islamic State. Foreign Ministers from the U.K., France, Germany, Saudi Arabia, Jordan and the United Arab Emirates clustered inside the Lotte Palace Hotel for almost two hours.
A European official, speaking on condition of anonymity to discuss private deliberations, said the sentiment in the room was that Russia is making the Mideast -- and probably the related refugee problem in Europe -- much worse and much more dangerous for everyone, and that perhaps Putin's government hasn't fully thought through the longer-term implications.
'Fuel Extremism'
"These military actions constitute a further escalation and will only fuel more extremism and radicalization," the U.S. and allies in Europe and the Middle East countries said in the statement Friday. "We call on the Russian Federation to immediately cease its attacks on the Syrian opposition and civilians and to focus its efforts on fighting ISIL." Russia has said it is only targeting "terrorist" groups.
Weiss and other Middle East experts agreed that Russia is taking a big risk.
"The sense is, 'Go knock yourself out,"' Weiss said. "'You guys are going to now be targets, the 30,000 or so Russian nationals married to Syrians are going to be targets.' The Jihadist movement has a new reason to fight that's very powerful."

'Kingmakers'
Angela Stent, a senior fellow at the Transatlantic Academy on leave from Georgetown University, said Russia was acting not just to defend Assad, but to have a say in the transition process if the Syrian leader is ousted.
"They also want to be present so that if there is some transition away from Assad, they can be involved, they can be kingmakers, they can be part of the decision," Stent said.
Even so, she said, Putin's United Nations speech in which he blamed U.S. intervention in Iraq for today's chaos in the region suggests a blind spot in his reading of the situation.
"If they're worried about the impact of Islamic State and the fact that they have 2,500 Russian citizens fighting in Syria, supporting Assad isn't exactly going to help that problem," Stent said. "It not only alienates the Sunni population in the Arab world, but their own Sunni population."
Andrew Tabler,  a senior fellow at the Washington Institute for Near East policy, said the U.S. does have options, but most involve a more forceful military stance either in Syria or with respect to Russia, an approach Obama so far has shunned.
"A more aggressive military posturing or action is the thing that hasn't been tried," Tabler said. "The question is: What's the smart move? If we're going to help the government in Ukraine fight Russian separatists and the Russian annexation of Crimea, then we should do it. If we're going to help the Syrian opposition get Assad to step aside, we should do it."
Before it's here, it's on the Bloomberg Terminal.
LEARN MORE