Outsider Candidates' Fundraising May Prove More Durable Than Insiders'
Candidates who may have thought they were relegated to raising money online may find it's actually a boon.
by and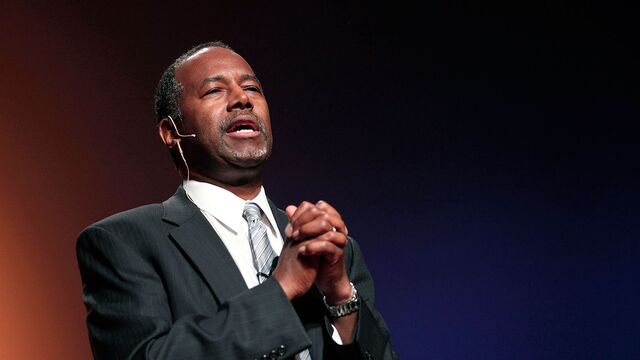 In the run-up the 2016 primary elections, conventional wisdom had it that insider candidates who had long cultivated relationships with establishment donors would easily be able to outraise outsiders whose support came from the grassroots. 
As the third fundraising quarter of the campaign came to a close Wednesday, the rabble-rousers proved that assumption wrong, flexing big financial muscles thanks to scores of small individual donations that could see them through a long campaign.
Vermont Senator Bernie Sanders, a self-proclaimed socialist, took in $26 million, almost matching the $28 million brought in by his Democratic rival, former Secretary of State Hillary Clinton, who focused on events for big donors. Retired neurosurgeon Ben Carson, a Republican who has never held elective office, brought in $20 million from more than 350,000 donors.
The reach of their efforts speaks to the outsider candidates' surging popularity, but it also shows why they might have an advantage over establishment politicians like Clinton and former Florida Governor Jeb Bush. 
"It's a lot easier to get someone who gave you $25 in the second quarter to also give you $25 in the third and also give you $25 in the fourth," said Joe Trippi, who managed then-Vermont Governor Howard Dean's 2004 effort to secure the Democratic presidential nomination, an earlier insurgent effort from the Green Mountain State that helped pioneer online fundraising.
In the case of Sanders and Carson—and President Barack Obama, who some have said integrated online grassroots fundraising into a successful White House effort for the first time—those small donations add up. Insurgent campaigns can then, for little money, send an e-mail to a group of onetime small donors soliciting a little more cash and build up a war chest to last them through several phases of a campaign.
"All of these numbers grow exponentially," said Erin Hill, executive director of ActBlue, a PAC that helps Democrats raise grassroots money digitally and has raised money for Sanders.
That's why Trippi predicted Sanders could take "another step up, whether it's $35 million or $40 million" next quarter.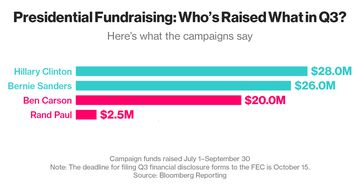 Not all campaigns have released their figures, and the exact balance of big and small donations may not be tallied until the Federal Election Commission puts out campaign filings on Oct. 15. But Sanders and Carson, who have ascended to competitive polling positions, also both dominated in grassroots fundraising in the previous quarter, with 76 percent of the money Sanders took in coming from people giving less than $200—the most of any candidate in either party. Carson came in second with 68 percent. For Clinton, that figure was 17 percent; for Bush, 3 percent, the least of any candidate.
Relying on small donors has other advantages. Individuals can only donate $2,700 to a campaign per election, although they can give unlimited amounts to super-PACs, so candidates who get most of their money from big donors will have to find new donors, often wining and dining them in-person.
Smaller donors, by contrast, "have a lot of ways to go before they hit that contribution limit," said Nate Thames, executive director of ActBlue's technical services.
In the wake of Obama's successes, thousands of campaigns on all ballot levels—as well as the super-PACs supporting them—are making sure to tend their digital donation gardens. ActBlue raised nearly $5.5 million on Wednesday alone, with some of it going to Sanders.
(The senator's campaign told Bloomberg on Wednesday night that it had raised $25 million, but MSNBC reported Thursday staffers had upped the estimate to $26 million because of a flood of late donations. The Sanders campaign hasn't responded to requests to confirm a figure from Bloomberg.)
It's a cheaper effort, too. Thames estimates that getting, say, a $3 donation via mail in the old days wasn't worth it because of the cost of the solicitation letter. But with the Internet, even a single dollar "is still money in the bank for you."
And the money going out counts. Clinton reportedly spent about $9 for every $10 raised, according to provisional numbers, although she has more than $32 million on hand and a campaign official stressed the money goes to vital infrastructure ads and data services.
Of course, there are still reasons to take big-dollar donations.
"The best campaigns diversify fundraising for the same reason the strongest businesses do, because it makes them flexible and sustainable," said Jeremy Bird, who served as national field director for Obama's 2012 campaign.
And the Obama-inspired story-line may have its limits as well.
"There's sort of this myth that everything Obama did was people giving him $20, and it wasn't at all," said Bill Smith, a partner in the unaffiliated campaign consultancy Civitas Public Affairs. "It was incredibly sophisticated low-end fundraising and high-dollar bundling."
That, he said, is actually what Clinton is doing.
Smith said he sees a lot of people giving small donations, to all kinds of candidates.
"People think the stakes are high," he said.
(Correction: An earlier version of this story misspelled the last name of Act Blue's executive director, Erin Hill.)
Before it's here, it's on the Bloomberg Terminal.
LEARN MORE