A Day on the Campaign Trail With John Kasich
The Ohio governor stumps for votes in New Hampshire, and Bloomberg Politics tags along.
by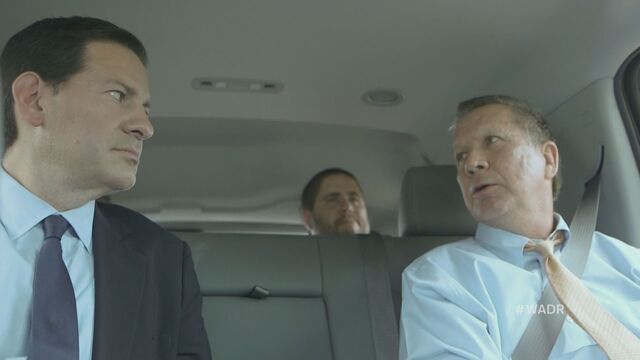 What is it like to be a candidate on the presidential campaign trail? 
If you're John Kasich, it starts with a morning work out at the gym. What follows is a stream of press conferences, endorsements, policy reveals, questions from voters, and hopefully a stop for food along the way.
Bloomberg Politics' Mark Halperin spent the day with the Ohio governor and Republican presidential hopeful during a Friday swing through New Hampshire. And while Kasich would later describe his day as "typical," he also managed to make a few headlines along the way. He announced endorsements from former New Hampshire Senator Gordon Humphrey and political and government official Peter Thomson. He called on the U.S. to establish no-fly zones and sanctuary cities along Syria's border with Jordan and Turkey. A feistier Kasich even reared his head, taking jabs at rival Jeb Bush for reports that representatives of the former Florida governor's super-PAC are conducting opposition research at the John R. Kasich Congressional Collection at Westerville Public Library in Ohio.
"I would think that they're in there because they're getting nervous," Kasich said. "When you're trailing in places like New Hampshire...and you know you're not doing so hot in other places, course they're going to go looking around at who might be the mature adult who knows how to reform and fix things and be a leader rather than an administrator."
But his hits were not reserved for his GOP rival. Kasich also jabbed a Russian rival, Vladimir Putin. "I think he's a little bully is what I think he is, and I think he will push you as far as he can until you say no," Kasich said. 
Regardless of his barbs, Kasich continued his signature brand of levity and rapport with New Hampshire's crowds.
Above all of the noise of the trail, Kasich said, his days are given a two-pronged grade.
"For me there's two ways in which I determine if we've had a good day," he said. "What I've seen with my eyes and what I feel with my gut."
Before it's here, it's on the Bloomberg Terminal.
LEARN MORE